trans*scribe illustration © rosa middleton, 2013
Many people will say that transitioning is a necessarily selfish process, as it often should be – when it comes to things that you have to do purely for yourself, on nobody's terms but your own, there are few more significant and intimately personal than the decision to live as a man or a woman. But there is no way to understand my transition apart from Heather. My emerging womanhood has been so intertwined with our life together that it's impossible to separate the two.
But what if someone helps you – or goes beyond merely helping? What if you invite them into this part of your life, knowing you're close enough that they truly understand you, and ask them to work with you on this? What if, together, you choose to pour all of the power of your combined love and intimacy and experience and history into the mission of rebuilding your very self?
I know that if I had never met Heather, I still would have transitioned, eventually. But I don't know how it would have happened. I'm not one of the people who always knew they were meant to be a man or a woman – I didn't think I was meant to be anything.
Most of my life was marked by a total lack of direction or motivation. I stumbled through the days, doing what I was told and never thinking that there might be anything beyond this, any room for me to be someone, anyone. I looked at my classmates and wondered what it must like to be them, to be normal, to have that certain something that lit up their eyes and made them unique. After being accelerated past entire grades and landing at high school at the age of 12, it all started to fall apart. As the academic accomplishments that had consumed my life began to flake away, everyone else finally saw as clearly as I did that there was nobody underneath.
I had never been certain of how I felt about girls – having classmates who were perpetually two years older made any kind of close connection unthinkable. I would admire them, spend time with them, get along with them better than boys, but I wasn't sure what drove my interest. It was only much later that I realized this was a common experience of trans women: not knowing whether you want to be with a woman, or just be that woman. That's how people usually phrase it, but I think it sounds a bit too much like some Silence of the Lambs skin-stealing cliche, rather than the product of a society where being trans is taboo, heterosexuality is assumed, and every interaction of men and women is believed to contain the seeds of romance.
Entering adolescence, I started to realize I was attracted to men. Just like that, any confusion was resolved – wrongly. I didn't yet have the vocabulary and the introspective power to look any deeper into my gender or sexuality. All I knew was that I was different somehow, and that I liked men. The most obvious answer was that I was a gay man. It was also the most lazy one. I didn't have to think about how I felt toward women anymore, since I could just be with guys.
I didn't have to think about it.
I spent my days browsing the internet and hanging out on IRC. Occasionally, I'd befriend some guy, and we would decide that we were now "boyfriends," and that we loved each other – whatever that meant. They all lived across the country, making it easy to avoid ever having to meet them and make good on those promises of "love." What was wrong with me? Why did I feel like I needed to be with someone, while choosing never to make it into anything real? What the hell kind of gay man was I? I resigned myself to being alone, giving up on having a partner until the right guy just magically appeared in front of me and I could spend the rest of my life with him.
The years went on, day after day wasted in front of a screen until the early hours of the morning. After a week of losing more blood than I thought was possible, I was diagnosed with Crohn's disease, and had to learn how to live with the possibility that I would bleed to death in my sleep as my organs dissolved. I couldn't keep waiting around for life to happen to me.
I threw myself into the ocean of YouTube, forcing myself to believe that someone out there might actually care about the opinions of yet another nobody. And someone did. Now I spent my days posting videos about whatever interested me: religion, politics, LGBT rights, the sorts of fundamental questions of existence and morality that people can't help but get worked up about. As more and more of them were drawn to my videos, a person started to take shape, beyond that obedient, unformed agglomeration of childhood orders to be followed. I finally showed up to my own life.
"You look like you're due for a haircut," my mom suggested. I refused, for the very first time. I combed it up and out until it framed my face in a way that was new, unfamiliar but somehow right. I borrowed lipstick from the bottom of her makeup bag, clearly unused for some time. More people watched my videos than ever, unsure of what they were seeing. I wasn't sure, either. They started to wonder whether they should call me "he" or "she." I told them either was fine. It didn't seem that important to me – but secretly, I was thrilled when someone referred to me as "she."
A hand-me-down hoodie from my younger sister. Making a trip to the drugstore to assemble my own makeup kit. Learning to use a flat iron. Finding little sets of earrings at Claire's and, incredibly, Cracker Barrel. Piece by piece, something was coming together.
In September of 2010, my mother was married for the third time, and I found myself having to shop for the kind of formal wear that I hadn't worn in years. I picked out something online, too shy to go to the same stores where I'd bought hoodies and jewelry. The pockets of the loose white button-up shirt hung somewhere near my navel – it was clearly not for short people. It looked ridiculous on me, even with my hair tied back. I took a picture and shared it with my fans, joking about being a "double drag queen."
Heather was a regular in one of my favorite LGBT chatrooms, but we hadn't spoken much until that September. Having long considered herself bisexual, she had recently come to the painful realization that men had no place in her desires. Her marriage of eight years was coming to a mutually agreed-upon end. After another user insisted that she was obligated to come out for the good of all queerkind, personal consequences be damned, I messaged her to offer my support. We haven't stopped talking since.
At a time when we were both forced to reconsider almost everything we thought we knew about ourselves, we bonded with a breathtaking ferocity, chatting from morning to night. For the first time in our lives, we had found someone who knew what it was like to be… us. We didn't hesitate to trust each other with analyzing and dissecting every fear, every hang-up, every need. As I helped her understand that she didn't need to feel guilty for her desires, she let me know it was okay to be who I am, whatever that was. Having come at this from the opposite side, giving up her dresses in favor of menswear, she knew how awkward I felt in an ill-fitting shirt and tie. It was so amazing to hear her talk about me as a woman.
We had to meet in person, and once she had ordered the tickets to come to Chicago, we could hardly wait. The days crawled by as our need to see each other grew ever stronger. I clipped my long nails as short as possible, somehow denying to myself that I was expecting anything serious could happen between us. All I knew was that I needed to be close to her – very, very close. But it felt too presumptuous, too disrespectful to the greatest friendship I'd ever known, to let myself believe she might want to be with me in that way. Later, we would look back at that and laugh at how I could fail to see everything coming. She was the person I would one day fly across the country to be with.
On a cold, rainy April day, she spotted me in the lobby of the Palmer House Hilton and broke into a run, crashing into me with an embrace that nearly knocked me off my feet. I'd never been squeezed so hard in my life. Hand in hand, just as promised, we wandered off into the city. "You're so… you!" she marveled as she held me close to keep me warm in the chill wind. She told me about meeting other people she knew online, and how they were usually so different from her expectations, but I was just as feminine as she imagined. Before I went home for the night, she kissed the top of my head – a quick peck, a sweet little gesture of closeness that didn't have to be anything.
The next day, we fell in love. At the Museum of Science and Industry, a must-see for anyone visiting Chicago, we scoured the hundreds of donor placards looking for any evidence of same-sex couples. There was only one. We fantasized about one day getting our names on the walls of museums. "Can I be your Mrs. McNamara?" I asked playfully. She just hugged me tight. On our way back to her room, we stopped at a drugstore to get some makeup for a Black Swan look. She had always wanted to do my makeup, and it was one of our favorite movies.
Before we had the chance, we ended up in bed, holding each other for hours and basking in the sheer bliss of being together at last. Somewhere in that timeless day, her lips brushed against mine. As she apologized profusely, I told her it was okay, and pulled her close. Looking into my eyes, she whispered: "Tell me not to."
"It's okay."
The afternoon before she had to fly back to Florida, we stopped for smoothies at a corner shop, desperately trying to hold on to the little time we had left. Taking my hands in hers, she asked if I would be her girlfriend. I didn't know. At the moment when she trusted me the most, when she was letting me take her battle-scarred heart in my hands, I didn't have an answer. Her face fell. It was the worst thing I had ever seen.
There was no doubt that I wanted to be with her, and I rushed to promise her that we would always be together, no matter what. By the end of that weekend, I knew that I was ready to spend my life with her. Our commitment was never in question. I just hadn't faced the possibility that I could be, not someone's boyfriend, but their girlfriend. That was the part I had to think about.
It turned out I didn't have to think for very long. Once I got home, my head swimming with the rawness of our new love and immediate separation, I found a message from her. She couldn't wait to talk to me, and had ordered the in-flight WiFi so she could apologize for pushing me before I was ready. I didn't want to waste another moment, and I told her it was okay – I would be her girlfriend. I was ready to be a woman.
My fans online were outraged when I told them about us. They thought Heather had somehow brainwashed me, that we were no better than "ex-gays," that someone who was a gay man couldn't possibly be in a lesbian relationship. Some of them made a website accusing us of being "pretendbians" – apparently we were just a straight couple co-opting what it meant to be gay. None of them seemed to grasp what was actually going on, and what a huge step this was for me.
My grandmother used to spend her days assembling massive, 5,000-piece puzzles on her dining room table. Every time we would come to visit, a little more of the picture would take shape: a barn, a sunset, Elvis. Maybe I saw the same methodical, patient determination in Heather. All of the pieces of my womanhood were already there, waiting. But she was the one who showed me the back of the box, the truth of what I could be. She was there at just the right moment in my life, and she was the one who pulled it all together. I finally realized why being a boyfriend had never worked for me: I wasn't a boy.
The two years since we fell in love have been a rocket sled into Real Adult Life. Jumping head-first into the deep end of parenthood, I moved to Florida to be with her and her two young children. I tied my hair back again and used my old name as we hunted for apartments in a state where gender identity protections are just a dream. She introduced me to the family as her girlfriend, and taught her kids about "girls in boy bodies and boys in girl bodies." Our older son knows he's a boy in a boy body; our toddler just knows that I'm Lauren and he wants to play Minecraft with me.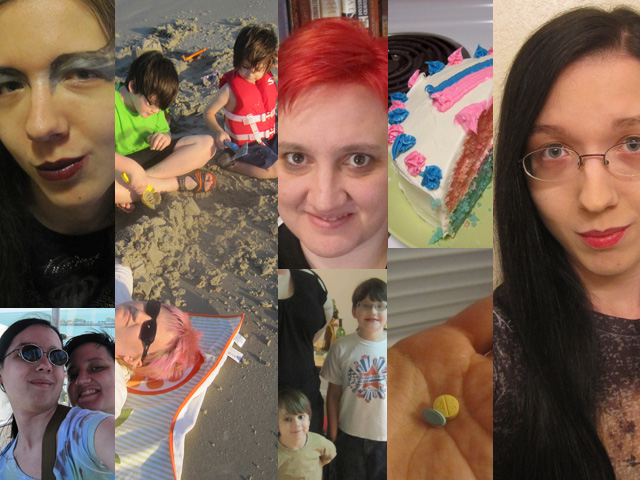 At every milestone, she's been by my side. When I wanted a bra, she found something to give form to a still-flat chest, and held me as I wept in amazement at how right it felt. When I took my hormones for the first time, she helped me through the sudden resurgence of migraines, and baked me a re-birthday cake: pink, blue and white. And when I had to learn how to be touched as a woman, she showed me how to feel what I had never felt before. Arm in arm, we stand together, looking toward the endless days ahead.
Without Heather, I still could have become a woman. But because of her, I've had the strength to become me.
---
About the author: Lauren McNamara is a queer trans woman living in Orlando with her partner Heather, their two sons, and a swarm of pet rats. She loves writing about politics, feminism and religious issues, and makes a habit of campaigning for secularism and LGBT rights. In her sparetime, she enjoys transhumanism, rationality, philosophy, and every kind of music.
Special Note: Autostraddle's "First Person" personal essays do not necessarily reflect the ideals of Autostraddle or its editors, nor do any First Person writers intend to speak on behalf of anyone other than themselves. First Person writers are simply speaking honestly from their own hearts.