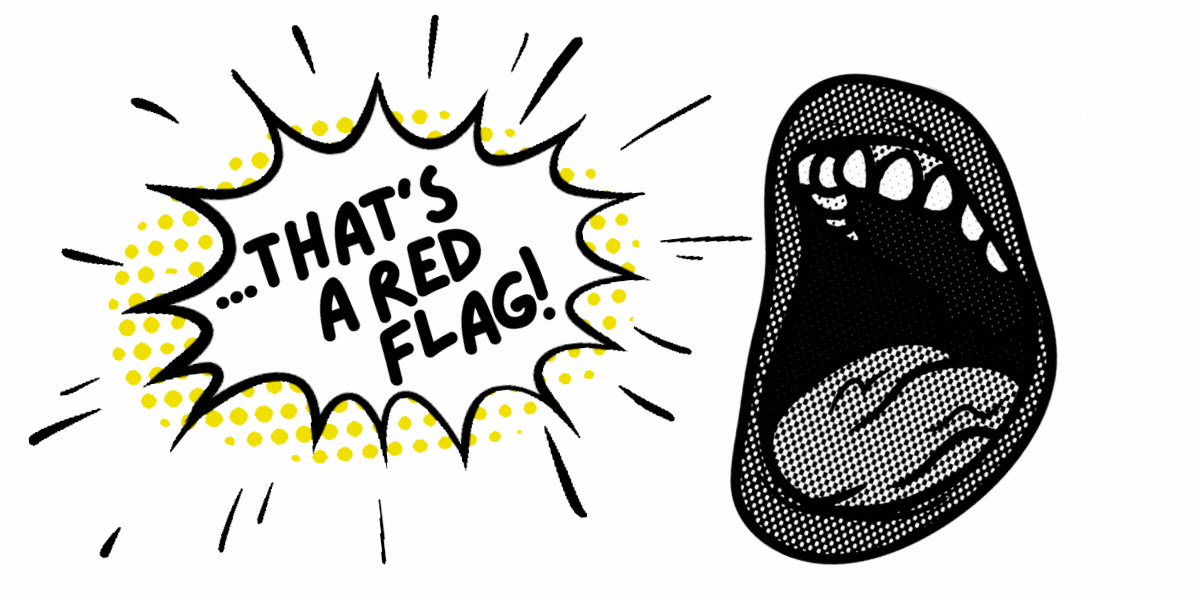 That's a Red Flag! is a miniseries about the warning signs we look for in queer dating & relationships.
---
Red flags help us determine compatibility and check up on the health of relationships, but they're also largely subjective markers that tell us more about ourselves than anyone else. As an autistic person, I've learned that generalizations about human behavior often don't apply to me (do they apply to anyone, really?). This includes popular sentiments about red flags, particularly those regarding communication. Conventional dating wisdom says that communication in relationships should be easy and comfortable — two things communication rarely is for me.
If I manage the simplicity or ease that is characteristic of a "good" date or "healthy" relationship, then I'm likely masking (mirroring my words, body language and actions to match my best understanding of social norms). But while I've been told my masking makes conversation easier for allistics (people who aren't autistic), it leaves me confused, stressed and a few breaths away from a meltdown. And at the point in conversation where I'm forced to mask, I'm not sure what's going on with me or what the other person is trying to communicate. I'm just going through the motions.
I spent most of my life thinking this confusion was my fault. For example, when I was being diagnosed, the physician asked if I struggle with crowd control signs in buildings, the ones that direct people on where to que or sit. A positive response from me was one of the many things that led him to conclude I'm autistic. Prior to my autism assessment, I either waited in line and asked questions when it was my turn or sat until someone came to find me.
I'm confused often, and for some reason, the popular response to my confusion is to speak slowly and loudly to me or to do things for me instead of just answering my question or explaining what I might be misunderstanding. These kinds of interactions make me feel hyper-visible with the strong urge to shrink myself. I feel like I'm doing something wrong, especially because people tend to grow increasingly frustrated with any lack of comprehension on my part — sometimes to the extent where I'm given less than adequate service or denied service entirely. Society dissuades the kind of confusion that is near constant for me, and that taught me shame.
It felt natural then, when that same frustration was reflected in my relationship. I dated someone who used societally-reinforced ableism to exert their will. Before they grew comfortable with outright mocking words and I learned the painful acquiescence that marked the end of our relationship, one red flag was their resistance to mutual understanding. At first, they would respond to my questions for clarity in conversation with — I thought — genuine confusion. Eventually, that morphed into disbelief that I was confused or had misunderstood something they said — and finally, frustration and anger.
I tend to be hyper-literal. I struggle with knowing when the "you" being referenced is me or a general you, for instance. It's led to a lot of mixups, but I've gotten the hang of explaining how my brain works and asking for clarity. Knowing I'm autistic has given me the language to explain myself, and sometimes that provides a reason for people who refuse to accept my word. I shouldn't need a reason, but my diagnosis, which happened after the aforementioned relationship, offered me the privilege of not having to fight for my experience to feel real.
My ex was staunchly devoted to keeping me confused, preventing me from internalizing my own experience and privileging their own. My confusion in social situations became about my perceived "anxiety" or "clinginess" or "insecurity," and any pushback against this narrative was "defensiveness" and proof I was "rejecting the truth." My questions for clarification became "overthinking," and I grew nervous to take up space.
The first step in regaining clarity for me was minimizing masking, which I could do once I became aware of it. When I stopped masking, I was able to see my ex's willingness to prolong my confusion for what it was — an unwillingness to face the emotions or thoughts behind their actions. They were so caught up in their own shame and projection that they couldn't see any reality beyond it. They refused to understand differences in experience, identity and meaning — things that make life very fun.
I much prefer relationships that meet confusion with curiosity and center attempts for clarity and mutual understanding. Relationships are about creating, maintaining and sharing space that is reciprocal and conducive to growth. They blossom when mutual understanding is prioritized.
If you're dating someone who is trying to "win" conversations rather than understand your experience, they aren't likely to see you or hold space for your reality. Chances are, they've got their mind made up on what everything means without your input. What's the point of a relationship where one person's experience subjugates another? We all deserve relationships where we are invited into discovery.
---
Feel free to share your own red flags in the comments!