I think the first time someone told me that binge drinking was defined as over four drinks for women in one night, I was already past my limit.
The sort-of-good news is that nobody's judging, even if I am caught sleeping in my underwear on top of the sheets. Binge drinking is actually kind of an American pastime right now, according to the Center for Disease Control. The CDC describes the high levels of binge drinking in the U.S. as "a dangerous and costly public health problem," and it turns out it's "a bigger problem than [they] thought."
The CDC recently sought out data on who is binge drinking, as well as how many other people are, how often they're doing it, and where they live. Here's some stuff they learned:
+ Income group that binge drinks the most often and drinks most per binge: less than $25,000
+ Most alcohol-impaired drivers binge drink.
+ Most people who binge drink are not alcohol dependent or alcoholics.
+ More than half of the alcohol adults drink is while binge drinking.
+ More than 90% of the alcohol youth drink is while binge drinking.
But they dug even deeper, and located the states with lots of binge drinkers: 
There is something of a binge drinking belt across the north of the country, running westward from New England, Pennsylvania and Ohio to Illinois, Wisconsin, Iowa, Minnesota, Nebraska, North Dakota and Montana. Alaska ranks high too, suggesting that long, cold winters might play a role, though tropical Hawaii is in the top tier as well.
This is the map they created to illustrate the "binge drinking belt," and show you a state-by-state comparison of how many people are binge drinking in the melting pot:
And here's how many drinks people are buying there, too:
Richard Florida and Charlotta Mellander looked into the study further in search of correlations and found that extroverted liberals are livin' la vida loca:
Binge drinking is more common in liberal states, those voted for Obama in 2008, and it is negatively associated with states that voted for McCain (with correlations of roughly .3 and -.3 respectively). Binge drinking states are also more "extroverted." The correlation between extroverted personality types (one of the "big five" personality traits identified by psychologists) and binge drinking is .3.
Binge drinking is also more prevalent in more affluent states (the correlation with economic output per capita is .3). This is in line with the CDC's own finding that the income group with the most binge drinkers is those making more than $75,000. Binge drinking is also higher in more educated states, with a correlation of .36 to the share of adults who are college grads. Both are in line with national patterns I charted last year, which found even stronger associations between alcohol consumption and economic output and human capital. Although I should also note that the CDC found that the income group that binge drinks more often (as opposed to the sheer number of binge drinking participants) and drinks the most per binge is those making $25,000 a year or less.
Still it may come as some surprise that binge drinking is more prevalent in states whose socio-economic profiles would seem more in line with latte sipping than brewski chugging.
At the same time, the fact that some aspect of excessive binge drinking has been assigned to opposite income groups, one could suggest that what the CDC found out was that Americans just drink a lot. Period.
Last year, a Gallup report found that "one of the most significant predictors of alcohol consumption is church attendance. Those who seldom or never attend church are substantially more likely than more frequent church attenders to say they drink; and those who have no religious identity, Catholics, and non-Christians are more likely to drink than Protestants." How does the Pew Forum's map of religious service attendance compare to the Binge-Drinking map?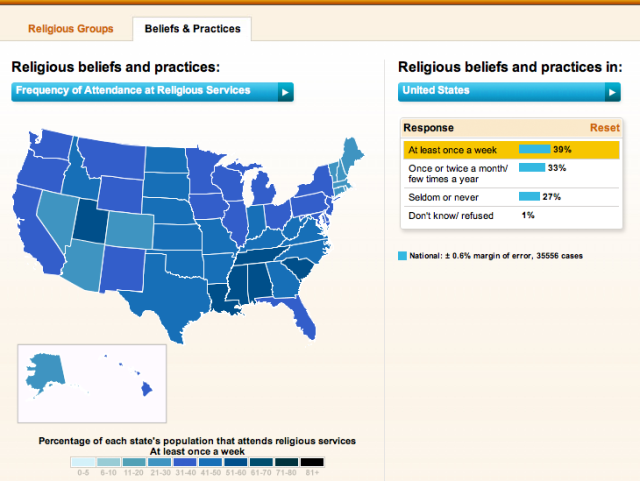 Gallup also has some interesting data about what kind of alcohol people drink broken down into different demographic groups.
Anyhow, alcohol sales have remained steady throughout the recession, unlike just about everything else. Binge drinking is generally a bad idea, and may cause embarassment, endangerment, the purchase of one to three Domino's pizzas with or without cheesy breads, and a need to spend the next day asleep and/or watching Netflix. It can also kill you or people around you. At the very least, you'll get a serious hangover and need to wash your hair.  But we keep on at it. I guess sometimes you just wanna let go.