Gay marriage in New York! Is it a thing? Is it a bird or a plane? Well, nobody wants to vote on it:
New York's Senate is ending another marathon session without taking up a gay marriage bill.
Senate Republican leader Dean Skelos ended Thursday's session just before 11 p.m. for what he called the health of the membership and those watching for what many consider a pivotal vote in the national movement to legalize gay marriage.
The Republican-led Senate will reconvene Friday morning. At that time, they could start to pass a backlog of more mundane bills then consider the gay marriage bill.
The plan is for the Senate to return to open session at 10 a.m. Friday.
Earlier today, Republicans were apparently STILL unhappy with the degree of religious protections offered under the bill and delegations went on and on. Says The New York Times:
By 9 p.m. Thursday, the number of senators who had voiced support for the measure — 31 out of 62, or one short of a majority — had not changed in over a week. And negotiations over protections for religious institutions that oppose same-sex marriage had yielded no final agreement between Republicans and Mr. Cuomo, raising the prospect that the Legislature could adjourn without addressing the controversial measure.
"We're not going to work under time constraints," Dean G. Skelos, the Republican Senate leader and an opponent of same-sex marriage, said Thursday. "We'll do it when the conference is ready."
According to a tweet from reporter Kim Lengle, we've lost State Senator Greg Ball to the anti-equality side — he'll vote "no" on the same-sex marriage bill but "believes it will pass regardless." This brings the tally to 31 for and 29 against with two undecideds.
Yesterday it was announced that we'd secured a 32nd vote but there's been no follow-up on that yet.
So — the fight is "heating up" online, where a lot of anti-equality bigots are crying about people calling them anti-equality bigots on Facebook. Rather than ceasing bigotry, however, such upstanding citizens as New York Archbishop Timothy Dolan have opted to just turn comments off:
One post used a vulgarity to disparage the Virgin Mary, among other web posts and emails that prompted the New York State Conference of Bishops to ban from its Facebook page some users who accuse Dolan and the church of bigotry. More than a dozen have been banned, said Dennis Poust, spokesman for the New York State Catholic Conference.
"Our unofficial Facebook policy is not to automatically delete comments that disagree with us, but when the comments come into untruths or uncharitable, then we have to delete them," Poust said. "And when it really becomes abusive we have to ban them."
"The tension has really reached a fever pitch for some people. … I'm sure there are certain unstable members of both sides who are prone to excess," Poust said.
But really, is it just super-terrible offensive things they're erasing from their walls? Or is it anything that disagrees with their decision to support inequality?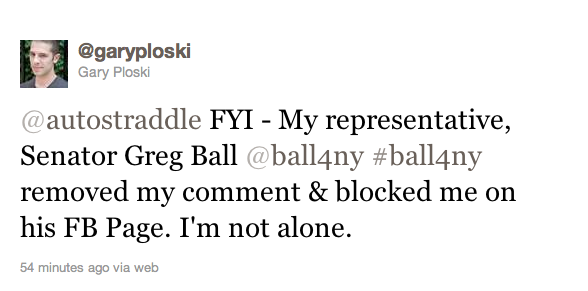 In Totally-Already Decideds, we have some fun quotes today, the first from Sam Trombley, a Republican from Clinton County, who's concerned about the spread of HIV if same-sex marriage passes. This makes absolutely no sense at all whatsoever:
"I'm surprised the health department has not come out against this because we are going to have an HIV epidemic if this passes. You don't see two male dogs sleeping in the same dog house together."
He's actually not the only one concerned about the AIDS epidemic that'll ravage the population as soon as homosexuals are allowed to legally commit to one another for life in open (to all degrees, really), trusting, honest relationships. Catholic League "blowhard" and "pedophile defender" Bill Donohue says:
"Before the New York State legislature decides whether to ratify homosexual marriage, it would be nice if one of the lawmakers were to ask what in the world is going on in the gay community. [snip] Between 2007-2009, there was a 6 percent decrease in gay men using condoms. Furthermore, homosexuals account for 60 percent of all newly diagnosed HIV infections each year; in addition, 60 percent of gays who have syphilis also have HIV. Moreover, 85 percent of gays with syphilis continue to have sex. The lawmakers need to ask gay leaders to testify about this issue."
But back to our fine people of the Senate. Ruben Diaz, the most vocal anti-equality senator in the state, was interviewed by The Village Voice about all this (via @joemygod)
All right, let me ask you about this. You believe marriage is between one man and one woman, yes?
Yes [laughing] So? Why are you asking me this? You know that, you know what I believe. Why are you calling me? Marriage is between a man and a woman.
But you yourself have been married twice, and are divorced.
Yes. So?
So do you believe it is alright to be divorced?
No. Divorce is wrong. Gay marriage is wrong.
You think you are wrong, then?
When I got divorced, I was wrong, yes. Why are you asking me this?
But you believe that gay marriage is wrong and divorce is wrong, but that you should be allowed to get divorced and remarried, and gay people shouldn't be able to marry at all.
When I got divorced, it was wrong, but marriage is between a man and a woman.
So is being divorced OK with your religion?
No, it is not OK. Gay marriage is still wrong. This is what I believe.
In other news, this unexpectedly extended Senate session is leaving a lot of Senators with nothing else to wear.