Welcome to You Still Have Time for a (Gay) Halloween Costume, where I try to convince you that you still have time to pull together a steller (gay) costume. Halloween/costumes can be extremely expensive, so my goal is to keep every costume as cheap as possible. Sometimes there will be more and less expensive routes. You can go super intense with this costume or really basic– I'll give you options along the way. Mostly the point here is, you know, BLACK SWAN. (Did you really happen??)
Black Swan
Since Black Swan was basically a pseudo-thriller about a hot dancer who goes crazy and had imaginary lesbo sex with another hot dancer, going as the black swan is basically the best/most gay Halloween costume ever. It's also a pretty easy one to make.
Materials:
-7-10 yards of black tulle (on a bolt) or one package of 25 yrd 6″ tulle
-One pack 1-2″ black non-roll elastic
-a black bathing suit/leotard/tank-top and bottoms of choice
-black feathers (preferably both the sharp kind and the fluffy kind)
-black sequin strip (optional)
-face paint
-ballet shoes/flats and ribbon
-glue (hot glue is best)
The Tutu
The most important part of the black swan costume is the tutu. You can usually get black tulle for $.99-$2 a yard or less. I suggest getting the stiffest scratchiest tulle you can find, because that will make your tutu stand out the best. Depending on your size you might need more or less tulle. There is very little sewing in these instructions, and the precision of the measurements matters almost not at all. What matters is that you will be BLACK SWAN.
1. Measure your elastic by putting it around your waist and then subtracting 4 inches. Cut the elastic. Overlap the ends of the elastic ~one inch and sew them together. Double check that the elastic slides over your hips. Find something with a similar circumference to your wait to put the elastic around. A chair top usually works great. I tried to used a dress-form which, surprisingly, did not work as well as a chair.
2. Roll up your tulle as you would a poster so that the roll is the length of the short side (and the long side is rolled up).
3. Cut the roll in to 6″ mini-rolls and then cut the unrolled tulle in to 30″ strips. This is easier to do if you unroll the rolls of tulle as you go.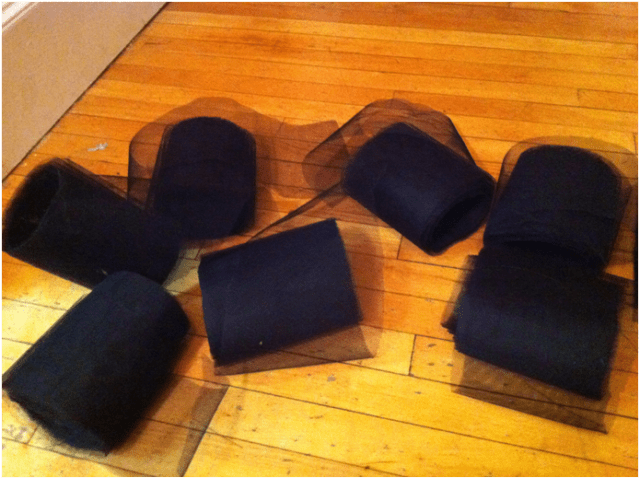 **Note: You can skip the previous instructions by buying a 25 yard roll of 6″ tulle.
4. Gather a tulle strip at the middle and fold the strip in it half the long way. Take that folded strip and fold it over your elastic. The pull the ends through the loop (this is similar to how you might tie a scarf).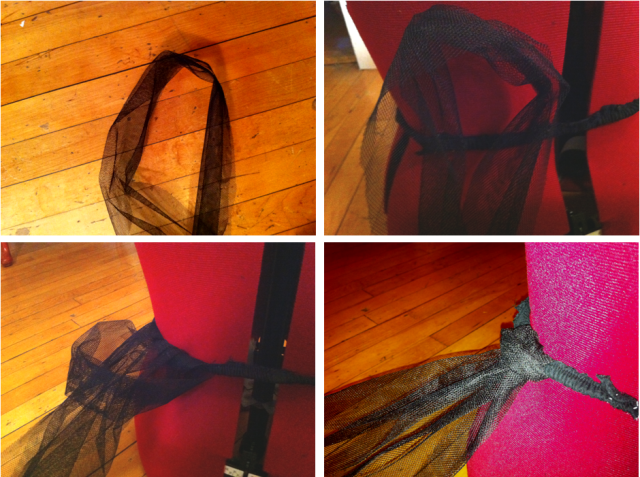 Is that not quite clear? Maybe this drawing is clearer:


5. Now do this as many more times as you need to. You might find you need even more tulle. That's okay. Eventually it should look like this (except totally finished):
The Top
Now that you have the tutu, it's time to make the top. The bodice of your costume is really up to you, as is the styling. An old corset you don't mind ruining probably works best, and luckily they're somewhat available at thrift shops. Alternatively, an old leotard, bathing suit or even a tank-top is fine too. The key is that it has to be something you're okay with ruining. This goes for everything on Halloween, really. When you're making the top, I really really really suggest you try to evoke the essence of the costume as oppose to exactly matching the movie costume. You'll just make yourself crazy doing that. And we wouldn't want that! BLACK SWAN.
If you're really not interested in investing too much more time/money in to this costume, you can buy a black feather boa and stitch it to the neckline of the bodice/top. Do this by just placing the boa where you want it to be and stitching around the top of the boa to attach it to the fabric.
You can make this more black swan-y by cutting your tanktop in to a sweetheart neckline first (just cut a triangle out of the middle).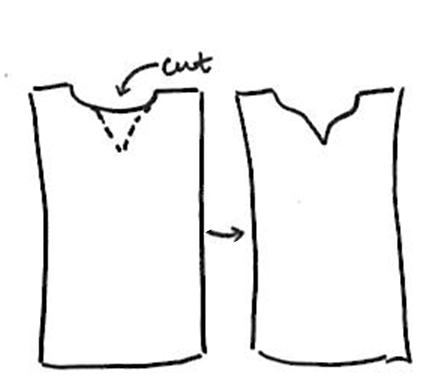 If you decide to make a more advanced top, you're going to have to work with the top and the materials you have. The following instructions are just general guidelines based on how I made the top for my costume. You might be best off just sort of winging it. If you are not interested in Advanced Black Swan 103, skip down to Makeup, and I think you can figure out how to put the top on and then put your tutu on over it. If you're in it to win it, read on.
1. First, without using glue, arrange sharp structured feathers (as oppose to fluffy feathers) to the inside of the top of the left cup. Think about how you want the different sizes to be arranged. I suggest slanting the to the left and making sure they are up and away from your armpits (so as not to look like pithair). Also consider how your figure might look. For example, I arranged my feathers to be more covering than the bodice previously was.
2. Once you're confident that you know how you want your feathers arranged, attach them using as little hot glue as possible. Then, using fluffy type feathers, hot glue along the front of the top of the left cup to cover where the feathers come out.
3. Hot glue the sequin strip across the top of the right cup. I had the sequin strip come above the cup because the bust of my bodice was a bit small, but if yours fits than just follow the lines of the top of the cup. You want the strip of sequin to start in the middle of the bodice and go all the way around to a side seam where it looks okay to suddenly end. You can completely cover the cup or even more of the bodice with sequin if you want, I just didn't.
4. Hot glue some fluffy type feathers to the middle of the bodice to cover where the sequin starts.
Other Options: I left my bodice at this point because I wanted to do finishing touches the night of Halloween (because that's fun). You could also cover more of the bodice with feathers or sequin. I like the idea of covering most of the bodice with feathers and then just having a triangle down from the bust of sequin. You could also use a feather boa to wrap the entire top of the bodice. The most important part is to just futz with the feathers until it looks right and use as little hot glue as possible.
The Make-up
You make-up will be the difference between getting the response "Wait, are you a bird or something?" or "Oh shit, you're the Black Swan!" While I paint a mean giraffe face, costume make-up isn't my specialty. So I deferred to a higher power. Jessica Harlow has a great demonstration video:
The Accessories
The accessories for the black swan costume are a crown and ballet shoes. There's an easy way and a hard way to make the crown. The easy way is to take a plastic or metal tiara (a totally cheap kids one is perfect) and spray paint it black. You can hot glue clear plastic fake crystals to the tiara too if you want. Then, you can use some of your leftover tulle to sew a small badass veil to the front of the crown simply using black thread.
Alternatively, Jerri Lynn Reeves has some crazy instructions for making a Black Swan tiara out of modeling clay. These instructions are sort of intense and only for those who really love a craft project.
If wearing a crown seems stupid/overwhelming/whatever to you, you could also just adorn bunned hair with feathers.
As for the shoes, obviously busting out some legit pointe shoes would be awesome. I don't own pointe shoes, and they cost like $50, so obviously I'm not buying a pair. Also, they are super uncomfortable. An easier option is converting an old pair of flats in to fake ballet shoes. Use a needle and pink thread to sew white or pink ribbon to a pair of pink or white flats you already have (or bought super cheap/used). If you sew as oppose to gluing, you should be able to remove the ribbon later and continue wearing the flats.
So there you have it– step by step instructions for a kick ass costume! Obviously you can easily alter these instructions to make a White Swan costume and go as a couple! But wait, what if some cute girl is also dressed as the Black Swan? Obviously there's only one option. Go over to her and say, "are you dressed as Natalie Portman in Black Swan?! What a coincidence, I'm dressed as Mila Kunis in Black Swan!" Don't say I never did anything for you.