Welcome back to You Still Have Time for a (Gay) Halloween Costume, where I try to convince you that you still have time to pull together a steller (gay) costume. Halloween/costumes can be extremely expensive, so my goal is to keep every costume as cheap as possible. Sometimes there will be more or less expensive routes. You can go super intense with any costume or really basic– I'll give you options along the way.
Remember when I covered Glee and Britanna, Part One. See? I told you I'd be back for more! Part One was all about the William McKinnley High School red and whites. Here, I'll cover your character basics for Rachel Berry, Blaine, Mercedes, Mr. Scheuster and, of course, Brittana.
Rachel Berry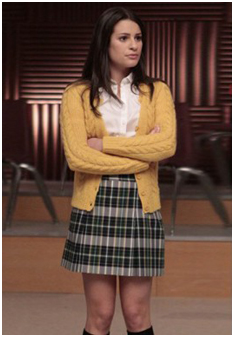 What can I say? Sexy-schoolgirl-librarian-chic at it's best. Rachel Berry is a surprisingly distinct costume, probably in part due to just how difficult it is to find an adult sweater with a carousel horse on it. The preppier and matchy-matchier the better. The classic Rachel Berry outfit is a plaid skirt, a round collar white button-up, a sweater and knee socks. The great thing about this is that it means she makes an easier stand-alone costume (as oppose to most other Glee costumes which need a group to make sense). The downside to this is her costumes, perhaps, has the least flexibility.If you already have brown hair, you're good to go bangs or no-bangs. Otherwise, you'll need a straight brown wig. Obviously don't forget the headband!
If you can't find a sweater with a horse silhouette on it but want to take your costume to the next level, I've devised the perfect way to make your own horse sweater.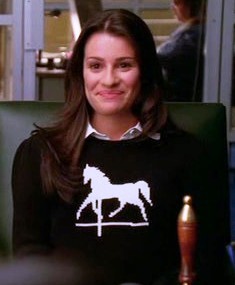 materials
+A green (or any non-white color) longsleeve sweater
+An old white sweater or shirt you don't mind ruining (I suggest a tight cable sweater so that it doesn't fray or fall apart)
+Paper
The Rachel Berry Sweater
1. Draw or print out a horse/carousel horse approximately eight inches long. This one should work:


2. Cut out the stencil and place it over the white sweater. Trace the horse on to the white sweater
3. Cut out the horse from the sweater.
4. Using a needle and thread, sew the whole white horse to the front of the green sweater. Sew along the outline and put a few stitches in the middle for security. If any areas seem to be excessively fraying, sew over that area too. If you don't know how to sew gluing will probably work fine too.

Optional Accessory: A hairbrush microphone!
Will Schuester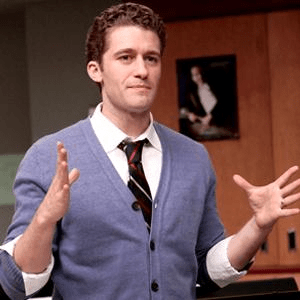 I know in Part One I said I would go over how to be Emma for Halloween, but goddamnit, I'd just rather see some hot girls dressed as Will Schuesters. Mr. Schue wears the same exact thing every day. This is not a joke. The same thing.
1. White Button-up
2. Sweater / Sweater Vest
3. Tie
4. Straight Leg Pants (khakis or jeans)
5. Converse Sneakers
On him, it gives that perfect blend of middle aged and trying too hard. On you, it will just look really hot. I promise.
Artie's costume is very similar to Mr. Schue's, with the omission of the tie and with a shortsleeve button up instead of a longsleeve.
Mercedes Jones

If you want to dress like Mercedes Jones, there's really only one thing to keep in mind: neon. I don't know why, but nearly all of Mercedes's outfits consist of at least one neon item. Generally speaking this means a neon (and possible animal print) oversized scoopneck shirt. Most of Mercedes's actual wardrobe is from the Forever 21 plus size collection, so that's a great place to start. Otherwise, any neon shirt you can cut the neck off should work just fine. The second most important part, is Mercedes's kicks. Mercedes nearly always has cool neon high-top sneakers on. These usually run at least $100, so if you don't have a pair either borrow them from a friend or spray paint an old pair of sneakers. If you have teenie tiny baby feet, Nike's are usually cheaper in the little boy sizes (just like everything else).
I should point out Lauren Zizes dresses very similarly except mostly in blacks and greys.
Blaine!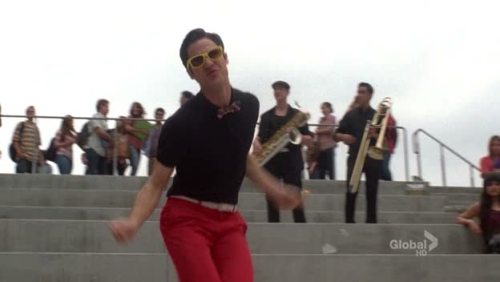 I love Blaine for real. If you decide to go with a bunch of friends as the cast from Glee for Halloween, I really really really hope you include Blaine. He's the best. Blaine's "plain clothes" (non-school uniform) are also really simple. Basically Blaine just wears a polo shirt with a bow tie tucked in to jeans. Back before Glee went off the air because of baseball, I even talked about this in a fashioncap.
On the other hand, if you want to go as Dalton Academy uniform Blaine, you're going to need to do a little crafting.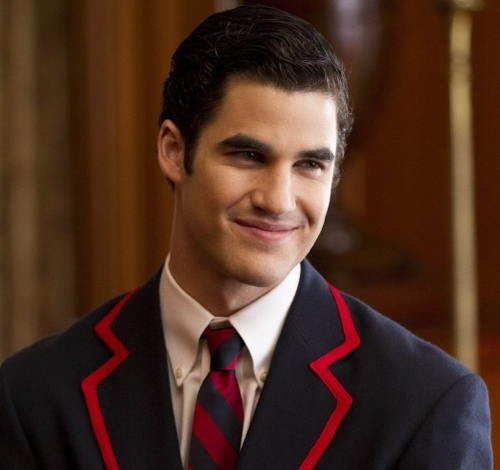 Start with a navy blazer and a navy and red striped tie. Then, hot glue or fabric glue red ribbon along the entire outer edge of the blazer. If you need to end a piece of ribbon either because you run out or to get over a curve, cut the ribbon at an angle so that it looks neat and perhaps intentional. Also put red ribbon over the lip of any pockets. Although it would be particularly awesome to have the Dalton Academy patch, this seems pretty impossible. Either skip it, or any patch at all will do. There you go! Just pair it with some jeans!
Brittany S. Pierce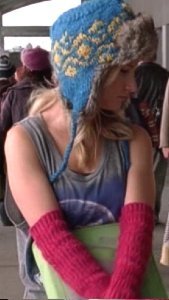 As far as I can tell, Brittany just dresses like Ke$ha. Amirite? In Brittany's world it's always mid-fall and you're always accidentally outside. In other words, skimpy shorts with a tee or tank and some sort of tassled knit/crochet vest. One of those furry hunter hats is clutch too. While you're putting the whole look together, do your best to look as trendy as possible. Maybe even take an outfit right from the show or from a magazine.
But as all good Gleeks know, only one thing really distinguishes Brittany from the crowd. Two amazing little words: Arm. Warmers. The concept is really very simple. You buy leg warmers and put them on your arms. I suggest you buy them at least one size smaller than you would for your legs. If you don't want to buy leg warmers, either cut the feet off a pair of kneesocks or use the arms from the white sweater used for Rachel Berry's costume (I assume you're part of a group costume).
Santana Lopez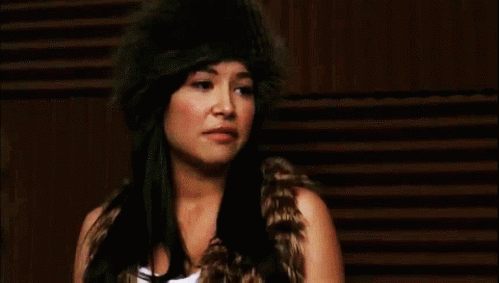 Oh Santana. She gets a moving gif because I love her the mostest. I basically try to incorporate Santana's fashion in to every aspect of my personal style/clothing/life. As I said a while back, if you want to dress like Santana, you need a (faux) fur vest and a skin tight dress. I'm personally a fan of the tight red spandex dress, but obviously you need to make your own choice on the subject. If you can rock that hat, you're a better woman than I. You might have trouble finding even a fur vest and hat for cheap (even if it's faux) so this is definitely the time to head to the thrift store. A fur coat or fur lined coat should hold up really well if you cut it down to size. Plus, the fur should hide the raw edges.
Phew. So there you have it, between Parts One and Two we've covered basically the whole cast from the gayest show on television not called "The L Word." I've omitted Tina and Kurt because Tina's clothing is just lot of black stuff and a beanie (and I forgot), and Kurt wears insanely expensive designer clothing.
I hope you'll consider a big group Glee costume this Halloween. Basically you just gotta go for it and have fun. It's bound to be a real costume contest winner. You can do it! Don't stop believing, hold on to that feeling. You know, and so on.