Neither rain nor sleet nor horrifically early first snowfall of the not-right-season will stop Sunday Funday from bringing you good news. Seriously! Just ask the delivery pup:
This week people are happy with their gender identity in the Girl Scouts, lesbians are becoming Prom Kings, and everyone is married and with adoption papers. Plus, there's a multitude of animals in costume.
Girls Scouts Are Great All Around
The Girl Scouts of Colorado released a statement this week to show their support for transgender youth:
"Girl Scouts is an inclusive organization and we accept all girls in Kindergarten through 12th grade as members," the statement says. "If a child identifies as a girl and the child's family presents her as a girl, Girl Scouts of Colorado welcomes her as a Girl Scout."
The statement was released in reaction to the recent exclusion of a child who identified as a girl in a Colorado troop. Bobby Montoya was rejected from a Denver troop because she has "boy parts."
Corey Barett of the GLBT Center of Colorado is also thankful for the policy:
"Our requests for support of transgender kids have grown, and Girl Scouts of Colorado is working to best support these children, their families and the volunteers who serve them."
But the Girl Scouts is also making an effort to shape girls of today into more successful and fulfilled women in the 21st century, and recently modernized their badge options to get girls on the forefront of new and rising industries and technologies:
As the Girl Scouts approach their 100-year anniversary in March, they are introducing a whole new lineup of badges. Way back in 1913, the organization had badges like Flyer and Electrician to represent those trailblazing professions. Today, girls live in vastly different times and have wider opportunities in business leadership. With that in mind, Jump worked with the Girl Scouts to develop a badge program to expose girls to cutting-edge fields such as web design and social innovation.
The badges are also much groovier than the ones I got as a Daisy:
UN Speaks Out for Women
The UN just issued a new report with a clear message: it's time for a hands-off, people! Turns out the UN thinks restricting abortion access, ruining sex education, and letting everyone but women decide what's best for them is pretty gosh-darn repulsive:
Public morality cannot serve as a justification for enactment or enforcement of laws that may result in human rights violations, including those intended to regulate sexual and reproductive conduct and decisionmaking.  […]
Criminal prohibition of abortion is a very clear expression of State interference with a woman's sexual and reproductive health because it restricts a woman's control over her body, possibly subjecting her to unnecessary health risks. Criminal prohibition also requires women to continue unplanned pregnancies and give birth when it is not their choice to do so.
Gillibrand Leads Way on Adoption
Senator Kristen Gillibrand introduced legislation Friday that would end adoption practices that exclude LGBT parents across the nation:
The Every Child Deserves a Family Act would eliminate state laws, policies and practices that exclude prospective adoptive and foster parents because of marital status, sexual orientation or gender identity. More than 400,000 children await homes in the nation's foster care system, and some 100,000 are waiting to be adopted.
Gillibrand called New York state a "leader" in LGBT adoption. The state increased its foster pool by 128,000 prospective parents when they lifted similar barriers on adoption.
San Diego's Lesbo Homecoming King
The first lesbian homecoming royal couple in the United States ever might be in the works at San Diego's Patrick Henry High School. Rebecca Arellano, a senior at the school, was made the first female homecoming king Friday. Haileigh Adams, her girlfriend, was also nominated for homecoming queen.
The couple has garnered support and, obviously, some haters. But Adams is rising above:
"We feel like we're actually making a difference and making people feel proud of change," she said. "The support is keeping us from feeling too hurt about the negative feedback. The support is what really matters and it is what's going to help us move forward."
Plus, they're both totally and completely adorable: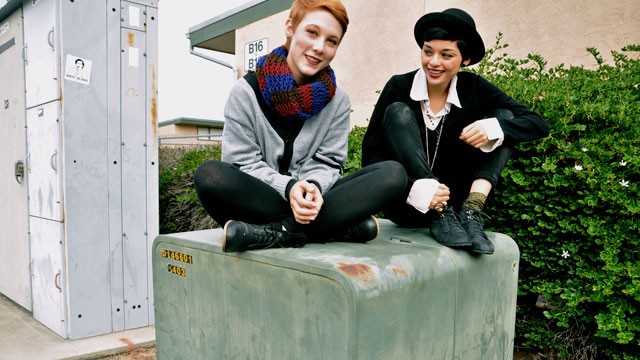 A Gender-Bending Gay Marriage Story
Two British trans lesbians just married in the UK.
Women Making Beer
Slate's piece on female brewmasters and their craft breweries is a great read because girls and beer are both great:
Ask someone to imagine a brewmaster and the image that may come to mind is a barrel-chested fellow in overalls, maybe even lederhosen. Brewing is currently seen as a male field, but it wasn't always this way. What's believed to be the world's oldest written recipe is for beer, and it celebrates a female brewmaster. Four-thousand-year-old Mesopotamian clay tablets describe the brewing process in a hymn to Ninkasi, the Sumerian goddess of beer. From ancient Sumeria through medieval Europe, women ruled the kettles.
People Like Gay Partnerships, People
+ Conan O'Brien will be officiating a gay wedding on his television show in an upcoming episode. It's part of a series of shows honoring his one-year anniversary with TBS.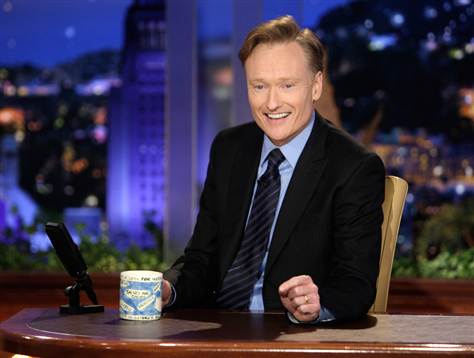 + In New Jersey, a majority of voters say gay marriage should be legal.
+ New York City Governor Andrew Cuomo, who recently pushed gay marriage legislation through the state and unleashed a steady stream of adorable stories and photos of loving gay people for days and weeks to come, was honored Thursday night for his efforts at the Empire State Pride Agenda dinner in Manhattan. And he has a lot to say about gay people and their general well-being:
"Nationwide, there are no federal anti-discrimination laws for LGBT and there need to be. There are no federal antidiscrimination laws for housing, or for employment. DOMA has to go away once and for all. We need a real anti-bullying program in this state and in this nation. […]
"And we need marriage equality in every state in this nation. Otherwise no state really has marriage equality. And we will not rest until it is a reality."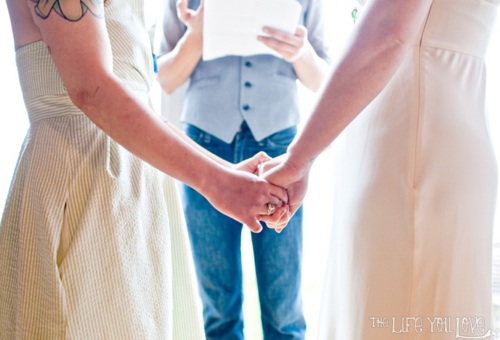 UFC President: Come Out, Come Out, Wherever You Are
A Las Vegas chapter of the Culinary Union and other groups recently called the Ultimate Fighting Championship "an anti-gay organization." An online petiton to Fox and a letter to UFC's sponsor, Anheuser-Husch, used statements by UFC President Dana White to create proof of UFC's "homophobic conduct."
But White is offended by that accusation, and recently spoke out to say so. But maybe not with too much tact:
"I'll tell you right now, if there was a gay fighter in UFC, I wish he would come out," UFC President Dana White said Thursday. "I could care less if there's a gay fighter in the UFC. There probably is and there's probably more than one […]
"That's the only one that bothers me — the fact that these losers from the Culinary Union can go out and say that I'm a homophobe and things like that — because it's the furthest thing from the truth."
CUTE OVERLOAD: Animals In Costume
Halloween is right around the corner. Do you know what you want to be? It'd probably be easier to decide if you were an adorable, fuzzy animal.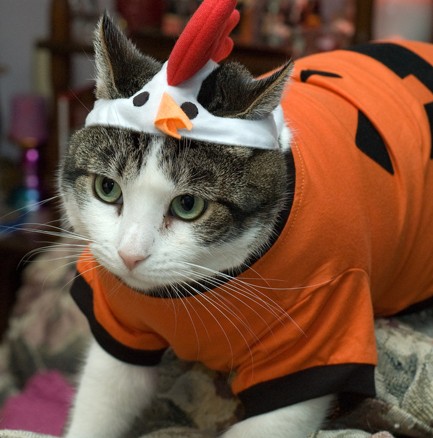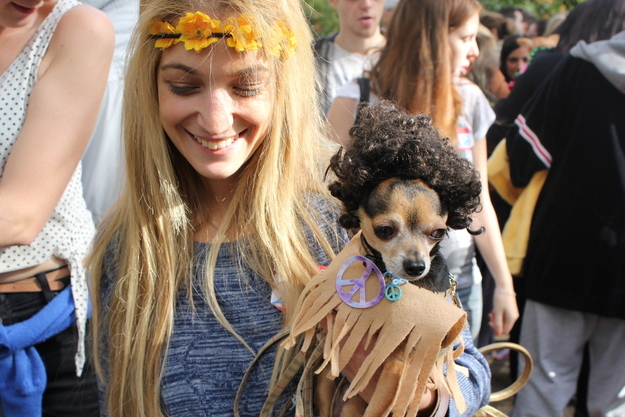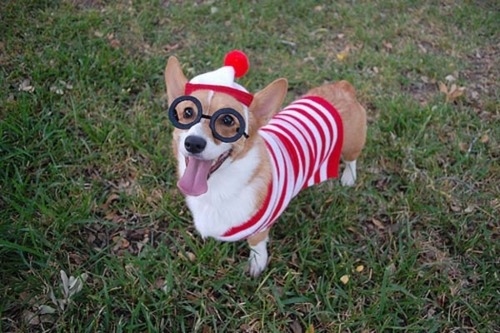 Or like Eli the Great Pumpkin.