Hello beautiful weirdos, my people, the loves of my little queer life. I wanna tell you about a thing you should go to! Let's all gather round the sexy imaginary campfire and listen up.
NEW YORK CITY FASHION WEEK IS COMING. Normally that means that a bunch of crazy looking, fly ass creative outsiders will invade our city and turn it into a flash mob of outfits, designers, lights, lattes, and all sorts of other fashion-y things. Really it's a time for me to avoid the city and just eat pizza in the Bronx per ushe. But then I got invited by Anita Dolce Vita of DapperQ to walk in this amazing queer fashion show and then I fainted. Because wtf, me in a fashion show? It took me a minute to own that I'm going to be involved in this, to own my body, my shaky confidence, and to find pride in the amazing way that I've been asked to be a part of queer culture and QPOC visibility. When I think of NYC fashion week, runway models, and that whole world, I don't ever think of regular people with round bodies, brown bodies, queer presentations: I think of Kate Moss and all the people that look like her.
But this event, The DapperQ Fashion Show, is an act of revolt. It's a fist in the air for dykes, queer people, gender neutral people, trans people, all the fucking fabulous beautiful people to shout We belong here and We will create our own spaces. So, please come through and support the hard work of DapperQ, Whitney Day, and all the designers and brands that have been brought together for the DapperQ Fashion Show Extravaganza.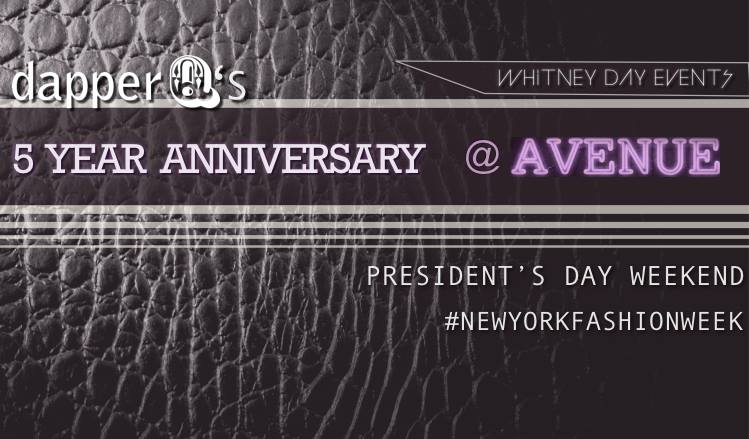 February 16th, Whitney Day Events in association with New York Fashion week will be presenting the Dapper Q Fashion show. The fashion show and all night after party serve to commemorate DapperQ's fifth anniversary and its unwavering commitment to transcending heteronormative fashion. From its formation in 2009, DapperQ strived to showcase QPOC and GNC individuals as models, as the faces and bodies of radical style who move the culture forward with every step we take. Susan Herr, founder of DapperQ says it so beautifully:
For dapperQ's, fashion is not seen as an end. It is, instead, a means to expressing our ever-evolving capacity to advance change in a world that sorely needs it. dapperQ is intended not only to inform but to inspire those of us simply dressing to fight the good fight each day.
And hot damn do we fight each and every day to be seen, heard, and respected in the world at large and in our super complex and ever evolving LGBTQIA communities. So here are some of the MAJOR details y'all need to know about this sick ass fashion show that everyone is going to go to:
LEA DELARIA IS GONNA BE THERE. Did you just faint/die/gasp? Good, you should, because Orange is the New Black and that's all that matters.
GIVEAWAYS: just by purchasing advance $10 tickets to the show (Yes, I said $10, nothing this badass happens in NYC for $10 so get on it), you'll be entered to win the dopest gear from all the brands featured on the runway.
Katrina Casiño is once again reprising their role as hottest model ever for this event.
Comedian and New York City celebrity drag king entertainer, Murray Hill, will MC the event
From the FB event: Combining music, culture, fashion and community, Whitney Day Events and DapperQ have teamed up to bring you the ONLY NY Fashion Week closing party featuring multiple queer designers curated just for you!
Here are the brands that will be werq-ing that runway:
Designer Angie Chuang
Bindle & Keep
Bklyn Dry Goods
Charlieboy.
Fourteen
Race Point Swimwear
VEEA Androgynous Fashion
Deets:
SUNDAY, February 16th
It's a HOLIDAY – NO WORK or SCHOOL on MONDAY!
10pm-4am @ Avenue, New York City
116 10th Ave. (17th & 18th Streets)
21+ with ID
$10 Advanced tickets
$12 Before Midnight
* Advanced tickets strongly suggested! ONLY those who purchase advanced tickets will be eligible to WIN clothing & accessory giveaways! *