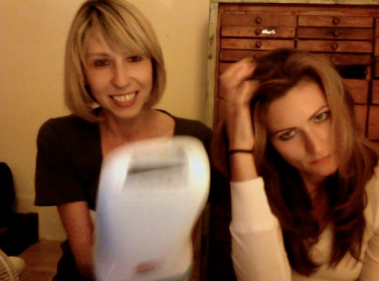 Welcome to You Need Help! Where you seek advice and we try our very best to give it.
This has traditionally been done by way of individual Formspring accounts, Autostraddle's Tumblr and a Formspring Friday column, which has all been very fun and insightful. But, because Formspring has a character limit and we're wildly optimistic w/r/t our time-management skills, we thought we'd go one further and let you use our ASS private messaging to share advice-related feelings, too.
For more info on sending in questions, see the bottom of this post. Let's get down to bossing people around on the internet! Today we help you deal with your "not very good looking" girlfriend, your charismatic girlfriend, your best friend's sister and your haircut.
But this week we do it ON VIDEO! Rising Star Haviland Stillwell and I filmed some stuff for a vlog and then figured we'd shoot some advice answers too. So this is sort of bare-bones no-frills video editing, but I think it's okay. Also there's like 20 seconds of black space on the end of each video, whoops!

Question: I like a girl. People are always telling me that I'm very beautiful and she's hardly good-looking. I don't care because I like her, who she is. But how can I deal with society's stupid ideas that people shouldn't date people "out of their league"?
You Need Help: On Video from Riese on Vimeo.
I'd just like to add that I think this seems to matter a lot more when you're younger — I mean when your'e really young, I feel like "dating" is often just matching up people who seem to be the same level of physically attractive. Then people get older and realize how much love changes what somebody looks like and that it's much more complicated than that.



This next video we tackle several pressing questions:
Q. I've developed a major crush on my best friend's sister and I'm afraid about either of them finding out and it's clear they can sense my discomfort. Any suggestions on how to get rid of the awkwardness without having to tell anyone?
Q. Do you think it's appropriate to go down on a girl the first time you sleep together? My friend and I were debating this, I think it's fine, especailly if you've been on a few dates with the girl already.
Q. I'm dating a girl who's quite charismatic and it's making me insecure because when we go out it's obvious that everyone notices/likes her more than me. How do I deal with this? I thought I was over my self-doubting.
Q.  I got a terrible haircut and now I look like Ellen Page from Hard Candy.
You Need Help: Video #2 from Riese on Vimeo.

To send your question via ASS personal messaging, choose an editor: Riese | Laneia | Rachel
Or ask any team member you'd like: Meet the Team
*If messaging is down, email us! There are so many options, you guys! You could send carrier pigeons!*
For 100% anonymity, contact us through Formspring:  Riese | Laneia | Rachel
Please keep your questions to around, at most, 100 words. Due to the high volume of questions and feelings, not every question or feeling will be answered or published on Autostraddle. We hope you know that we love you regardless.