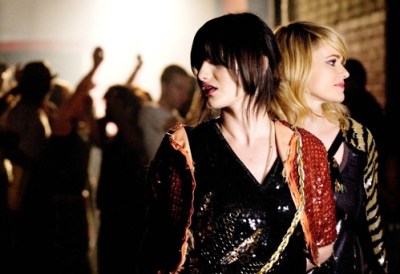 Yesterday we told you about Leisha Hailey and her girlfriend getting kicked off a Southwest flight for kissing. At the time, partially because it said so in The L.A. Times ("Hailey and fashion designer Nina Garduno have been a couple since 2006") and also because one of our editors was interviewing Cam when this whole thing first showed up on twitter, we thought the "girlfriend" was Nina Garduno. But it turns out we were wrong about it being Nina which must mean that Camila and Leisha didn't tweet as it happened but rather tweeted several hours/days after their flight from El Paso to Los Angeles.
Now that it's out there, I do vaguely recall being told that Nina and Clea were old news and Cam and Leisha were new news, but I must have filed that in the recesses of my brain which contain information such as "how to spell Pieszecki."
We apologize for the mix-up. Hopefully this misinformation did not cause any of you to die in a fire. It was Leisha and Cam on the plane. If it helps, the bigger bananahead in this situation is us, obviously.
The reason we're writing this is because today Leisha Hailey and Camila Grey released a statement to the press about yesterday's incident using Shane's least favorite word, "we." Here that is:
Camila Grey and Leisha Hailey statement
We have always promoted tolerance, openness and equality both as a band and as individuals. We both come from loving homes where our parents not only love and accept us, but are also proud of who we are. We believe everyone has the right to live openly in this society as equals. In no way were our actions on Southwest Airlines excessive, inappropriate or vulgar.
We want to make it clear we were not making out or creating any kind of spectacle of ourselves, it was one, modest kiss. We are responsible adult women who walk through the world with dignity. We were simply being affectionate like any normal couple. We were on the airplane less than 5 minutes when all was said and done. We take full responsibility for getting verbally upset with the flight attendant after being told it was a "family airline." We were never told the reason the flight attendant approached us, we were only scolded that we "needed to be aware that Southwest Airlines was a family oriented airline."
No matter how quietly homophobia is whispered, it doesn't make it any less loud. You can't whisper hate. We ask this airline to teach their employees to not discriminate against any couple, ever, regardless of their own beliefs. We want to live in a society where if your loved one leans over to give you an innocent kiss on an airplane it's not labeled as "excessive or not family oriented" by a corporation and it's employees.
We find it very disturbing that the same airline who lauds itself as being LGBT friendly has twisted an upsetting incident that happened into our behavior being "too excessive." The above is not an apology and we are in the process of filing a formal complaint with the airline. We hope that when all is said and done a greater tolerance without prejudice will evolve.
It's worth mentioning that this incident officially outed the two bandmates as a couple, which is something in and of itself. As far as I know, Cam has stayed pretty tight-lipped about her sexuality and relationships throughout the band's terrific rise to fame and stardom. (Correct me if I'm wrong — despite being UHH's number one fan for about two years I haven't been keeping up as well lately.) It's nice to see that when controversy arrives, they put activism before privacy. I hope that inspires other stars to do the same.
In conclusion, I'd like to quote my girlfriend who said "whoever [the flight attendant who kicked them off] was, she picked the wrong lesbian to throw off an airplane" and point out that anyone who can say no to this face is f*cked in the head: