About midway through The Playboy Club last night, Nick McMadmen and Sally-Anne Rose Lee Benanti reunited (I don't have to spoiler alert this because I promise that you don't give a fuck) in one of those steamy makeout sessions that happen so often in heterosexual television programs. There's some kind of "nail me like a cupcake!" sex music going on and the hookup scene is juxtaposed with another scene in which Alice, the lesbian, is taking photos of Maureen for Maureen's application to be on the cover of Playboy. Alice — in tight pants and a cardigan vaguely reminiscent of Emma Pillsbury — is sweating, a little bit. She makes little sighing noises and also smiles, like a person taking photos of a pretty girl in a Playboy bunny outfit who just-so-happens to be a woman. And it's not "lesbian predator" style, it's just as hands-off and playful as anything. It's more respectful, probably, than the male gaze that follows Maureen like a magnetic field.
So that was a neat scene. It was okay last night, is what I'm saying.
But the ladies have got to stop huffing the Heff. His stupid bathrobe shadow smoky business is the worst thing to happen to my eyeballs since my first allergic reaction to Visine.
Whichever woman is first to speak following a Hugh Hefner Hall of Presidents moment (he speaks exclusively in clichè, sidenote) is the worse off for it, as her very consent to be in that room, participating in whatever that disembodied voice has in mind for his companions, makes her seem like an idiot. (Which is unfortunate, as I think one consistent character trait amongst Playboy Club's female characters is intelligence.) Furthermore, whenever "Heff" is discussed it just feels like Hugh Hefner masturbating to his own glory that I wanna go like, buy a Penthouse or something.
Although I'm sure Gloria Steinem was correct about the degrading environment of The Playboy Club she worked at, they seem to have left that out of this show — these women do seem independent, smart, and strong-willed. These women have figured a key thing out  — the fact of their (traditionally good-looking) womanhood is enough to procure enormous power and financial independence. At The Playboy Club, they can work just as hard as men do to make large sums of money, rather than working twice as hard as men do for mediocre sums of money as they would in other lines of work. They've found a league of their own.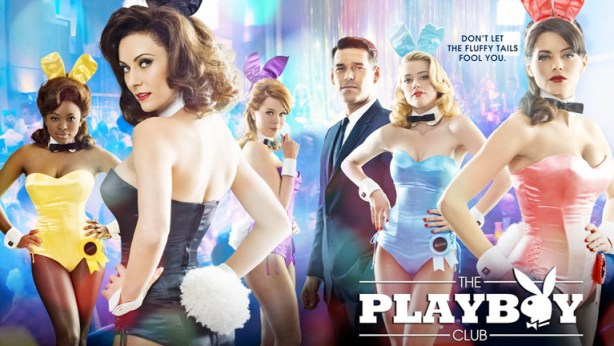 There are no floozies here, but there is a girl saving cash in a shoebox to one day own real estate and a girl funneling her earnings into a gay rights organization. There's Carol-Lynne who's SO strong-willed that obviously she has to be a total bitch to other women, because this is a show on television.
From time to time, 1-3 women in shiny satin and/or glitter sang onstage, which was fun. The cameraman's favorite angle, we learn quickly, is an ass shot. The Power of the Bunny Tail is a reoccurring motif and one must pan to the bunny tail as often as possible. It's like bestiality or something, or a fluffy punctuation mark.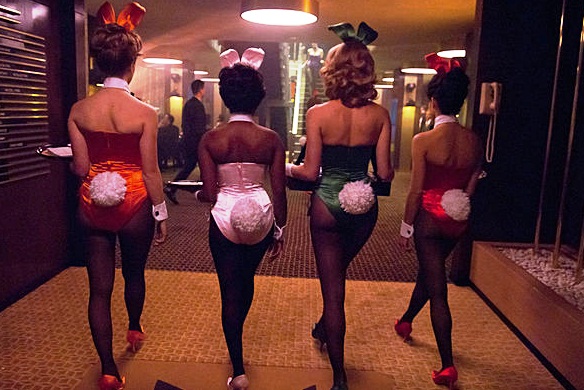 Thankfully this episode focused on girl-girl interactions instead of man-woman interactions. But of course approximately ~5 McMadmen in Suits showed up here and there, often populating entire scenes with their gender. I completely tuned out during those scenes and have forgotten them. The men made serious faces while leaning on ledges and saying things about the mob, government and other desperately important things I couldn't give two shits about.
As far as The Lesbian goes, this week we saw Alice forced to suffer through dinner with her gay husband's parents — a key aspect of keeping up appearances for the two of them. Firefly's Sean Maher, who plays Alice's gay husband, is gay in real life. In fact, he came out yesterday:
Though his new role on "The Playboy Club" makes the obvious coming-out platform, he says he really wanted to do it because of his family: "I have these beautiful children and this extraordinary family, and to think in any way shape or form that that's wrong or that there's shame in that or that there's something to hide actually turns my stomach."
I appreciate that the relationship between Alice and her husband because there's mutual respect there. Maybe when you take sex out of the equation, that old-fashioned power differential flies right out the window.
Ultimately however, the primary thing that makes this show unlike Mad Men — and this is true if you compare only both show's first two episodes (clearly comparing seasons of Mad Men to two episodes of Playboy Club would be unfair) is that so far, these characters have set up camp somewhere between "trope" and "cardboard box." What are their quirks? What makes each character entirely themselves, distinct from every other character in the universe? Peggy Olson is the first chapter of a novel, Maureen is a shampoo commercial.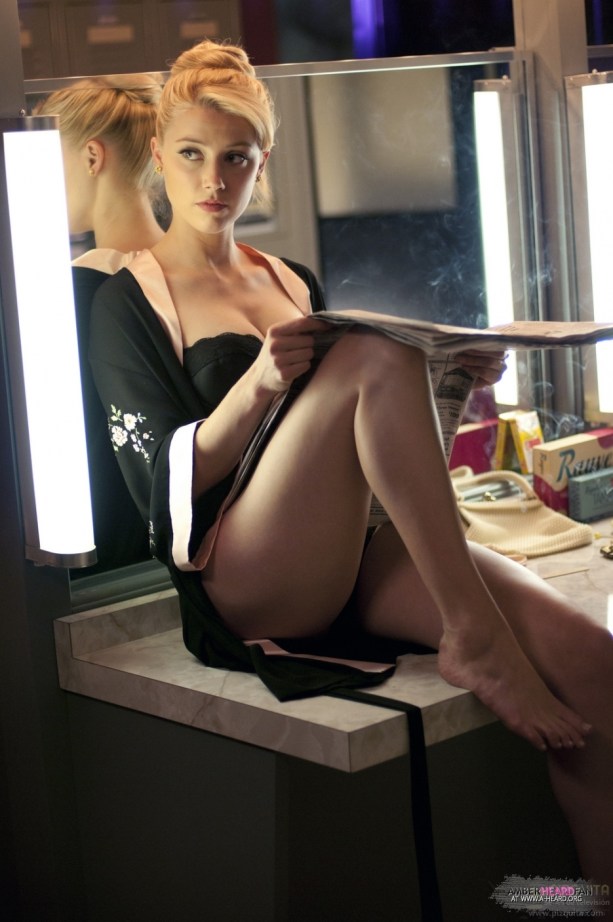 At the end of the episode, Maureen ends up winning the contest to be on the cover of Playboy.
But look who "wins" in real life: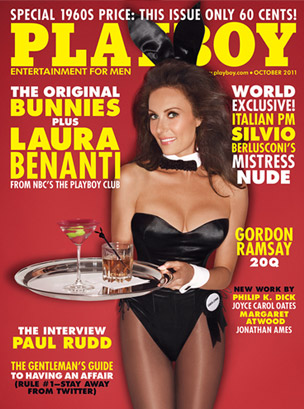 The most extraordinary thing about this photograph, however, is that Laura Benanti is missing an arm. Just saying.