On September 19th, 2011, The Playboy Club will premiere on NBC. That's right — that very day, that very show will be available for viewing on your home entertainment system. Will you be tuning in? The answer to that question may require some very serious soul-searching. First, here's what NBC says it's about:
"Step inside the seductive world of the Bunny, the epitome of beauty and service, and rub shoulders with the decade's biggest mobsters, politicos and entertainers (like Tina Turner and Sammy Davis, Jr.). With all these larger than life ambitions, there are even greater secrets. Like when innocent new Bunny Maureen – who wants to take the world by storm – accidentally kills one of the Windy City's most powerful mafia bosses… and the only person capable of covering it up and protecting her is Nick Dalton, a man who once worked for the mob but is about to run for district attorney. Bunny Alice is married but hiding an explosive personal life while Bunny Janie is running from a past that threatens to catch up with her. It seems everyone has a secret – none more so than Maureen, who may not even be the innocent orphan she appears to be. Thank goodness Hef's Playboy Mansion is open after hours for a little R&R… and burying your past."
Right, sounds totally degrading to women, etc etc. Honestly, after sitting through two seasons of The Real L Word, I don't even think I know what "degrading to women" means anymore, and besides, I've always been more concerned about the innocuous misogyny embedded into the very fabric of stupid sitcoms like Two and a Half Men than I am about a show which makes its sexist parable pretty fucking apparent.
But, moving on — The Parents Television Council hates it, obviously, but unfortunately we also hate them. They got at least one affiliate in Salt Lake City (albeit an affiliate owned by the Mormon Church, natch) to decline to air the show. Also hating it? Morality in Media, a 49-year-old "interfaith" group which is executing a "three-pronged attack" against the show's advertisers, the network, and its affiliates.
Here's the kicker, though — Gloria Steinem hates it. More on that in a minute.
First, the trailer:
Now, four things you need to know when making the very important decision on Monday September 19th at 10pm of what to watch: Intervention or The Playboy Club? THERE WILL BE SPOILERS.
1. Gay Lady Amber Heard Stars in it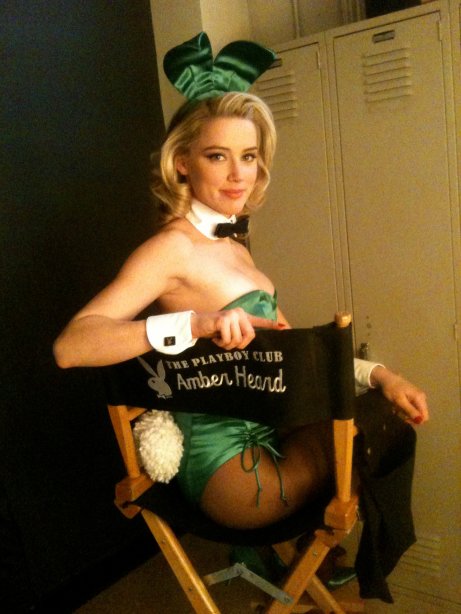 Amber Heard, Very Beautiful Lady-Loving-Lesbosexy-Lady, is starring in NBC's The Playboy Club as "Maureen."
Heard is appropriately interviewed this week in Playboy magazine and she talks about getting naked for movies, being an athiest, guns, and having to watch her weight for Hollywood.
On her character in The Playboy Club:
PLAYBOY: You play Maureen, a Playboy Bunny, on the new NBC drama The Playboy Club. Now that you've spent time in the Bunny suit, you can tell us: Is it really that uncomfortable?
HEARD: It feels about an inch away from death. If it got any tighter, we wouldn't be able to sit upright. I'm ­serious—it's that intense. But it looks great when you're wearing it. Actually, you know what I really love about the Playboy Bunny outfit? It's all about a woman's silhouette. Whatever happened to that? Back in the 1960s it was fine to have curves. Do you know how happy I am that I get to keep some of my curves? For once I don't have to starve myself.
On being gay:
PLAYBOY: You came out of the closet last December, sharing details of your relationship with photographer Tasya Van Ree. As a Hollywood sex symbol, did you notice that the announcement had any effect on your career?
HEARD: First of all, to say I came out implies that I was once in. Let me be straight about that—no pun intended [laughs]—I never came out from anywhere. I've always lived my life the way I've wanted and have been honest with myself and everyone around me. It didn't really affect anything in my career. I don't think the producers and directors I've worked with care one way or another. The only frustrating part has been all the media attention. For someone like me who prefers to keep her life as private as possible, it has been disconcerting to have to define so much about myself. I don't want to be labeled as one thing or another. In the past I've had successful relationships with men, and now I'm in this successful relationship with a woman. When it comes to love I am totally open. And I don't want to be put into a category, as in "I'm this" or "I'm that."
In other news, I'm glad we interviewed her last year before this show started, I don't think we're gonna get that opportunity again.
+
2. One of the Bunnies is a Lesbian Activist!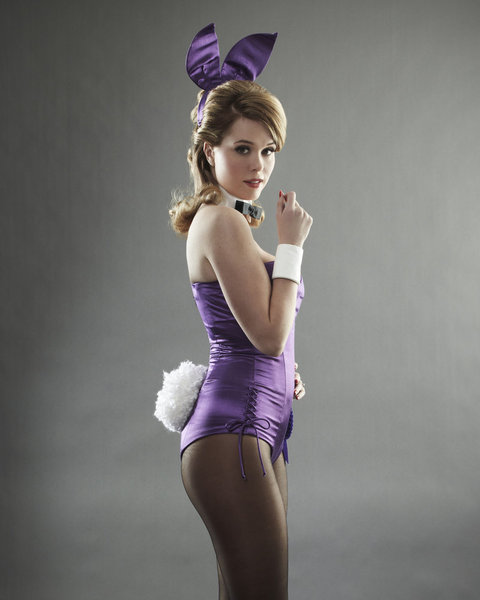 The Playboy Club will feature a lesbian character, too, says AfterEllen. Alice, one of the Bunnies, will play a closeted lesbian in a lavender marriage with a gay man, with whom she's involved with the Chicago chapter of 1960s LGBT rights group The Mattachine Society:
"It'll definitely be a part of the show that will continue," said executive producer Chad Hodge, "And the reason it's in there is because it comes from character and it comes from who Alice is. When I first approached this material, I really wanted to talk about the inside of the club and the back of the club and the front of the club and what first impressions are and what is behind it. The same goes for a person — what do you think of a person when you first meet them? … That's really represented when you meet Alice. You don't think she's a lesbian when you meet her. You think she's a perfect married housewife and then you realize she has a secret life that is very tied to the times and history and what's going on and that's certainly a major storyline of the series."
"Well I don't know when it's going to happen, but all the other bunnies will find out," Leah told me after the panel. "Her secret is going to come out. I can tell you that. I don't know how, I know that our next episode, which we're working on now, has some really exciting stuff for Alice. Her husband Sean is also a gay man and they're in a 'lavender marriage' — they've been friends since they were in high school. They're just kind of in this together. There's a lot of fun scenes between them."
So will she actually find love? "She definitely has somebody that she's has her eye on for a long time. I'll say that," Leah said. "I can't say if she'll be her girlfriend or not."
+
3. Another Lesbian Will Show Up in Episode Two
There's actually gonna be at least one other lesbian character, says Autostraddle, after catching a sneak peek at the sides for episode two (sides, the scripts given to people auditioning for the show that aren't exactly supposed to be seen by the press but whatever, are always subject to change and rarely the final draft of the script you end up seeing performed onscreen, however, so you never know what'll change!) Frances Dunhill is, it would seem, a lesbian who develops a for-show-only relationship with politician Nick Dalton to boost his campaign and please her father. She meets Lesbian #1, Alice, in the second episode, and lets her know "you're the prettiest girl in the club." Sparks fly.
+
4. Gloria Steinem Doesn't Approve
Gloria Steinem, the world's most famous feminist, doesn't want you to watch The Playboy Club:
In a new interview with Reuters, the 77-year-old feminist icon said flatly, "I hope people boycott it. It's just not telling the truth about the era."
Steinem has special insight into the accuracy of that long-ago world — she went undercover as a bunny at the New York Playboy Club nearly 50 years ago for a groundbreaking exposé. And the new show, she says, "normalizes a passive dominant idea of gender. So it normalizes prostitution and male dominance … I just know that over the years, women have called me and told me horror stories of what they experienced at the Playboy Club and at the Playboy Mansion."
Ahem, my strong feelings about the problematic nature of automatically categorizing prostitution as inherently submissive aside, it's easy to understand where Steinem is coming from — anyone who's been a part of any kind of somewhat-underground sexual-related economy will have mixed feelings about the clean-up and glamorization given to it on a teevee show.
Also interesting: those aforementioned sides from Season 2 include a character named Doris who, from what we can gather, is a reporter who goes undercover as a Bunny to write a story for someone somewhere, which later leads Bunny Carol-Lynne to scold her: "There's a difference between an empowered woman and an ambitious one. This job isn't easy. Each woman you've met here wanted this. She worked for it." Doris says that's why she wrote the story — to protect the women, but Carol doesn't buy it. Is this character supposed to be Gloria Steinem, or a totally unrelated but remarkably similar situation? I guess you'll only know if you watch the show and that scene stays in it.
Ultimately, despite my far-left radical lesbian feminist personality and obligatory allegiance to Ms.Steinem, I still feel like I have to watch this show. I mean, of the five primary Bunnies — Alice is a lesbian (played by Leah Renee), Brenda is a woman of color (played by Naturi Naughton), Maureen is played by a lesbian actress (Amber Heard) and Carol-Lynne is played by Tony-Award winning actress Laura Benanti (a dead ringer for lesbian actress Haviland Stillwell) who did a really good job in Gypsy which is relevant to the interests of this program. The fifth primary bunny, Janie, is played by Jenna Dewan who is not a lesbian and doesn't play a lesbian and wasn't in Gypsy but she was in a Missy Elliot music video once. So.
There's at least two gay male characters, at least two gay female characters — how can I resist?
At the end of the day I'll watch anything with a lesbian character. If I really hate it and find it horribly offensive, I could always just, you know, recap it.
[yframe url='https://www.youtube.com/watch?v=6ghg-q_6lpg']