Welcome to You Need Help! Where you seek advice and we try our very best to give it.
This has traditionally been done by way of individual Formspring accounts, Autostraddle's Tumblr and a Formspring Friday column, which has all been very fun and insightful. But, because Formspring has a character limit and we're wildly optimistic w/r/t our time-management skills, we thought we'd go one further and let you use our ASS private messaging to share advice-related feelings, too.
For more info on sending in questions, see the bottom of this post. Now let's get down to bossing people around on the internet! Today we're going to talk about our feelings w/r/t moving away.
---
Q: Hi Rachel. Are you happy that you moved? I am being given an opportunity to move away from the area I've been in my whole life to somewhere where I know nobody. I'm nervous. I have nothing holding me here but what if it doesn't work out there?
A: Hi, hello! The thing is, anonymous friend – I'm going to call you Helena, if that's cool with you – that there are a few things going on here. This is what we would call on an exam a multipart question. So, let's break this down.
1. Yes, I am happy that I moved. I used to live in a city that I love but which was making me broke and sad, and now I live in a city that I love slightly less but where I can afford to live and can do work I love and I have my own cat and I can put a bowtie on her whenever I want. This is basically the American Dream, as far as I'm concerned. But that's not really what you need to know, is it?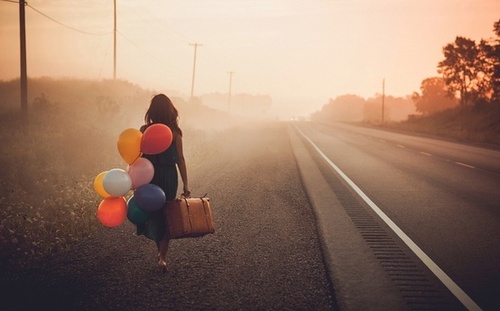 2. What if it doesn't work out there? Well, what does that mean, for it to not work out? Would that mean that you don't love whatever opportunity you're being given? (I'm going to assume for our purposes that it's a job.) If you don't love your job, you're in the same boat as a lot of other people. Not loving your job would give you a host of other choices: you could search for a new job, or negotiate with your boss to change your current job, or make a plan to leave your job and pursue something that's been a passion of yours (for instance, I quit a job to move away and get an MFA). It seems as though whatever you're doing for income now, you're not in love with it, or you wouldn't say "there's nothing holding me here." So it seems as if you already know it's not the end of the world, no?
Another thing you are perhaps referring to when you ask about it "not working out there" is not making friends, or having people that you care about. As an anxious person who feels extra double anxious about having to "make friends" in adult situations without a swingset to negotiate turns on, I feel your pain. But here is a thing to know about new people: they only know who you are, not who you've been. This isn't, obviously, to say that you should move because it's an opportunity to invent a new personality. That is both incorrect and creepy. But Helena, you know how you've been getting bigger and braver as a human over the past few years? You've been talking to more people and trying new foods and you bought a Groupon for rock climbing and even though you haven't gone yet, you're pretty sure you're going to, even if no one else wants to come with you. And have the people that you know, the people that you're hanging out with now, have they noticed that? Are they aware that hey, have you noticed that Helena is now the kind of person who tries out rock climbing just to try it out? Or did you notice that Helena has turned out to be a really excellent vegan baker? Maybe they have noticed this. But maybe they're not as aware of it as you are, because they're holding the memory of past-Helena up next to who you are right now. And that's not their fault, because we all do that. But what that means is that you're not fully able to move beyond who you were in the past and be fully who you are in the now (unless your friends are super self-actualized and very caring human beings who greet you every day by saying "Morning, Helena, I value you and all the things that make you you in this moment." In this scenario, your friends are also characters in Short Bus).
So what I'm saying is that as hard and scary as making new friends can be – and I do recognize that's hard and scary – the payoff is that you can be authentically you around them because they have no expectations of you, and in doing so, you often find out new and thrilling things about who you actually are. Part of moving and finding a new circle of people to care about is that they ask you to be part of new and weird and different activities and communities than you ever have been before, and you get the opportunity to surprise yourself by saying "yes" to things you've never considered before. And clearly you're considering the opportunity to consider something you've never considered before, or you wouldn't be mulling this question. Which brings us to:
3. The question you actually seem to be asking, Helena, is, "Should I move?" And you know and I know that I can't answer that question for you. In real life, there are dozens of pragmatic considerations to be taken into account – money, roommates, family, jobs, cats, furniture. And of course I can't advise you, really, to do one or the other. But I can tell you that to me, it says a lot that you say you have nothing holding you here. Nothing is a big thing. And while I get the concept of the devil you do know being preferable to the one you don't, here's the thing: remember that any change you make, anything you reach towards, will bring you closer to something. Even if it's not what you expected, you can do anything with something. Right now you have nothing holding you here, and all the things that matter in life, good relationships and family and work that we care about, all those things are things that do hold you here. And most of us want those things. So it seems like you might have to change something in your current situation to get it. Change isn't always good, but I think almost all of us can agree that the things we value most in life came to us when we took a risk and did something scary that we couldn't be sure would end well. Few of us finally found the things that have a hold on us by staying where we are. I know you're nervous. But if it somehow doesn't work out, you'll be okay. Because you'll have taught yourself that you can make a big change and you're still here, and life has gone on. Don't you love how we go on?
---
To send your question via ASS personal messaging, choose an editor: Riese | Laneia | Rachel
Or ask any team member you'd like: Meet the Team
*If messaging is down, email us! There are so many options, you guys! You could send carrier pigeons!*
For 100% anonymity, contact us through Formspring:  Riese | Laneia | Rachel
Please keep your questions to around, at most, 100 words. Due to the high volume of questions and feelings, not every question or feeling will be answered or published on Autostraddle. We hope you know that we love you regardless.