Welcome to You Need Help! Where you've got a problem and yo, we solve it. Or we at least try.
---
Q:
Question for the Team/ all human beings who date: What is the best way to end something (i.e. break up) with someone you've been casually dating for one or two months? My general feeling is that open and honest communication is the way to go for most everything, but what if the reason you want to end things is that you just aren't attracted to the person? Is a white lie better than the truth?
A:
Well, because you asked for advice from the entire team, here's what I whipped up for you:
Ali: Say "I feel friend feelings toward you."
Lizz: In my experience would say framing things as "I'm just me attracted to you" doesn't really benefit anyone because you end up feeling like shit saying it and they feel like shit hearing it. I think "I don't think this relationship is right for me right now." Or "I just want to be friends" works better. It's not even really lying because it's true.
Stef: i would probably stress the lack of romantic connection; there's a way to do it directly without being rude. Don't do the slow fade; it's mean.
[Anonymous]: Oh gosh I just had to do this casual break-up thing but thankfully had a real excuse called "getting back together with my ex." Still feels shitty, but it's better than having to tell them the truth (they are annoying) or doing it over text (bc that's a bad look).
[Anonymous]: My most recent ex extinguished the dying star of our relationship by sleeping with someone else. Who needs words when you can just be a huge asshole AMIRITE.
KaeLyn: I'd say the answer to the person who asked is to be honest, but not too honest. You want to give the other person some closure and you also want them to not think you're a total D-bag. Don't say you want to be friends unless you really do want that. If it's because you think they are intellectually inferior, don't tell them that, either, because that's mean. You can always say that the chemistry just isn't there for you and you think they are good people, but you aren't getting tingly feelings and don't want to lead them on.
Stef: what if we broke up with people as though we were in the kim kardashian game and just called them after one day of not hearing from them like "maybe it's my social awkwardness, but are we broken up?" "i really liked you, cute brunette cartoon character, i'm sorry i never had the energy to take you to that weird restaurant in paris."
Personally, I think it's important to recognize that what's missing here isn't that you don't find her attractive, but that you're lacking romantic/sexual chemistry and/or a "spark." Sometimes it's okay to be straightforward and say so because you're not actually issuing some kind of formal declaration regarding this girl's objective attractiveness. No girl is objectively unattractive, we all just have different things that we're into! I've dated girls who were objectively unquestionably attractive and ten billion times better looking than me, but if they're not my type then none of that really matters, and the relationship will fizzle. So it's not the end of the world for her if she's not your type. If that spark isn't there, she probably feels it too. Whether or not you wanna go the basically-honest route is up to you though — definitely not everybody can take that for what it is and not spiral into a black hole of insecurity. I personally feel like it's good to get an honest reason if it's not a personal insult, since this is information a person applies to understanding future relationships, but probably I'm in the minority on that.
So you have many options! And, as Stef mentioned, the "slow fade" — where you stop responding to texts and calls and so forth — is mean. Don't do that. Don't keep stringing her along 'til the moment you're both at a party and there's somebody else you'd rather go home with. Don't say anything that could out you as a liar further down the road — for example saying "I don't wanna be in a relationship with anybody right now" is gonna leave her mighty confused if you hop into a new relationship next week.
Also, don't say this, because it's not true: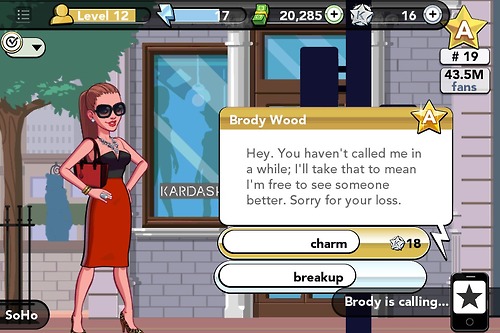 ---
Send your questions to youneedhelp [at] autostraddle [dot] com or submit a question via the ASK link on autostraddle.tumblr.com. Please keep your questions to around, at most, 100 words. Due to the high volume of questions and feelings, not every question or feeling will be answered or published on Autostraddle. We hope you know that we love you regardless.