Lunchtime: unequivocally the best part of the day. But could it be better? Yes sir, it can. You don't have to spend gobs of money going out, but you also shouldn't be packing the same peanut butter sandwich year in and year out; there is a middle way. The path to becoming a lunch box buddha isn't so hard. All you need is a good balance of inspiration and  improvisation. Every week, we'll make one or two packable recipes so that you have something new to fill your lunch box and your stomach. 
---
Before we dive into the food portion of this week's lunchbox adventure, I want to take a minute to talk some more about rain. Knowing how much I hate rain and how much I love language, one of my co-workers sent me a link to a website about all the Galician words for and about rain. You know how They say Eskimos have thousands of words for snow? (They're wrong, by the way.) Well, Galicians aren't so far off. Por ejemplo, they have 75 nouns for rain (38 of which refer to this special kind of obnoxious, thin drizzle that's particular to here) and 33 different verbs.
But enough with the rain talk! It's been glorious here for the past week and I've never been so happy to see then sun. This week we're making couscous, a food I've never had before because I can be a little stubborn about food. Somewhere along the way, I'd gotten it into my head that I don't like couscous (honestly, this is a really confusing thought to me because there are few things I enjoy eating more than pasta). But when my friend brought a couscous salad to a barbecue we had last weekend, I knew it was something I had to at least try. Lo and behold, it was delicious. I now bring you her no-fail recipe for couscous.
Tomato and Feta Couscous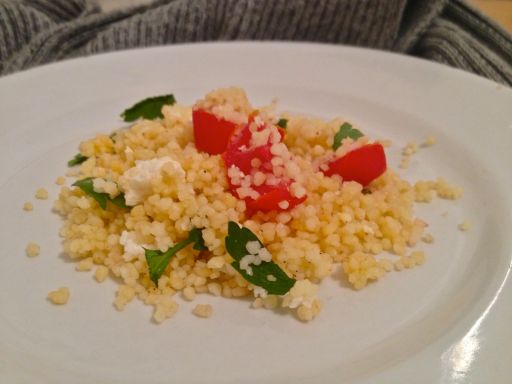 via my friend, Julia
Ingredients:
500g couscous
500g water
salt
pepper
paprika
1 container of cherry tomatoes
2 stems of parsley
4 cloves of garlic
50g of feta cheese
olive oil
1/4 – 1/2 of a lemon
Instructions:
1. Bring the water to a boil, remove it from the heat and immediately add the couscous. It's exactly that easy to make. Since it takes almost no time for the water to boil, you'll want to measure out the couscous as soon as you put the water on the stove so that you don't rush around trying to get exactly 500g when it starts bubbling.
2. Stir in the salt, pepper and paprika to your taste. I use roughly 1 t of each.
3. Grate, mince or chop the garlic and add it to the couscous.
4. Chop the tomatoes and parsley and add them to the couscous.
5. Crumble the feta cheese and throw it in.
6. Add olive oil and lemon juice to taste (I do about 2 T of olive oil and 1 T of lemon juice) and stir everything together.
+Storage and eating: Couscous is as ridiculously easy to save as it is to make. Store it in a sealed container in the fridge and you'll be good for at least a week. The only negative is that I find that the couscous tends to get a little dry after a while, so I add a little extra olive oil when I get to work and it's like new. This salad is also incredible topped with sweet potato falafel.