Welcome to Y'All Need Help, a weeklyish (maybe?) advice column in which I pluck out a handful of questions from the You Need Help inbox and answer them right here, round-up style, quick and dirty! You can chime in with your own advice in the comments and send your quick and dirty questions to youneedhelp@autostraddle.com.
---
Another week, another adventure in mixing metaphors and not necessarily being right about things! But, I mean, I am right. Let's get to it!
---
I was straight my whole life. I never questioned my sexuality. I became friends with the new girl at work — a gay butch woman — and started hanging out a lot. I never had a clue that she was into me and she never gave out any hints. Then one day, we were sitting on the couch, and BAM she was kissing me. I went with it obviously, I didn't want to make her feel bad by rejecting her, especially because she was not only my friend but my co-worker and I had to see her everyday. After that night, I went home confused as all hell because I had this weird feeling of wanting more. So I kept hanging out with her, and the kissing kept happening. Next thing I know, its a month later, my clothes are all over her room, I haven't slept at home that entire month, and I'm sitting on her bed stuck right in the middle of the "are you my girlfriend" conversation. Like I said, I was never gay, never liked or thought about girls until one day I was slapped in the face with the realization that I WAS, in fact, dating a girl. We were together for three years and every time I was faced with the "are you gay" discussions, I always denied it. I didn't honestly believe I was gay. And I still wasn't attracted to girls (even though I was dating one). It wasn't until one day, shortly after our break up, that I literally woke up and thought "Omg butches are fucking hot". I suddenly became obsessed with women and completely attracted to them.
So now for the real question behind all the seemingly redundant history.
Since I am soooo new to the lesbian world, I don't even know where to start. I feel like a fish out of water. I don't have any friends that aren't straight to help guide me. I feel like I don't fit in because I wasn't a lesbian from the "beginning." I don't know how to go about meeting others or even how to spot them if I did cross paths with them. I don't know any places to go (besides the bar), that I can make new friends and satisfy my new found obsession with women. I live in Chicago. What are some fun places to go or things to do that I'll likely meet other lesbians? And will the new LGBT people I meet reject me for not always playing for their team? Will they think it's just a phase or treat me like a poser? I certainly know this is not a phase, I'm not just curious, I'm literally just a lesbian who took a little longer to figure it out.
Sincerely,
A clueless baby
Holy cats, Clueless, do you have any idea where you are?? You're practically sitting on a lesbian volcano right now. Chicago is like, one of the prime places for cool queer women — I mean it's up there with Oakland/Berkeley, LA, Portland, Bushwick — you are SURROUNDED by other lesbians. Do you have a dead cat handy? Swing it around. YOU ARE HITTING SO MANY QUEER WOMEN.
Ok but seriously listen up, here's the deal with being a lesbian who took a little longer to figure it out: That's fine. It's totally fine. Look at all these queer women who came out well beyond their teens/early 20s! So many, right? And while you're there you should just read the whole article because Laura nailed it. Everyone figures things out about themselves in their own time. I didn't know I liked dark chocolate until I was 28, Clueless. Twenty-eight! Twenty-eight stupid years without dark chocolate! That's a goddamn tragedy, but it sure as heck doesn't make me a poser. I will fight any one of you for the last delicious square of 85% cacao, and I'll win. I also didn't know I was gay until I was 25 or so, and would you just look at me now? All I do is have lesbian sex and eat dark chocolate and hang out with queer women on mountains and executively edit this very website you're reading!
And yes, there are some butthurt, petty, pathetic children in this world who spend their lives trying to make other people feel like shit about themselves, and those children may very well attempt to do this to you. They might discount your identity, make fun of you, even call you a 'failed heterosexual' (a personal favorite). If they do, be grateful, my Clueless, for they have made it supremely easy for you write them off as complete fucking idiots. Isn't it nice when people show you upfront what an asshole they are? Bless their hearts. People like us don't bother with people like them, because we're having entirely too much fun supporting each other and living fulfilling lives and having dark chocolate lesbian sex parties.
I'm gonna let the Chicago Straddlers play us out in the comments, because I know they have some great suggestions re: how to go about meeting awesome lesbians in Chicagoland. Also here is their Facebook group for meetups and other rad happenings! Crystal, who is moving to Chicago from Australia to marry her fiancée and be adorable forever, says there's also a very active Straddlers book club. Now get out there and live your life!
---
I ended a years-long relationship about eight months ago. It was long overdue and I was more than ready to pull the plug. The problem is that my ex and I live in a small town and see each other often, including at 100% of gay lady events. I'm completely over her, so it's not really about being hurt so much as feeling super awkward talking to other women and watching her do the same while we're literally in the same room.
I've rearranged plans to avoid seeing her a few times, but obviously this can't go on forever and not doing something I want to do because of this feels cowardly. I've gone through break ups and had to hang out around an ex before, but never when the relationship was this serious or the break up was this ugly.
I know there's no actual solution here, so I guess my question is just: What's the best way to suck it up and act like an adult about this?
This is a tough yet extremely simple situation, because the truth is that you just have to look at your priorities and then act accordingly, and that's really it. It's what adults do and it isn't always easy or fun, but it's how people live! You've actually been doing this, you were just working with a different set of priorities, and now they've evolved. The original set of post-breakup priorities you were working with were probably like:
1. Limit the possibility of confrontations.
2. Only participate in activities and thoughts that are the least likely to end in me crying/yelling.
Those are very valid priorities! Your well-being and emotional balance post-breakup are fragile, itty bitty little things, like a basketful of bubbles. Everything could pop or float away at the slightest breeze or stumble. It takes a lot of time and energy to prioritize the care of these bubbles because without them, you're kind of nothing, but even with them you're sort of nothing, because all you are is them and the caring of them, and they are bubbles. It's exhausting but necessary work.
Over time the bubbles eventually turn into something like… an egg? Like if your heart was in an eggshell; a heart egg. So the moment you start thinking, "Ugh I feel stifled and annoyed by this situation with the basket full of bubbles," it's because your bubbles are a heart egg now. Congratulations! Your heart/egg thing still needs near-constant protection, but also some oxygen and music and other people. They need to be carefully moved around and inspected for damages. They need warmth and attention! But also air.
And you know this! You know it because you wrote this email and you're ready to breathe; ready for your fragile little heart to see the sun again. Sticking your heart egg in the sun will be horrifying and dangerous, but it's time. It might get bruised, you might feel so awkward that you want to claw your brain out of your skull (graphic!), you might feel extremely sad or guilty about a number of things, but also? You might have a great time. You'll definitely get better at not clawing out your brain, and at forgiving yourself and other people, and letting things go. And you'll absolutely build a stronger, healthier little heart, so that when it's ready, it'll punch right through your chest and fly out into the world with its own agenda and you'll have to run to keep up.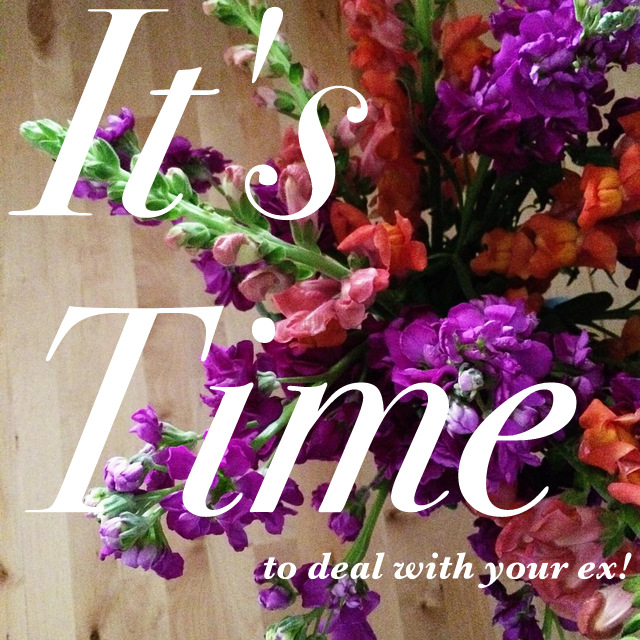 This is just something you have to do. You'll have to live through awkward, weird, sad, uncomfortable situations — right through to the end of them — and you will make it to the end of each and every one of them, with your heart still beating and your skull still full of brains. You'll go home and wake up and do it again. You'll get really good at it, because that's life. This is a thing you can do!
---
I have two groups of friends who I hang out with — one from high school and the other from my area. My high school friends have continued on with our friendship exactly the same as before I came out, but my other friends have made me being gay one of my biggest characteristics. Being gay is a huge part of who I am, which is why I wanted to come out, but it also doesn't define me. For my local friends, me being gay is treated in the same manner in which we tease one of my friends for being a bit of a ditz. Its a constant talking topic and related back to everything I do or say. I don't think they are doing so in a malicious way, and I sometimes join in making jokes about it. I'm just not sure about how to try and resolve the situation.
I don't want to confront my friends because I don't want it to come across as an attack. How are they supposed to know they are making me uncomfortable if I sometimes take part in the 'joking'. I'm just nervous that any new people I meet through this particular group of friends will only come to know me as The Gay One. I have no intention of ever hiding my sexuality, but its not the only thing I'd like to be known for. Not only to new people, but this isn't only what I want to be known for to my friends. I know this probably isn't the most pressing situation, but I'm sure if I don't deal with this situation now, it will shape the rest of our friendship moving forward.
Oh damn that would irritate the heck out of me! They're probably doing this because they're either very excited to finally have a queer person in their friend circle, or they're still sort of uncomfortable about it and they're trying that thing where you normalize something by just repeating it over and over again. Like when I spent my first summer in Phoenix saying to myself "You're awake, in the desert! You woke up in the desert this morning and this is where you live now. In the desert! Living that desert life! In the desert! Desert-dweller! Aaaah!" because few things are more jarring than waking up in the fucking desert in the summer. People aren't meant to live in the desert, you know? It's fucking hot here. If you will literally die in an environment without air conditioning — and I'm not talking about being uncomfortably hot or even heatstroke, but actual death — you should not build your home in that environment! It's very simple! But I DIGRESS, READER.
So maybe your friends are either extremely psyched or still weirded out, maybe both, maybe neither (this is a professional advice column), and you're worried that the new people you'll meet through this group will only see you as The Gay One, and I have to say that that's just not going to happen (or it will happen, but more on that in a second). People who are the kind of people who you want as friends will go out of their way to learn more about you beyond the surface things, and you'll feel comfortable letting them in on the deeper parts of yourself, and they'll interact more and more with those deeper parts, and respect them more and more, and that's how you'll become actual friends. People who don't go out of their way to learn more about you aren't the kind of people you'll be friends with, and that's true for any situation, whether we're gay or tall or ditzy or whatever.
There are definitely people in my own family who think of me strictly as 'the one who got pregnant in high school, moved off to California, became a lesbian, and now lives a life of sin in the desert of all places,' and while all of those things are true about me, they're certainly not my entire story. It's just tough titties for them because little do they know that I'm also getting into herb gardening and one time I made a quilt! I can recite all of Dirty Dancing, my wife is the most selfless human on earth, my kids are brilliant, Brittani Nichols is following me on Twitter, AND I'm really, really good at making mashed potatoes! Like I frighten my own self with how amazing my mashed potatoes are. Those poor motherfuckers will never know, ever. Any new people in your life who don't make an effort to get to know you beyond being The Gay One are missing out on all of your unique talents and world views and quirks, and that's just sad for them. Womp.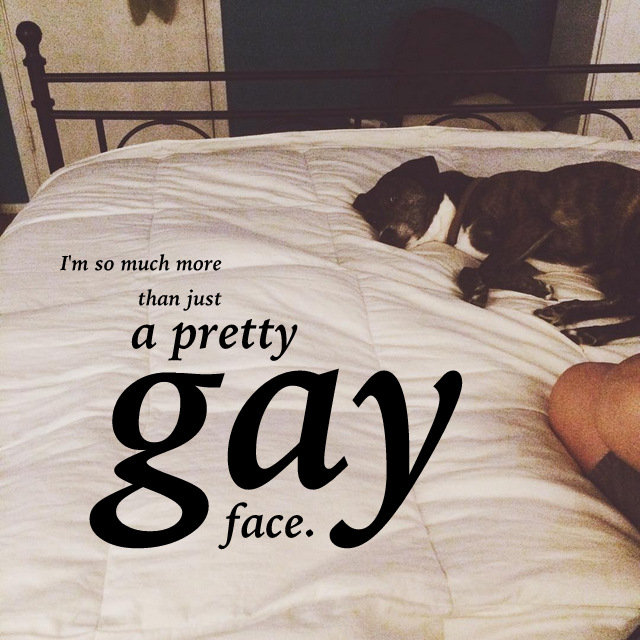 As for the people who are already your friends but can't seem to move past your queer identity, what if you played a fun game where you only referred to them as The Straights, and brought every interaction back to their straightness? For example:
"Oh I bet you and your girlfriend like this boring, mainstream romcom, don't you Todd? Since y'all are just straight."
"I was reading an interesting article about straight people the other day — did you know y'all are 80% less likely to have an orgasm with your partner than queer people are? That's sad, friend. Damn. Do you need to talk about it?"
"Does this shirt make me look straight?"
"Some of my queer friends think that all sexuality is fluid, but I stood up for you guys! I said 'No, Alex, some sexuality ISN'T fluid. I know at least four people who are so dedicated to their straightness, you have no idea. Don't ever talk about my friends like that again!' Because I'm such a good ally for you people."
"Hey, is that girl straight? I mean, she's wearing mom jeans and an almost-mullet, but I can't tell if it's literal or… I don't know I just figured you could tell when people are straight like you."
"Do you think you straight people have as much fun at Disneyland? I don't see how you can, Jennifer. I really don't see how you can."
But seriously, I think you can just tell them that it's annoying and encourage them to knock it off, if it bothers you that much! I think most people are interested in not being accidental assholes to their friends, and would maybe appreciate you telling them how you feel. This might also be a good opportunity to reconsider how you treat your ditzy friend, now that you're on the subject. I'm just saying!
---
I wish you all the very very best! Do you have advice for these advice seekers? Drop your thoughts in the comments! Need some quick advice for yourself? Email youneedhelp@autostraddle.com!