Before we get started, I want to point out that Y'All Need Help was conceived as an either bi-weekly or monthly advice column and, I believe, was cruising along quite nicely, doing its very best. The last installment came out on September 13, 2016, which means the next one should've come out mid-November. Ahem. It's taken me eight months to summon the whatever-it-is I need to write this advice column. That is a long time. If I'd asked you for advice re: "How do I get back into the swing of things when it feels like the world is exploding every 20 mins/however frequently I check Twitter?" what would you have said? Just curious!
---
Hi! I am 28 years old and about a year and a half ago I realized that I am not straight. I am so embarrassed that it took me so long to figure it out. The main reason is that six years ago I met a guy and fell in love, and during the first couple of years I didn't even want to think about being with anyone else. I was so happy and so so sure that I wanted to grow old with him. Now we are married and have a child. Generally, things are good between us, but my identity crisis has been hard on our relationship. I have been so scared and sad, and he has been trying to support me while going through a lot of emotions himself.
I identify as bisexual/queer but haven't told anyone except my partner. He wants to be supportive, but I can tell he is ambivalent. Part of the reason why I haven't told anyone else – except dropping a few hints – is that I am not sure how he would feel. Another reason is that I am not completely sure about my label. I have been wrong my entire life. What if I am still wrong and I end up identifying as a lesbian? Is there any way a relationship can survive this? Should I just leave now before I hurt him even more? How do I embrace my new identity and convince people that I am not just making this up?
Hey great job learning a new thing about yourself! I'm sure that wasn't an easy, chill realization to come to, so take some time to be grateful for these new pieces of your puzzle. Now where do those pieces fit? Good question. You get to decide!
Wrestling with if I didn't know this huge thing about myself, how can I trust that I really know anything about myself? is HARD. It's a total mindfuck. The thing to remember is that you were telling the truth about yourself this whole time, based on the information available to you. It's valid to be annoyed or even super pissed off that some crucial info was somehow just out of your grasp for so long (and it's probably useful and necessary to investigate why, and take some time with that), but the truth is that we make all our decisions based on the information we have at that exact moment. That's what you did. You weren't wrong your entire life. Every day that you identified as a straight woman, you were going off of exactly what you knew about yourself. It was true! It was all true and honest. You can still trust yourself.
Lots of things can and will be hard about your relationship with your husband (or anyone), but yes, there are ways it can survive. Actually, plenty of bisexual/queer women — women who've known they were bi forever or had no idea or just kinda thought maybe they were — marry men! Some lesbians marry men! Some straight women marry men and then realize they're actually lesbians and stay married to that man anyway! Relationships change and grow and survive so many things, including gathering new information about your identities. I left my husband after realizing I was gay because, first and foremost, I wasn't happy in that relationship. We'd been together for nearly nine years and I'd never been able to come up with a concrete reason why I was so unhappy, so I'd stayed and stayed, because why not? Then I saw an episode of The L Word and subsequently received my own queer puzzle pieces, which quickly became the concrete reason I'd been holding out for. But listen, if you don't want to leave him, don't! Follow your big ol' thumping heart. Be honest about what you both want and what you're willing to do to get it, and that'll require some communication. Ask him how he'd feel about you coming out to more people, and then figure out if that even sways your decision one way or another. For the record, you do have the right to come out to whomever you damn well please, because we're all just doing our best in this world and sometimes that means telling people you're bisexual!
And another thing! You might identify as a lesbian one day down the road, but also it's just as likely that you won't. You might wake up at 50 years old, married to the same man and just hoping there's coffee, or maybe you won't. The important thing is that today, right now, you're honoring your own truth.
Trust yourself, and be kind and gentle with that internal monologue. That's one of the best ways to embrace your queerness. Read about other queer people throughout history and learn from them. Investigate your politics and see if they still line up with the You you know now. As far as convincing other people of anything, let that worry fly away from you like so many pigeons in a park. You weren't delivered into this universe to convince anyone of anything. All you have to do is live up to your own high standards and love your babies. And label yourself however you fucking want, because it's true.
---
I'm currently facing the possible (probable) end of my first serious relationship with another woman. All train wrecks aside, one particular issue has come to my attention. I U-Hauled with this girl hard core starting day one for reasons that all felt right. Now I'm regretting it, as the relationship quickly became codependent and after only a year I'm exhausted and I want out. Trying to change the terms of this relationship to take some of the codependency out of it may lead to its demise. So my question is, how do I get to experience all those exciting feelings of wanting to run away with someone and be wrapped in a love burrito without doing it to such an extent that it leads to codependency and resentment?
Oh this is an easy one! The quickest and dirtiest advice I've ever had the pleasure of giving: You just do. You just learn a lesson and you don't make the same mistake again. I'm sorry about the train wrecks and the exhaustion, but it's great that you're taking steps to make the relationship a healthier one for both of you, however that ends up.
Now you just needlepoint an elaborate wall hanging that says No U-Hauls, No Problems. Let every potential partner know that you are super into your independence but are still excited about the love burritos. Set boundaries and keep them (until you don't, and then learn from those times, too). You've been given a wonderful gift: the gift of hindsight. Use it for good and use it often!
---
After many years of failing to deal with my mental health problems I finally started seeing a therapist a few months ago! I spent weeks finding one that looked perfect and despite having a shitty experience with counselling in the past I was excited to start owning my shit. Except…I'm not finding it that useful. We mostly just end up talking about the internet. And it's so expensive! Having to borrow money off my girlfriend to make rent every month is making my mental health worse than before I started! I want to quit, but I've already tried medication and exercise and everything else the internet recommends and I don't know what else I can do. I need help!
First of all congratufuckinglations on taking these steps for your mental health! It's not easy to get to where you are right now and I'm impressed and excited for you and your goals. I say this as a woman who's put off making an appointment with a therapist for months — I even have her cell number and she is so nice, and so accommodating, and yet! So anyway NICE WORK, seriously.
Having said all that, you should look for a different therapist! Finding a therapist you click with — meaning you actually feel like your time together is useful and building onto itself in a productive way — isn't easy, and can take several tries. You're only around most other healthcare professionals for what? About 10 minutes per visit, maybe less? So maybe you don't care if you click with your pediatrist or your ear nose and throat specialist, but a therapist is staring you right in the eyes for the better part of an hour, and it's all supposed to mean something, and there's so much to say and hear. And you're paying them! It's a lot to put on any relationship, really.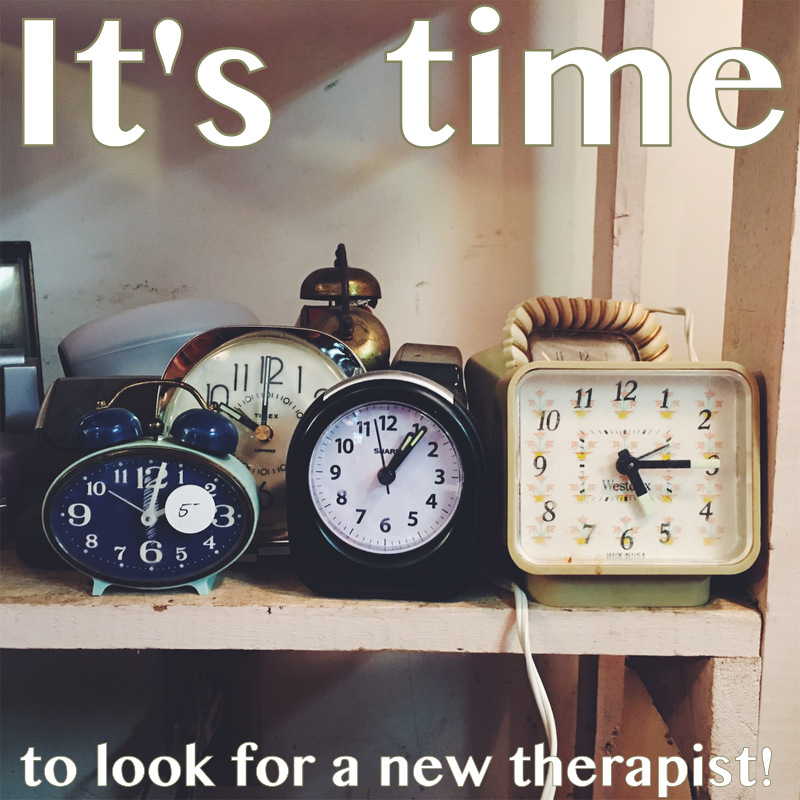 Go ahead and admit that this therapist simply isn't right for you, and get to work finding another person who might work better. It will suck and be exhausting and annoying, but you must. Keep trying until you find someone who fits your needs.
---
Y'all Need Help is a now-biweekly advice column in which I pluck out a couple of questions from the You Need Help inbox and answer them right here, round-up style, quick and dirty! (Except sometimes it's not quick, but that's my prerogative, OK?) You can chime in with your own advice in the comments and submit your own quick and dirty questions any time.