Q:
A close friend of 11 years (that's just under half of our lives thus far) confided to me in February that she's, in her words, """bicurious"""? Which in her case means that she likes """hooking up""" with girls, but only likes dating guys. Her on-again off-again boyfriend knows and is cool with it. And it's really bugging me, and I'm not sure why. It gives me, very…Katy Perry vibes, you know? She kissed a girl and her boyfriend apparently didn't mind it at all. Like, straight women in bars trying to titillate men by kissing each other. It super bothers me and I feel like this is really similar to that.
Also, I'm the only queer woman in my friend group, and I kind of feel like maybe if this is something that she's exploring, it's like, encroaching on my territory? Is that super weird? Am I actually being territorial? Is that normal? Why does my straight friend have more lesbian experience than I, the lesbian friend, have?
We're rolling through summer and I'm still dwelling on this, and I have the worst suspicion that it's actually only bothering me because I'm a big jerk. Am I a big jerk? Does this even make sense? What am I even asking for help with? Help me understand why I feel this way? Do I need to sign this with a cool code name in the style of a newspaper advice column?
Threatened Token Gay Friend
A:
Hey TTGF! I love it when people sign off with a codename! You wouldn't believe how much time I've spent just staring at my walls, wondering whether or not other publications make up the codenames themselves, or if the advice seekers make them up. They're so damn clever sometimes! It's a lot to think about.
Anyway Toke, here's how I see it: you're feeling territorial (re: token gay), you're feeling slightly jealous (re: 'experience'), you're feeling frustrated as fuck with the patriarchy (re: life and how we're reared to seek legitimization from people unwilling to even give it, and what that does to us in the long run, and how bar culture is the worst) and you're wondering, what does this all mean??? And to that I say, it means that you're a person with complex emotional responses to a variety of situations. NICE WORK. Cool. Ok so don't worry about whether or not it's a good emotional response because you can't control your emotional reaction, only the manifestation of that reaction. So here we go, this is where it gets crunchy.
Maybe your friend is the kind of gal who makes out with other gals in order to turn men on. That's cool. Her existence and that kind of practice doesn't take away from your existence and your kind of practice, whatever that may be. She can be she while you be you. There's room enough at the inn.
There is.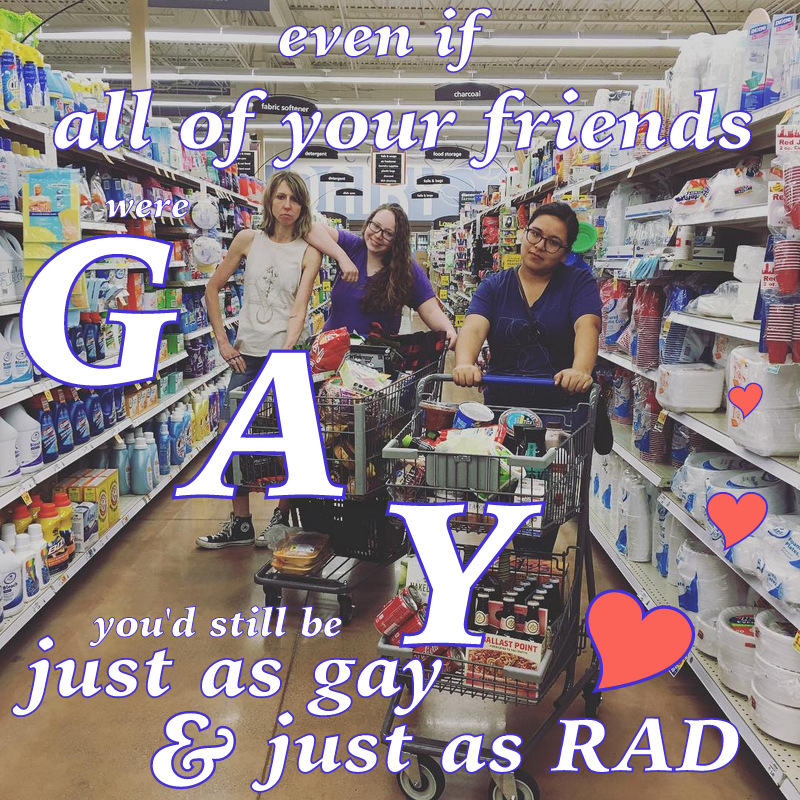 So if everything you're feeling is normal as fuck — and it is — now it's up to you to manifest those feelings into something positive as fuck. Be welcoming to your bicurious friend. Give her space to clomp around and slam into all the other body-shaped wads of feelings that are willing to be her bumpers. Let her be whomever she really is, without judgment. Be the chill you wish to see in this world.
You're still you, Toke. You're still the only you that's ever been. You're as gay as the gayest gay. You're destined for the utmost greatness and also the utmost gayness. You're doing GREAT. You're not a jerk. You're a body-shaped wad of feelings with the opportunity to shine some sunlight onto another wad of feelings.  Ain't life grand?
---
Q:
Hi. I am a 28 year old closeted lesbian and mother of three little kids. I was out-ish but never had any serious relationships with women. Then life happened and here I am.
I am not sure it matters how I got myself into this mess. I just need to get out. But I feel like coming out at this point is an incredibly selfish thing to do. My husband is a good man. He has done some really shitty things to me, but he loves being a dad. I don't want to destroy him.
I am also really intimidated by the sort of…gay culture that I'm seeing online. Like, Being a mom, I'm never going to fit in. It's not like I am even thinking of dating right now. I just want to be myself, and be seen, but I'm afraid nobody will accept me. Or they will think that because I was married to a man, that I must be bi. I am not, and have never been.
I wonder if I am going to screw up my kids for life. I know my mom will never forgive me.
Can you please help me figure out what to do?
A:
Well indeed I do believe I can help you figure out what to do! Because I had a very similar experience and now here I am, alive and well and wishing we were talking about this over a basket of fish and chips.
FIRST: Coming out and divorcing your husband will not screw up your kids for life. Other things will, but not this.
I know that you've been living in a world where you come fourth at best, probably fifth for the most part. You think putting your needs out in front of all of theirs is the most selfish, self-serving, unexpected bullshit you could possibly pull on these angelic baby people. You think you should've already been the most perfected and practiced version of yourself before they got here — before you called upon them to exist — and now that they're here, your time is up.
But it's not. Your time isn't up. Your needs have a vital place at your table. If getting out of this marriage is on your list of needs, prioritize it right up there with this week's grocery list and your summer reading and explaining how neutrons work over dinner. Put it on your list.
SECOND: Leaving your husband will not destroy him. He will still be a father — you can never (nor would you ever want to) take that away from him. This isn't about undermining his role as their dad. He'll have the opportunity to build a life with a person who isn't a closeted lesbian. I can think of only one or two other things a straight cis man in America would want more than that.
THIRD: The gay culture you see online is only a fraction of gay culture. Also your version of gay culture is literally whatever in the fuck you want it to be. You're not breaking into gay culture, you're breaking into yourself. You define yourself here. No one owns queerness. There is no Arbiter of Gay. If you're gay, you're part of gay culture, and anyone who disagrees with this truth is confused, and they're not yours to save.
I used to think that no one my age (25 at the time) would want anything to do with a newly out lesbian who had two kids and an ex-husband, so I kept them all a secret for months, years. It wasn't until I was 28 and I couldn't stand it anymore, I needed these strangers' hearts to keep me afloat, that I told everyone everything. And you know what they did? They floated me, for years. People sat inside their lives and reformulated their ideas of me, and they floated me.
The people in your life are entirely capable of reformulating their ideas of you. They can love you even when they're confused or sad or angry. They can be whole while you're also whole.
Coming out is hard. Divorcing your children's parent is hard. Potentially disappointing your mother is hard. But being silent and miserable is harder. Being scared and fake is harder. Being anyone other than who you are or who you want to be, is shit. Your kids need to see hope and honesty in action, even when it's hard, especially when it's hard. Your kids deserve the entirety of you. You deserve the entirety of you.
How to Leave Your Husband (Because You're a Lesbian)
---
Y'All Need Help is a weeklyish (kinda?) advice column in which I pluck out a couple of questions from the You Need Help inbox and answer them right here, round-up style, quick and dirty! You can chime in with your own advice in the comments and send your quick and dirty questions to youneedhelp@autostraddle.com.