Q:

My problem is that after 2 degrees, I've finally qualified to be a professional (in healthcare, I'm paranoid anyone might see this). I got a job right away, less than a month after our results came out, after a recommendation from a mentor.
However, now that I have begun this 9-5 job, I've had the sudden clanging realisation that this is not for me. I think 40 hrs/week anywhere isn't for me? I'm so burnt out my mental health can't take it. Also the cowardly part of my mind that always hoped I'd be brave enough to be a writer is surfacing in a most unhelpful and despairing way now I'm not.
I think I hate having this job that I thought I wanted so bad, that I hoped would be fulfilling and which really isn't terrible, that was so hard to get to. I think what I maybe want to do is freelance or start a little business and earn a lot less but control what I do with my time? I feel like I've finally realised what I want my life to look like and it's not what I've been aiming for. Is this stupid? Does everyone feel this way about full time work? Am I just lazy and unrealistic and I should be grateful for what I have?
I'm only on contract for a year, should I wait til the end of the year then quit? Go part time? Change my life or stick it out? Any advice would be greatly appreciated!
A:
You're not lazy! This is not stupid! It's great that you've realized what you want your life to look like! I think you should work until the end of your contract, then quit or go part time. That gives you several months to save save save and plan plan plan. Get all your ducks in a row and then GO OUT AND GET THAT DREAM.
In the meantime, take extra care of your mental health — do all the things you know you should do but sometimes/usually don't because it isn't always easy to take care of ourselves. But do it! Take care of yourself and also your dream.
---
Q:

This year (with some trepidation) I decided to move in with an old friend. Before that, we didn't see each other much (he often disappears into the Introvert/Depression Void) but we still talked about the Serious Issues in our lives whenever we got together. He's a messy and disorganized introvert who likes science. I'm a clean perfectionistic extrovert who almost became a therapist. Total opposites in every way.
Our lease is about to be up and he wants to renew. Mostly because I'm his best friend. But he is not mine. We are both mentally ill but his manifests in not caring about anything while I have a hard time letting go of anything. Sometimes this push-pull moves us both into healthier places but usually not. I feel like I'm always nagging him and he says he doesn't mind but it feels terrible to me. I often feel lonelier when he's here than when he's gone. We have had some heart-to-hearts but I feel like he just wants to believe this is the right thing. In the past our friendship has benefited from more space.
But maybe I'm painting this as a terrible situation when it's not. He has really been there for me this year, and there's times I'm so glad I live with someone I can be myself around. If I could let go a bit more maybe this could work? Staying is also wayyy easier than trying to find a new roomie in an unfriendly city. I'm super torn, and probably overthinking this. Help!
A:
It sounds like your instincts are telling you to go and your logical brain is trying to find a way to guarantee that these instincts are correct. The super terrible and silly thing about this is that the only way to tell if your instincts are right is to either act on them or don't, and then live for a while, and then look back on them and everything that happened and be like, "oh."
You know that quote about how no one ever said "I wish I'd spent more time at the office" when they're on their deathbed? That's how listening to your instincts goes. I can't remember a single time — like literally not a single fucking time in 36 years of life — when listening to my instincts was the wrong decision. I could, however, write my ol' magnum opus about all the times I acted against them! Oh man. Just last Sunday I didn't listen to my instincts and the whole time I was like YOU CAN STILL TURN THIS AROUND, LANEIA, THERE'S STILL TIME. But did I do it? Did I turn it around? No! Because I'm a stupid old bat!
You, friend, are not a stupid old bat. You're also not obligated to stay in a living situation with someone who you really don't want to live with! It seems like this living arrangement has run its course and it's time for you to take the next step. You can still be friends with someone after you move out! Happens every dang day.
---
Q:

So I live in a small town and I recently started to hit it off with this girl. She's really caring and beautiful but there is one problem. We have the same last name and our birthdays are on the same day. We haven't done any genealogical testing or anything but we asked around in our families and are confident that we aren't related or separated at birth. For us we find it kind of funny and convenient we have such similarities and our friends love to makes jokes.
But she and I have realized when our relationship status is brought up with acquaintances and our similarities are mentioned we are met with a lot of questions, negative conclusions and looks, even though we aren't similar in appearance or personalities. It's already hard enough being homosexual, and having this reaction about our relationship makes it even harder.
So I'm asking since I'm curious to know if anyone else has been in a relationship like this? I've also been pondering whether I should tell people about our relationship and have to deal with the millions of question and looks or if to just keep our relationship to ourselves because of the stigma?
A:
I want to scream THIS IS SO CUTE AND NEAT ! in my happiest scream-voice! I'm so so sorry people are making it awkward for you but honestly, just knowing there are two queers out there (!!) in a small town (!!!) who've found each other and get to have joint birthday parties (!!!!) is the best thing that's happened to me all week! THIS IS SO CUTE. THANK YOU.
Ok, whew! Listen, sharing a last name and a birthday is not a big deal at all. Lots of people date and even marry and procreate with people who have their same names, sometimes even the same first names! Lots of people look alike, too, which you're saying you do not, so at least there's that. But I mean it, this is not a big deal! Get a piece of paper out and write IT'S FINE on it, and then look at it. Read it to yourself. It's fine that you have these similarities, it's fine that you're queer and dating each other, it's fine that other people have their own reactions to the fact that you're dating and/or your similarities. It's all fine.
Don't let other people's reactions to you — especially the things that are intrinsic to your very existence, like the day you were born! — affect how you feel about you. That goes for like, everything. IT'S FINE. That's them. You can't do anything about them. You can do things about you though! And you should be having fun with this really caring and beautiful woman RIGHT NOW. Go do that. Stop thinking about this thing — which is actually a very cute and neat thing! — and just figure out where y'all want to eat on your next date. Everyone always talks about how they want to go to a fondue place but does anyone actually go? I mean, I don't know why but I don't trust the cheese situation. It just seems like it could be really hit or miss! You know? Have you taken her to fondue yet? Distrust of the cheese situation notwithstanding, I'd probably still be amped about a fondue place, to be honest. I don't know, think about it.
---
Q:

I need help! I've been with my gf for 4 years. We've lived together for 3 years and have been engaged for a little over 2 years. I love her, and I love our life together. Sure, some things aren't great, but thinking about breaking up makes me so sad. Problem is, thinking about actually getting married scares the crap out of me – and I can't tell why. On one hand, I like how we are now, and I don't see why getting married will make things different. On the other hand, I'm scared and worried to actually set a date.
Part of it is my family. My parents think my gf is ok, but don't particularly love her. I've been told she doesn't "suit me", whatever that means. They are nice to her and everything, but they aren't thrilled and it makes me anxious. (Side note, my mom didn't love the woman my brother married, but she seems fine with her now – especially that they have a baby). My aunt hates my gf (but my aunt is also a very difficult person to please, so that bothers me less) and she says my grandma doesn't like her too. All this makes me sad and nervous that I'm making a mistake.
The other part of it is I'm sort of embarrassed to have a wedding celebration. I don't want to make a party with my family unhappy about it, and I don't know how to make it a Jewish celebration without upsetting my father and other family members who are pretty traditional. I don't know what traditions to include, I don't want to be the center of attention, and I don't know what to wear. Help!
A:
It sucks that your family isn't head over heels about your girlfriend, but it doesn't necessarily mean you're making a mistake. You get to decide who and what suits you, and what that means is that you're in charge around here damn it! Whatever you want for your life — this woman, a tattoo of a rocking chair, pineapple and anchovies on your pizza, an oddly fitting pair of shorts, a dog with a broken ear, the studio versions of any Grateful Dead song over the live versions — no matter how controversial or dull or unexpected or pedestrian, is what you should get. Ta-da! It's your life! Who cares if your grandmother and aunt and 20 other relatives don't like your fiancee! If you like her, that's it. I know that's easier to say than it is to live by, but say it you must! "I will not let my aunt's personal feelings about something or someone affect one of the most important decisions I'll ever make about my own life. Amen."
Now about this wedding. I got married in 2015 and so of course I am an expert in all things weddings and marriage, ahem. Um but seriously, I 100% fell you on being embarrassed about a wedding. I was perfectly plagued by everything having to do with my wedding, all of it. I can't even list all of the things I'd do differently if I could. It was just too much! Weddings are so much! You're asking all these people to come and be actively happy about YOU. And on top of that, YOU are the one deciding every single thing about the party. The whole damn thing was your idea from start to finish and you've invited other people to look at it. I meannnnn, that's bold and crazy! I'm breaking out in hives.
Being embarrassed about a wedding doesn't mean you don't want to get married, though. A wedding is nothing like being married. It's pretty much the total opposite of being married. A wedding is so many logistics, so many decisions oh my godddd, so many dollars, so many details. And then being married is just exactly like being alive last Tuesday. That's it. Did you have fun last Tuesday? Wanna do it and/or a version of it pretty much every day kinda forever? Cool you'll probably be super into being married! And it'll have fuck all to do with a party you threw one time.
THAT SAID, babe if you want a Jewish celebration, GET. IT. Do what you want! Everyone told me to do what I wanted, to make the day mine (ours, I mean) and I was like yeah ok ok sure I am trying to do that, but I didn't really get what they meant until afterward. Sit down and look me dead in the eyes:
do
whatever
you
want.
The minute you start to think "Mmmmm I don't know, I wonder if this will be fun for X" or "Hmmm gotta be honest, I wonder what Y will think if we say this" or "Will this make everyone roll their eyes in boredom and then turn into slugs" PINCH YOURSELF. Do you think straight people worry about this shit? No they do not. Scream at the top of your lungs IT DOESN'T MATTER !!! Literally nothing matters! All you have to do, legally, is the bare minimum of whatever your state mandates. Everything else is a sea of things that don't matter! ISN'T THAT EXQUISITELY LIBERATING.
I'm fucking serious. I am not joking with you. Do whatever you want at your wedding. Elope even!
I was talking with Riese about this and I have to admit that internalized homophobia was likely at the center of my wedding panic. I was so wrapped up in whether or not this or that relative would feel awkward about something, I just collapsed in on myself. DON'T DO THAT. Don't let other people be in charge of how you celebrate your happiness. It sucks and I wish I could go back and plan our wedding with just us in mind, instead of trying to make sure everyone else was comfortable. Learn from my sad pathetic mistake please!
Oh and if you don't actually want to get married you shouldn't get married ok bye love you.
---
Everyone gets to share a motivational poster this week! This goes for all question askers and also anyone reading who needs it: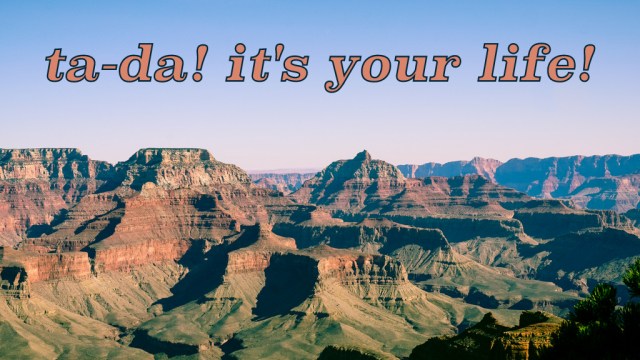 xox
Y'All Need Help is a biweekly advice column in which I pluck out a couple of questions from the You Need Help inbox and answer them right here, round-up style, quick and dirty! (Except sometimes it's not quick, but that's my prerogative, OK?) You can chime in with your own advice in the comments and submit your own quick and dirty questions any time.