Wrap Your Presents in Corduroy and Denim
When it comes to paper, simpler is usually better. Sticking with something relatively boring means you can play it up later with cards, bows and ribbons. Plus, unless you're giving a present to my grandma, your giftee isn't going to save the paper.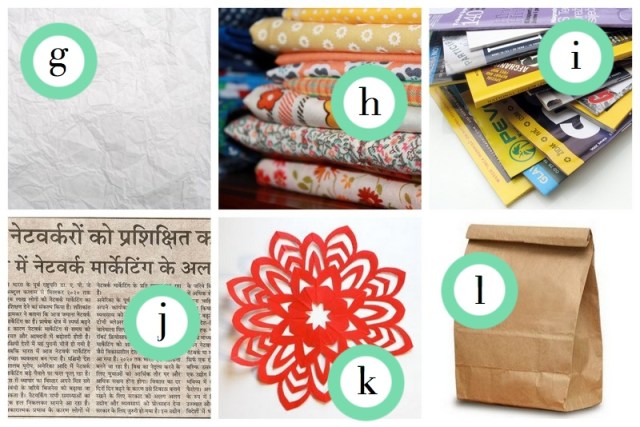 g. Plain Old White Paper – Seriously easy. The only downside to this is that sometimes you need more than one layer if you can see through it.
h. Fabric – Instead of using paper, wrap their present in something that's truly sustainable. You can go ahead and wrap it like a normal box (forgoing tape for ribbon) or you can get fancy and try out some furoshiki.
i. Magazines – If you're not a magazine reader, head to the mall and pick up catalogues from stores like Pottery Barn or Restoration Hardware. They're always full of pictures, which makes it easy to find a whole page covered in something nice to look at.
j. Newpaper – The old standard. Bonus points if it's from another country!
k. Cut Paper – Using papel picado or paper snowflakes to wrap your present can be cool if it's not a surprise. If it is, you can lay your snowflake on top of white paper and spray paint (or spray glue and sprinkle with glitter) over it so that when you remove the snowflake, the design's still there and use can use the paper normally once it's dry.
l. Brown Paper Bags – Make your package look like mail! Or don't. Brown craft paper looks good with almost everything.

Other ideas – graph paper doodles, coffee or tea stained paper, aluminum foil, tissue paper, watercolored paper, calendar pages
---
Next up: Excitement in the form of decorations
Pages: 1 2 3See entire article on one page