Header by Rory Midhani

---
This week has been fairly uneventful due to blah weather, but at least the leaves are changing! My friend Tatom and her spastic dog Smokey gave me a tour of their Red Hook neighborhood the other day. We frolicked in the leaves and ate pumpkin pastries. Smokey is the cutest but you can't tell because he looks like he was dropped through a chimney and blends in with the rocks. Oh, and I also made some spaghetti squash with pumpkin seed and sage pesto that was pretty delicious! Other than that, there has been a lot of rain, a lot of me and my girlfriend watching The Voice, and a lot of me falling asleep before 10:30 pm. Carpe diem.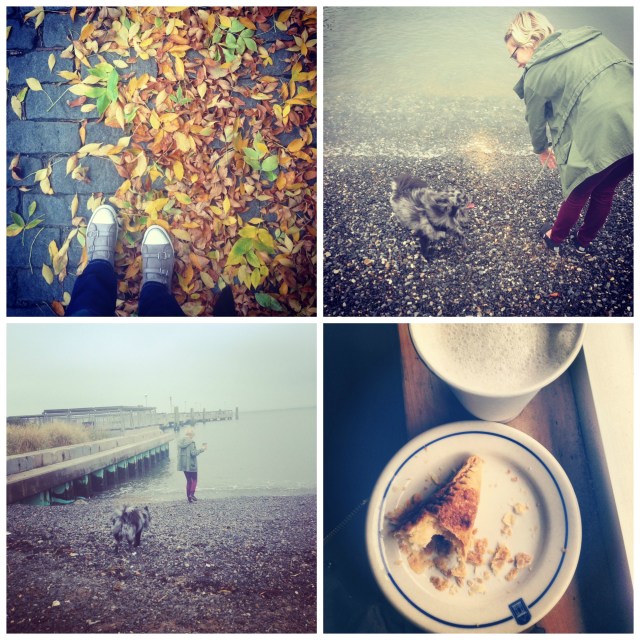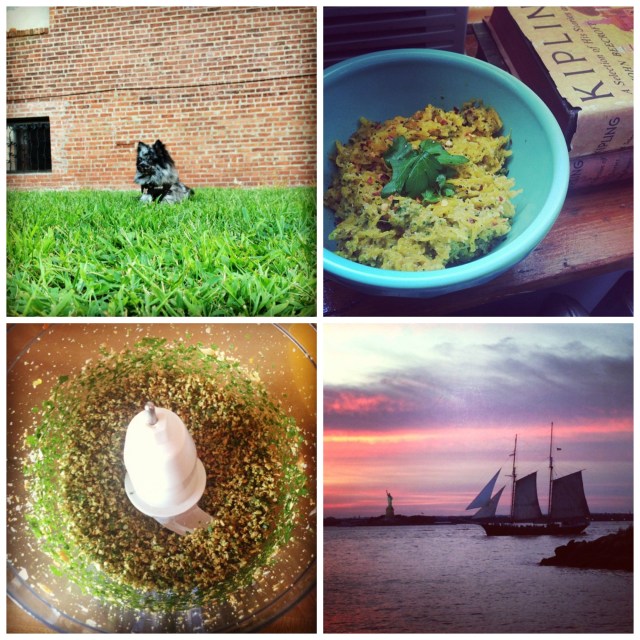 Anyway, the weather needs to get better because I have made a fall to do list that must be accomplished.
Fall To Do List:
Throw a pumpkin carving party (BYOP)
Go apple picking and then make an apple tart for Wilder Hungers!
Make some kind of cliche fall butternut squash pasta concoction. With sage, obviously.
Go to a corny haunted house thing and also Rocky Horror
Revamp my apartment decor so it's fall appropriate
Apple. Cider. Doughnuts.
Buy a bad ass thermos (L.L. Bean probs) to keep my apple cider warm for fall picnics.
Oh yeah, have fall picnics
Buy a waffle iron to make pumpkin waffles.
Definitely NOT watching football games
Try to learn how to knit (again)
Add at least 5 more hats to my wardrobe
Try to find somewhere in NYC that sells those Pillsbury sugar cookies with the pumpkins in the middle
Bake a cake and eat it for breakfast.
I've made no headway on any of these things, except for the last one. I did indeed bake a cake and eat it for breakfast. It was an olive oil cake with rosemary and dark chocolate chunks and I shall share the recipe with you!
Olive Oil Cake (With Rosemary and Chocolate Chunks)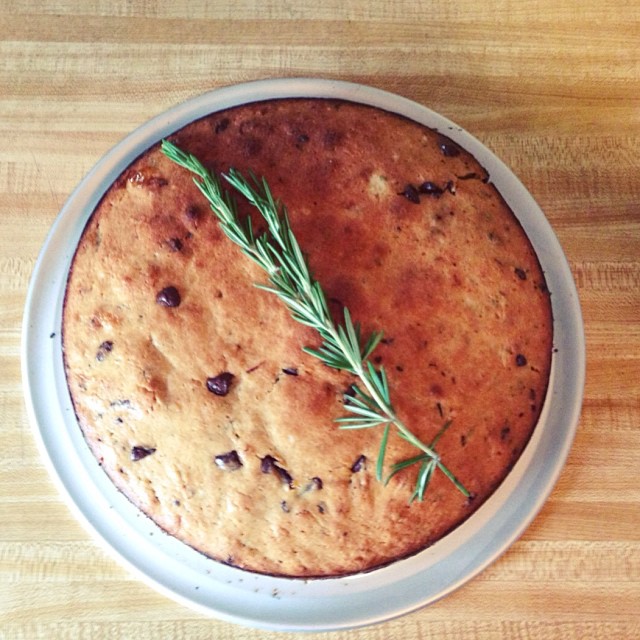 I got this recipe from one of my favorite cookbooks, Good to the Grain by Kim Boyce. The book introduces a variety of whole grain flours, dedicating each chapter to a different type. Whole wheat scones, barley crepes, kamut cookies, spelt cakes, oh my! I'm always down for a good alternative to all-purpose flour. Okay, plug over. Here's the recipe!
Whatcha need:
Dry Stuff
3/4 cup spelt flour
1 1/2 cups all-purpose flour
3/4 cup sugar
1 1/2 teaspoond baking powder
3/4 teaspoon kosher salt
Wet Stuff
3 eggs
1 cup olive oil
3/4 cup whole milk
1 1/2 tablespoons chopped fresh rosemary
Other Stuff
5 ounces bitterweet chocolate (70% cacao) chopped roughly into 1/2 – inch pieces
Directions:
FIRST: Preheat the oven to 350 degrees F and put a rack in the middle. Grease an 8″ tart pan or springform pan with olive oil.
IN ONE BOWL: Sift together the dry ingredients.
IN ANOTHER BOWL: Whisk the eggs then add the rest of the wet ingredients + rosemary and whisk again.
NOW: Fold the wet into the dry with a spatula and mix until just combined. Stir in the chocolate!
FINISH: Pour the batter into your pan and smooth the top. Bake for 40-45 minutes or until brown around the edges and a cake tester inserted in the middle comes out clean! (It's okay if your cake tester is actually a knife like mine is.)