by carolyn & riese
Books! They are really great. You just won't believe how great they are. You may think that the Internet's great, but that's just peanuts compared to books. Welcome to Lez Liberty Lit, our column about literary shit that's happening that you should probably care about.
The name "Liberty Lit" was inspired by the short-lived literary journal produced by Angela Chase at Liberty High School in 1994.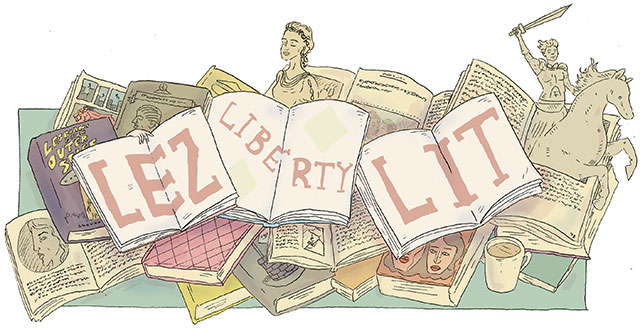 Lit Links
Alice Munro won the Nobel Prize in literature last week. Anne Helen Petersen outlines why this is so great:
"A female commentator on NPR today offhandedly remarked that what separated Munro from past winners of the prize was that she wasn't "political"—instead, she focused on love and relationships. Munro's writing is about love and relationships and family, but that's just another way of saying that it's about the choices that women make, and the way that society has circumscribed those choices. Munro's stories span the last century: you never know if the next one is going to be set in turn-of-the-century rural Ontario, right after the war, or 20 years ago. She rarely gives clear markers of time, which has the effect of underlining just how little has changed in terms of gender relations and cultural expectations. Munro's writing is vigorously feminist: the personal is always, always political, and all the more powerful for its lack of didacticism."
Munro is the first Canadian to win the Nobel Prize in literature. You can also read about Munro on the secret of great stories.
In other award news, Canadian Eleanor Catton has won the Man Booker Prize for The Luminaries.
As part of YA Pride, Malinda Lo has an excellent list of YA books by and about trans* people. Recommended works include Nevada, My New Gender Workbook, One in Every Crowd and more.
Us vs. Th3m tests your ability to identify correct grammar under difficult circumstances.
Dinosaur erotica: a legitimate writing career path.
Author Evelyn Waugh's brother Alec Waugh was bad at literature but great at inventing the cocktail party.
Bookstores: they are the best. Though hyperlocal tiny neighbourhood libraries are a close second.
But if you do want to read ebooks, ereaders have tons of features you should probably be using.
Bisexual Books interviewed Shiri Eisner, author of Bi: Notes for a Bisexual Revolution, on bi and trans* politics, trigger warnings, appropriation and more.
It's been 85 years since Virginia Woolf's Orlando, and Maria Popova writes about how the novel revolutionized lesbian love politics in 1928.
Design Sponge wrote about book-inspired design ideas and discussed the place of the book cover in the twenty-first century.
At the Rumpus, Michael Jauchen reviewed Lucy Corin's One Hundred Apocalypses and Other Apocalypses, a collection of short stories about the end of the world, calling it "a series of unsettling vortices."
At the Lesbrary, Casey reviewed Mermaid in Chelsea Creek, a YA novel by Michelle Tea. Lena reviewed In This Small Spot, by J. Werlinger. Danika reviewed the lesbian classic The Gilda Stories, by Jewelle Gomez. Tag reviewed The Collection: Fictions from the Transgender Vanguard, edited by Tom Leger and Riley Macleod. Danika reviewed The Red Tree, by Caitlin R. Kiernan.
At Lambda Literary, Cathy Camper wrote about Nia King and queer comic zine culture. Jessica Mason McFadden reviewed My Poems Won't Change the World, a book of poetry by Patrizia Cavalli. Sassafras Lowrey reviewed Brace Yourself, a debut collection from Alysia Angel. Josh Mentanko interviewed Choire Sicha on his novel A Very Recent History. Anna Furtado reviewed Does She Love You? by Rachel Spangler. Jory Mickelson reviewed Annotated Glass, poetry from Alyse Knorr.
Don't forget to check out all the awesome book-related things we published recently: Mey wrote about Supercakes, a series that features queer superheroes. Ali wrote about writing about sex. Grace wrote about How to be Alone, the zine she made with Vanessa for A-Camp. Hansen reviewed Girls I've Run Away With by Rhiannon Argo.
Events To Watch Out For:
October 18, Philadelphia: Julia Serano will discuss her new book Excluded: Making Feminist and Queer Movements More Inclusive at Giovanni's Room (345 South 12th St.), 7 p.m.
October 19, Victoria, BC: Rae Spoon will be performing at the Copper Owl (1900 Douglas St.), 8 p.m.
October 19, Toronto: Toronto is getting its first queer zine fest!
November 6, Philadelphia: Reading Queerly will discuss Julia Serano's Excluded at Giovanni's Room (345 South 12th St.), 6:45 p.m.
November 13, Seattle: Nicola Griffith will be reading, drinking, answering questions and signing copies of Hild at Hugo House (1634 11th Ave.), 7 pm.
Know of a queer event with literary merit? Send it to us!
What We've Been Reading:
Carolyn: Recently I finished Chloe Plus Olivia a massive, comprehensive survey of lesbian literature and poetry from the seventeenth century forward. Lillian Faderman charts part of the history of the queer movement through the lens of fiction writing while completely exploding any gay to-read list ever.