Hey y'all it's time for another installment of Autostraddle's Book Club where together we'll read what might be the first book you'll read this year! This time, we're reading Patrisse Khan-Cullors' memoir, When They Call You a Terrorist: A Black Lives Matter Memoir.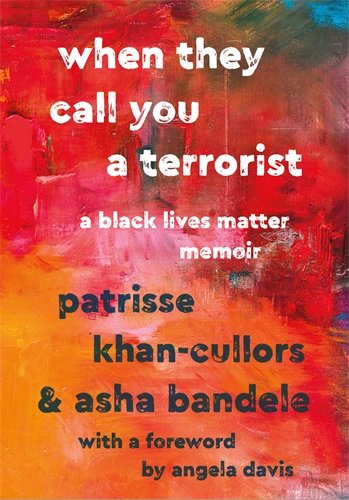 When They Call You a Terrorist: A Black Lives Matter Memoir is Patrisse Khan-Cullors' first book, co-written with asha bandele. The memoir is a crushing look at what it means to live in America with the trauma of being black, queer and poor. She's equally honest about her lifelong experiences with a violent police state and so hopeful about creating a community for her people that you can feel the determination radiating off of her.
In her foreword, Angela Davis, acclaimed activist, academic and author, writes:
We learn not only about the quotidian nature of state violence but also about how art and activism can transform such tragic confrontations into catalysts for greater collective consciousness and more effective resistance. When They Call You a Terrorist thus illuminates a life deeply informed by race, class, gender, sexuality, disability, and religion, at the same time as it highlights the art, poetry, and indeed also the struggles, such a life can produce.
The title of the book comes from not only the petition in 2016 sent to the White House to label Black Lives Matter a terrorist group, but also her brother's lifelong experiences with being a mentally ill black man navigating the police and eventually being charged with terrorism. In both cases nonviolent black people, only trying to advocate for their self-worth, are seen as threats to be controlled.
After Erica Garner's untimely death to heart attack, the book is also asking us to look at what living in a constant state of emergency and trying to defend one's right to live their life without fear does to a person's mind, body and soul. Khan-Cullors reminds us that taking care of ourselves is just as important to the movement as more obvious forms of direct action. It's a reminder that we who are marginalized are also whole people and need to take care of ourselves as such, even if systems that are supposed to protect us don't.
"At the end of the day, from love we come," she writes, "To love we must return." She talks about her love with her family, her "intentional family" (stealing that), her new wife and sweet baby. She connects threads between romantic love, platonic love, and familial love; how they're all based on support and showing up. She'll make you believe that love is real and can change the world. What a way to start off 2018, am I right?
Okay friends, go to your local feminist bookstore, go to Amazon, go make your library buy it, or get it as an audiobook to listen to while you drive. Come back in April and we'll process all our feelings about this magical, magical book. I can't wait to talk to you about it!!