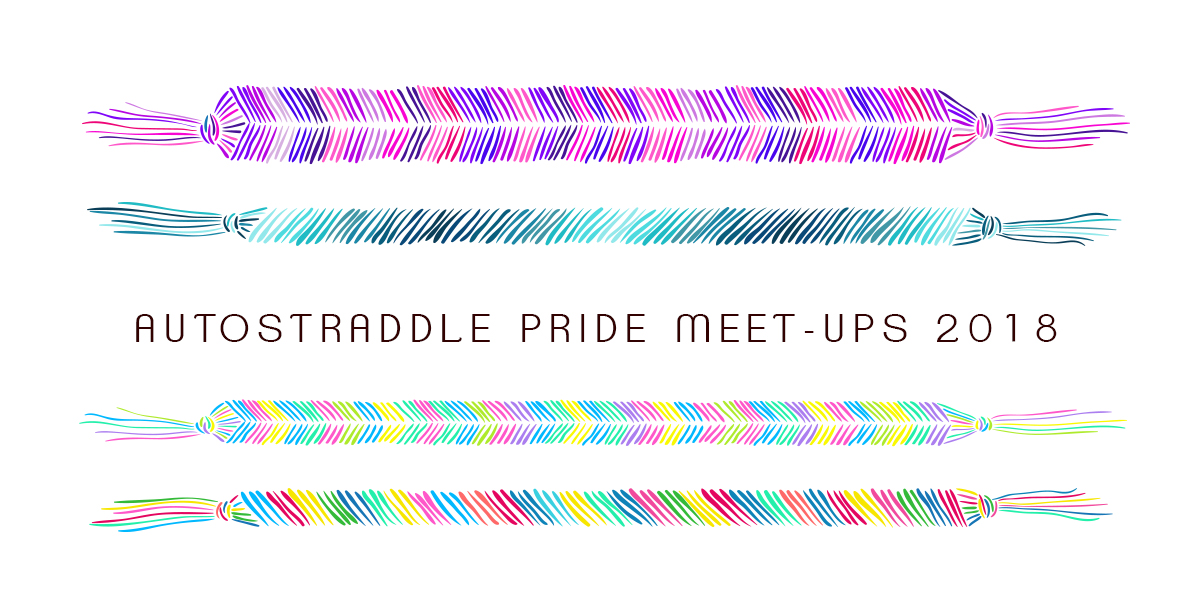 Well, it's almost June, and you know what that means: PRIDE MONTH. But like, what does that mean, queerdos? We all know Stonewall was a riot. We all know that sometime between then and now the Pride parade has become…uh…not a riot. Now it's more like a weird, beer-soaked, corporate capitalist endeavor that doesn't even feel like it is for us, let alone created by us. Do I sound depressing? I'm sorry. It's just that every year that goes by the whole idea of PRIDE MONTH becomes a little more confusing and elusive, and I've noticed fellow queers feeling the same fatigue when it comes to grappling with what Pride even means for us, the queer community.
So what are we gonna do about it this year? We're gonna take Pride back! That's fucking right! Here's the plan.
We've got each other. No matter what else is going on, each and every one of us should have queer community to fall back on. But it doesn't always feel that way, right? Queer community can feel cliquey, or protected by unspoken gatekeepers, or simply totally non-existant. I've spoken to elders who feel left behind, young queers who worry they're not queer "enough," and tons of humans all over the age spectrum who just don't feel hella welcome in queer spaces. AND I HATE THAT. We have to be there for each other. We just do. This world is truly fucked up, and the light in the dark is always, always, always created by us. It's what queers do. DIY is in our fucking DNA. There have never been spaces built for us that we didn't really create ourselves – and when our cool spots get bought and co-opted and appropriated, we start fresh and build new places all over again. So we need to make sure we're welcoming everybody when we build these spaces, because as I'm sure you're well aware, our feminism will be intersectional or it will be bullshit – and our queer spaces and queer families will be welcoming of all queers or else they will be bullshit, too.
There's this thing Riese, CEO and founder of Autostraddle dot com, always says: "Be nice and care about your friends more than anything." Okay? Okay. Love each other. Take care of each other. Let's build a new Pride this year. Let's host meet-ups that are inclusive to everyone and let's hold hands (if you wanna) and let's have hard conversations and sober spaces and weird, meaningful, deep connections. Let's still dance and fuck and fight because hell, that's part of our history too, but let's try to create little pockets of DIY wonder in the sea of capitalism that has swept Pride up in its waves.

Autostraddle Staff will be coming together to host Pride Meet-Ups in our respective cities and towns, but we can't be everywhere, so we rely on you — our readers, our commenters, our lurkers, our supporters, our loving critics, our community — to help us out and host some meet-ups, too. You've helped us grow and change and improve and succeed for almost a decade. You've given us space to make this little pocket of queer affirmation on the internet. You've shown up, over and over and over, with time and love and your physical presence at meet-up after meet-up after meet-up!
Now we're asking you again: will you show up to host a Pride Meet-Up? Meet-ups can be anything, and we're especially excited to get creative and fun and weird and DIY this year. I posted a low-key meet-up suggestion guide earlier this week, and I encourage you to check it out and also to brainstorm out loud in the comments of this post. What would be the most inclusive Pride meet-up we could all host? What does an incredible feel-good Pride meet-up look like? How can we open up our meet-ups so all queers feel welcome, not just the "cool kids" (spoiler: there are no cool kids)? We as a staff here at Autostraddle really genuinely want to work on making a more inclusive, more diverse, more loving community. We're it, ya know? It's 2018, the world is on fire, but we've got each other. We've gotta have each other.

I am so goddamn proud to be part of the LGBTQ community with all of you weirdos. I want to be proud in public together and I want to make space for everyone who hasn't felt included in our community to feel welcome. Will you help us create those spaces? I believe this year we can DIY a version of Pride that makes us all feel proud.
If you're down to host an Autostraddle Pride Meet-Up this year, please submit your event here. All Pride Meet-Up events will post to the Autostraddle Events page and will also be added here, in this very post, so check back often to see what's going on near you! We'll update with our staff hosted events ASAP, and I'm so excited to see what y'all come up with, too. We've got this. Each other, I mean. And Pride too. We've got each other and we've got Pride, babes. Let's do this.

Boston, MA
Dyke March Meet-Up
Venue: Boston Common
139 Tremont Street
Boston, Massachusetts
02111
United States
Event Date: June 8, 2018
Start Time: 5:30 pm
End Time: ??
Host: Jenni Todd
Description: Boston pals! Let's meet near the Parkman Bandstand, half an hour before the Boston Dyke March is scheduled to commence. It's a non-commercial, intersectional, grassroots alternative to Boston Pride, and I'd love to see you there! ?

Accessibility Info: Given that it's a public park within an urban environment, the common is sometimes noisy. It's also not a scent free environment, but it's not heavily scented either. According to Friends of the Public Garden, "Many people in wheelchairs visit the Common, the Garden, and the Mall and find that navigating the paths is possible. There are some locations with stairs so we suggest you begin at the Visitor Information Center on Boston Common where a guide can review a map with you and identify accessible paths."
RSVP: Not necessary.
---
---
Chicago, IL
QueerShabbat: It's Pride!
Venue: My House
Chicago, Illinois
60622
Event Date: June 29, 2018
Start Time: 6:00 pm
End Time: ??
Host: Al Rosenberg
Description: The Pride edition of my monthly Queer Shabbat dinner! Space is limited, new people are VERY welcome. We'll just chill at my house and be queer (and there will be lite Judaism, and people of all faiths are welcome) and I'm going to make rainbow challah and probably lots of finger food.
Accessibility Info: It's a smaller apartment, we'll be cozy. There are several steps up to the front door, and a shy cat you will not meet. My kitchen is kosher style, no pork or shellfish.
RSVP: https://dinners.onetable.org/events/bac89fcf-9f24-4ddc-84df-9b99ed219bf9
I'm receiving financial support and other resources for this event through a nonprofit, so please sign up for the dinner through the link! ?
---
Detroit, MI
Motor City Pride Pre-Parade Coffee Date Meet-up Extravaganza!
Venue: The Bottom Line Coffee House
4474 Third Street, Suite B2
Royal Oak, MI
48067
United States
Event Date: June 10, 2018
Start Time: 9:30 am
End Time: 11:45 am
Host: Kate York
Description: Pride weekend is approaching!! Need some buds to watch the parade with? If you want to meet up with some beautiful queers in a safe place, to bask and socialize and show off that gorgeous body glitter before the big gay parade, then please please (please) join us. The Bottom Line is a queer/POC owned and operated coffee house, and is a queer/trans safe space. They serve the most delicious coffee and pastries!
Accessibility Info: TBA – I have reached out to The Bottom Line for more information, and will update as I hear back at the Facebook event page (below)!
RSVP: https://www.facebook.com/events/2047485735517266/
Feel free to come by if you can, we'll be fueling up before the parade and making some new friends to enjoy Pride with! No RSVP needed.
---
New Orleans, LA
New Orleans Pride Shenanigans!
Venue: Cosimo's in the Quarter
1201 Burgundy St
New Orleans, LA
70116
United States
Event Date: June 9, 2018
Start Time: 6:00 pm
End Time: 10:00 pm
Host: Julia Davis
Description: We are meeting up for drinks in the quarter and then heading to Rampart for the parade! Parade time is 7:30pm. We will also hang around after the parade for other pride quarter debauchery!
Accessibility Info: Cosimo's is a teeny tiny bar, I believe it does have a small step from the sidewalk to the bar, but this is just our starting out/meeting spot. We will be walking over to the parade—only one block! And from there we will head to wherever works for everyone who shows up!
RSVP: Not required.
---
New York, NY
NYC Autostraddle Coffee Meetup
Venue: Cafe Grumpy
224 W. 20th St.
New York, New York
10011
United States
Event Date: June 12, 2018
Start Time: 5:30 pm
End Time: 8:00 pm
Host: Catie W
Description: IT'S THE MOST WONDERFUL TIME OF THE YEAR, MY FELLOW QUEERS!
Looking for the low-down on the best Pride parties? Seeking a squad to accompany you to all those glittery Facebook events you RSVP'd to? Come on down, caffeinate and catch up with NYC's finest queerdos! Make friends, meet crushes and keep your Pride Month going strong!
Strong likelihood that we will migrate to Cubbyhole afterwards for $2 Margarita Tuesday!
Accessibility Info: Totally accessible. No stairs. Direct street access. No strobe lights or loud noises. Smells like coffee.
RSVP: Not required
Everyone is Gay & Autostraddle All-Ages Pride Party
Venue: Housing Works Bookstore
126 Crosby St
New York, New York
United States
Event Date: June 23, 2018
Start Time: 1:00 pm
End Time: 3:00 pm
Host: Kristin Russo
Description: The Tegan & Sara Foundation presents:
Everyone Is Gay & Autostraddle's 6th Annual All Ages Pride Party!!!
It's that time of year again where we all gather together at Housing Works Bookstore to listen to some super queer music and spoken word, and to just HAVE THE BEST TIME.
This year we are so, so thankful to be sponsored by The Tegan & Sara Foundation! Hosted by Kristin Russo & Riese Bernard, spoken word by Urban Word NYC, and music by CHIKA and Emily Wells!!
Accessibility Info: Wheelchair accessible.
We're working on getting an ASL interpreter.
RSVP: https://www.facebook.com/events/253456518531929/
---
Portland, OR
Post-Pride Comedown
Venue: Peninsula Park, at the covered picnic area near the playground
closest to the corner of Rosa Parks & Albina
Portland, OR
97217
United States
Event Date: June 18, 2018
Start Time: 5:00 pm
End Time: 9:00 pm
Host: Vanessa & Cee
Description: Come chill out after the intensity of Pride week is over! This will be very relaxed – eat snacks, paint your nails, make a friendship bracelet, or just chat with old and new friends. Things you could bring: snacks (to share!), nail polish, a musical instrument, embroidery thread, a coloring book, crayons, a yoga mat, your pet, a smile! See you at the park!
Accessibility Info: You can enter Peninsula Park on the sidewalk at the corner of Rosa Parks and Albina and there is a paved path to the picnic table area. The area itself is on flat grass a few feet in from the paved path. There are no stairs. It is outdoors but there is shade provided by an open physical structure and also tree cover. There is often a lot else going on in the park including sports games and loud groups.
RSVP:
No RSVP needed! See you at the park xoxo.
---
Rochester, NY
Big Queer Rochester Straddlers Cookout
Venue: Perinton Park Open Shelter, Fairport
99 O'Connor Rd
Fairport, NY
14450
United States
Event Date: July 13, 2018
Start Time: 4:00 pm
End Time: 10:00 pm
Host: Anna Simpson
Description: A pre-Pride super queer get together for food, games, and conversation! Welcome to members who have come to lots of events or members who have come to none… we'd love to see some new faces! Our meet ups are super low-key and relaxed.
We booked the open shelter at Perinton Park. It is right by the parking lot so very accessible, and there are nice flushing bathrooms within a VERY short walk. Bring any fun outdoor games you might have (we will have a cheap version of ladder ball and lawn darts, and there is a volleyball sand court right next to it).
Assuming the weather is kind to us, we will have a charcoal grill going and we will provide hot dogs, buns, and condiments. I will also get a cooler from somewhere and fill it with ice and some canned sodas and water. We will also provide plates, napkins, and silverware. For as many other things as possible I would love to have it done potluck style… just make sure you comment what you plan to bring! Can't bring any food? Just bring yourself, no worries! It is BYOB… beer/cider only, no liquor.
If the weather is wet then we can take refuge under the shelter and the show will go on!

Accessibility Info: It is outdoors but we will have a shelter overhead. The shelter is right next to a smallish parking lot which does have 2 accessible parking spots. There are flush bathrooms within about 150 to 200 feet down a paved sidewalk. I believe they have accessible stalls but I cannot guarantee that from memory. There are no stairs and there are ramps on the sidewalks.
RSVP:
We do have an active Facebook group you are welcome to join if you are local (https://www.facebook.com/groups/rochesterstraddlers/) and the event has been posted in our group. If you want to be involved in more of our meet ups please join!
If you are planning to attend but will not be joining the Facebook group, just shoot me a private message.
---
San Francisco, CA
But I'm a Cheerleader Screening (on VHS!)
Venue: Balboa Theater
3630 Balboa St.
San Francisco, CA
94121
United States
Event Date: June 6, 2018
Start Time: 7:00 pm
End Time: 9:30 pm
Host: Balboa Theater
Description: Every month, the historic Balboa Theater shows a classic film on VHS on the big screen! For Pride month we will be showing But I'm a Cheerleader! In lieu of trailers we will be showing an episode of Xena Warrior Princess. There will also be a couple trivia questions and prizes before the film. We have a couple different LGBTQ films we're screening this month, so if you feel like having a more low key pride this year that's actually for queers by queers, please do feel free to stop by. We will be playing Tangerine on 6/12. This will be a fundraiser for Pulse Day of Remembrance. We will also be showing Wild Combination, the Arthur Russell Documentary as part of our Music Movie Monthly series on 6/21. We're generally pretty gay all the time, so if you haven't checked out your friendly neighborhood theater, please do so.
Accessibility Info: We have a ramp going into the building as well as a ramp going into the theater and 3 wheelchair spots inside the theater. Our restrooms are also wheelchair accessible. There will be no strobe lights. The movie will be relatively loud as we have 5.1 Dolby surround sound. Pretty much the regular volume of a movie in theaters. The lobby will smell strongly of popcorn.
RSVP:
https://www.facebook.com/events/184688682186962/
You can use your moviepass!
---
Seattle, WA
Seattle Pride Picnic
Venue: Cal Anderson Park
1635 11th Ave
Seattle, Washington
98122
United States
Event Date: June 16, 2018
Start Time: 1:00 pm
End Time: 5:00 pm
Host: Katrina Carrasco
Description: Happy Pride, everyone! Let's get together for a picnic to celebrate!
Suggested items to bring: food/snacks to share, a blanket to sit on, games you'd like to play with the group, your favorite rainbow-decked outfit & accessories.
How to find us: I'll bring a large Autostraddle logo poster & on the day of the event, I'll update the Facebook page with where in the park we've set up. Fingers crossed it stays sunny for us in the park. Hope to see you there!
Accessibility Info: Cal Anderson park is a street-level outdoor park with green spaces and paved paths; there are some stairs but ramps are also available to access the green spaces.
RSVP: https://www.facebook.com/events/591279867910344/
You can RSVP at the Seattle Autostraddlers' Facebook page. This attendance estimate will be helpful for those bringing food/snacks to share.
---
Singapore
Come Hang Out at the Library
Venue: Pelangi Pride Centre
One Commonwealth, 1 Commonwealth Lane, #02-02
149544
Singapore
Event Date: June 9, 2018
Start Time: 2:00 pm
End Time: 6:00 pm
Host: Fikri Alkhatib
Description: Have you ever thought "man, I wish I could meet other queers but also leave open the option of retreating to the corner with a book"? I gotchu, my dude. I'll even make that book queer for you.
Choose your own meet-up adventure this Saturday @ Pelangi Pride Centre, where you'll be free to socialize or not-socialize with other queer folks in Singapore's only LGBTQ community library. You can do all your regular library stuff — read & borrow* books, scroll through your phone, study for the O-levels — but because we queers do it better, feel free to also bring games and food** and your best awkward conversation.
No RSVP or $$ required! Come by whenever and with whomever. I'll be there the whole time so it'll be at least a meet-up of two. I'm nothing if not the host of the most happening events in town ("town").
Book loans are free but we do require a $10 deposit, so remember to bring cash if you want to do this.
** I trust you'll use your discretion in deciding what to consume in an enclosed, carpeted space. But I also welcome any offers of durian after 6pm.
*** Can't make it this Saturday? PPC is open every Saturday, 2-6pm (though it'll be closed on 16 June for Raya). It's definitely worth a visit if you haven't been.
Accessibility Info: PPC is within walking distance of Commonwealth MRT, and the route is mostly sheltered. Access to the second floor is via lift and the entrance is step-free.
RSVP: https://www.pelangipridecentre.org
No RSVP required, but if you'd like to get in touch e-mail me at [first name][last name] at gmail dot com and I'll pass you my phone number. The "RSVP" link is for more info on PPC.
---