As a fat babe who enjoys doing adventurous things outside, I've gotten used to shitty behavior from other humans accompanying my experiences in the great outdoors. Fatphobia is real and people are often ignorant or rude or both, and so stepping onto a trail with my pack or hopping on a bike to commute to work or even simply going outside in yoga clothes can be a challenging experience. Media representation makes it look as though the only people who belong on the adventurous path of life are thin, white, cis, able-bodied men, and if a person hears and sees that message long enough, they begin to believe it.
But that story is incorrect. Those are not the only folks who belong in the outdoors, and they are not the only ones deserving of adventures. They are certainly not the only ones who should be telling stories about their adventures.
Thank goddess, now we have Fatventure Mag.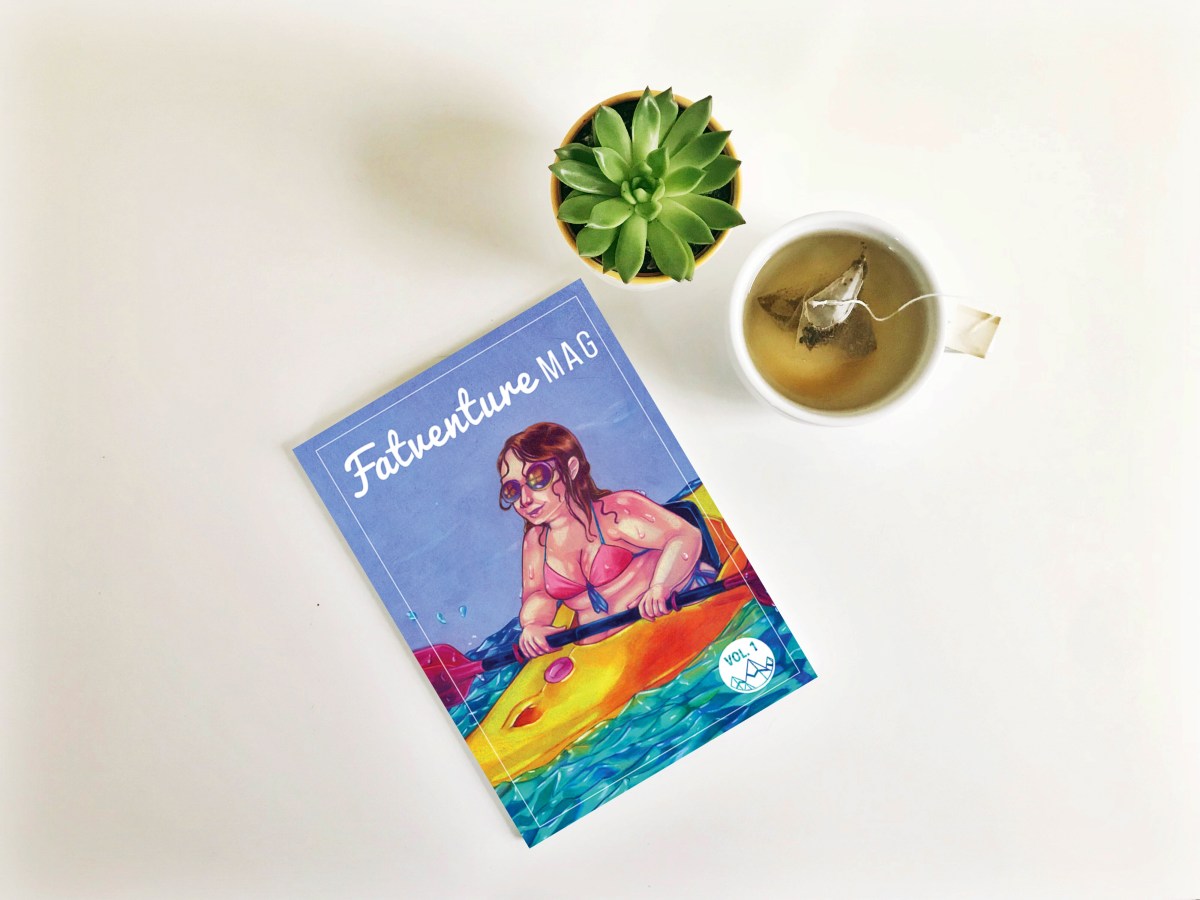 Fatventure Mag, a print and digital magazine, seeks to change the narrative about who deserves an adventurous life and who can tell stories about those adventures. With its first volume due out later this year and its list of contributors brimming with talented fat outdoorsy women and non-binary folks, this magazine promises to shift the way we tell stories about being fat and adventurous. The magazine will focus on active lifestyles beyond the boundaries of weight-loss culture, and seeks to be as inclusive as possible, representing bodies of many shapes, sizes, and abilities.
Co-creators Alice Lesperance and Samantha Puc are putting the magazine together on top of their day jobs, a familiar story to anyone who has worked on a passion project by and for a group of humans who are not part of the mainstream conversation. Their hope for Fatventure Mag is to build a community through the project, a space where we can all learn from and grow with each other. The first volume will include personal essays, artwork, listicles, and interviews. Full disclosure, I'm being interviewed about my experience on the Pacific Crest Trail in 2017 (!), and there will also be interviews with Jessamyn Stanley who is a total badass and a body positivity advocate and yoga instructor and Jesse Amesmith of Good Witch Yoga. There are so many amazing stories included in this first volume, including KJ Gormley writing about their experience with weight lifting as a trans person, Dr. Emma Beckett discussing her determination to disrupt common weight-loss health narratives as a fat nutritionist, and Rebecca McCormick writing about camping as a fat woman. We fatventurers have so many stories to tell, so many feelings to share, so many words to write. This is (hopefully!) just the beginning.
Fatventure Mag is currently in the homestretch of its Kickstarter, with just five days left to reach its goal of $12,000. The money raised will go toward paying contributors, the printing and shipping of the first volume, and the costs of the Kickstarter campaign. There are a lot of really excellent perks available for donating, my personal favorites being the Fat In The Wild temporary tattoo, the gorgeous color art prints, and of course, the magazine itself!
To read more about the magazine and to check out the full list of contributors, head over to the Fatventure Mag website. You can also follow along on Twitter and Instagram. To support the Fatventure Mag Kickstarter, go here and donate. I'm so excited about this fat adventure – are you?!