In today's issue of the Sunday Mirror, Kristen Stewart's mom Jules Stewart publicly acknowledged her daughter's relationship with VFX producer Alicia Cargile and her daughter's relationship with wolf packs. She's very cool with Alicia, by the way, because she's a cool Mom. As a Hollywood script supervisor and director who raised her four kids in show business, Jules Stewart is down with her gay friends and family members and thinks her daughter should love whoever she wants.
The article continues with a laundry list of quotes we all wish our parents had used when we came out, instead of shrugging and saying, "Oh, I guess you do own a lot of Joan Jett records" like mine did. For example:
"I feel like people need to be free to love whoever they want. I accept my daughter loves women and men. It's OK to be who you are in my world. We all choose our friends so we should be free to choose our lovers.. People are good to do whatever they like as long as they're not hurting people or breaking the law. What's not to be accepting about her now having a girlfriend? She's happy. She's my daughter, I'm just her mom so she knows I would accept her choices."
Although it's unclear how comfortable Kristen and Alicia are with Kristen's mother discussing her relationship with the press ("MOOOOOOOM!!!!"), it's lovely to see a parent be so supportive of their child's choices, especially since Jules doesn't seem to view her daughter's sexuality as a big deal. Stewart adds that she's met Alicia Cargile, and declares her "a lovely girl." Nothing wrong with a couple of gals being pals!
Jules also had some things to say about her daughter's apparent affection for martial arts: "I'm very sad that Kristen and Robert didn't have a chance to be alone together, they had to have the whole world with them and all the public stuff ruined everything, life became overwhelming. But Kristen has learnt to handle her emotions and deal with her problems through the martial arts."
More importantly, we got insight into Kristen's relationship with wolves. We learn that Jules Stewart has been raising wolf dogs since Kristen was very young, and just today began showcasing a series of paintings, "The Wolf Collection," with all proceeds being donated to Wolf Connection. Since a (dubiously-principled) zookeeper boyfriend gifted a then-17-year-old Stewart with a wolf cub, she's felt a strong connection to wolves and has kept them around ever since; she currently owns four and the dogs currently have the run of her Santa Monica ranch. "They chew my shoes and open the fridge and help themselves. They start howling and jumping around when they see me."
"Kristen loves the wolves. She grew up with them, the animals are family to her," says Jules.
This explains where Kristen got her wild enthusiasm.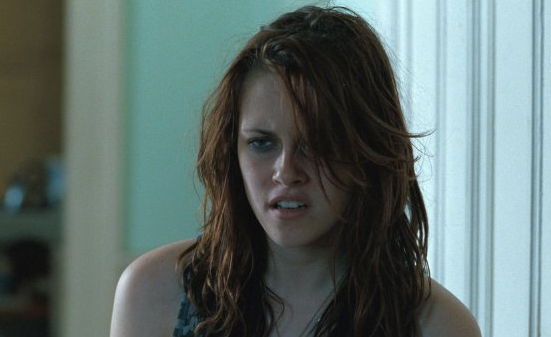 As far as this author is aware, luminescent vampire Robert Pattinson has retained custody of the former couple's two dogs, Bernie and Bear. This author has no idea why she remembered any of this, and wonders what important information relevant to her own life she forgot in order to retain this useless fact. Last year, it was rumoured that Jules had gotten Kristen a wolf puppy as a surprise gift for her 24th birthday, which may or may not have changed into human form and become the woman we currently recognize as Alicia Cargile.
When asked by the Sunday Mirror how they felt about Kristen's relationship with confirmed babe Alicia Cargile, the wolves replied, "AROOOOOOOOOOOOOOOOOOOOOooOoOOoOOOOO!!!" They later added that Cargile sometimes gives them treats and scratches them behind the ears, so they support this relationship.
When we mused about what it would be like to date Kristen Stewart, none of us really thought it'd involve this much karate or this many wolves. Alicia Cargile is a lucky lady.
UPDATE: A lot of commenters have been up in arms over whether or not it was OK for Kristen's mom to discuss her sexuality so openly with the press like that, especially since Kristen has never directly addressed her relationship or publicly acknowledged her orientation. Good news for you extra-compassionate weirdos; Jules Stewart has apparently told the renowned institution of journalism Us Weekly that she never mentioned Kirsten's love life at all – she was merely talking about her wolf paintings and the Mirror happened to ask if she'd met Alicia. That sounds like a really weird segue for an interview, but what do I know? The comments are filled with brilliant insights about how Kristen's "confusion" must have been to blame for the end of her relationship with Robert Pattinson, and how it's no wonder she turned out so "mixed up and defiant" with a mother like that.
As of this time, there has been no official statement from the wolves. We will continue to stand by as this story unfolds.
UPDATE PART 2: The reporter who conducted the Mirror interview says she's got the whole thing on tape, including the aforementioned statements regarding the disposition and intent of one Miss Kristen Stewart. The wolves remain tactfully silent, probably because there isn't a full moon tonight, but just you wait.