After a week-long hiatus, I'm back with this week's Music Fix. A lot of new music and a little bit of sad news. On to the fix!
NEW BROKEN SOCIAL SCENE


Canadian band Broken Social Scene released "World Sick," the first single from their upcoming album Forgiveness Rock Record, last week. If this doesn't excite you, just a friendly reminder that Broken Social Scene spawned beloved music acts Feist, Metric, and Stars. It's even rumored that these Leslie Feist, Emily Haines (Metric), and Amy Millan (Stars) have collaborated on a track for Forgiveness Rock Record , so ready your ears! In the mean time, you can score a free download of "World Sick" from the band's website now.
LAURA VEIRS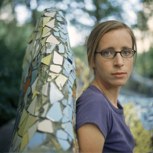 I've just become infatuated with Laura Veirs, the cute and nerdy (and very pregnant) Portland-based singer-songwriter. Her 2010 album July Flame is on many music blogger's shortlists for Best Albums of The Year, and The Decemberists' frontman Colin Meloy called it his favorite album of the year. If you're late to the party like I am (or if you love her already), check out Laura Veirs' lovable performance in NPR's Tiny Desk Concert series. Her ode to legendary female bassist Carole Kaye — appropriately titled "Carole Kaye" — will win you over.
SHOUT OUT LOUDS
Swedish indie band Shout Out Louds quietly released their third album Work this past Tuesday. I'm a sucker for Scandinavians and I loved "The Comeback," so check out their bizarre music video for their first single "Fall Hard" — its setting is a French talk show.
+
ELLE BANDITA AT SXSW
SXSW is fast approaching, so here's one band to keep an eye out for — Elle Bandita from the Netherlands. The band is fronted by out lesbian and lead vocalist/guitarist Elle. Elle Bandita is primarily influenced by 90s grunge, but also lists The Dead Kennedys and The Ramones as inspiration. Listen to songs at their MySpace.
Thanks to reader Marijke for tipping us off! If you know of a band we should be listening to, send a link to music[at]autostraddle[dot]com.
NICKI MINAJ:
The bisexual rapper you hate/LOVE is in Young Money's salute to Lil' Wayne, who goes to jail today. She looks real cute in her flight attendant outfit btw. Srsly.
GORILLAZ
Your favorite cartoon band is back! The Gorillaz will release their third album Plastic Beach next week. If you can't wait, the full album (sorry, no track by track streaming) is available for full preview at NPR and The Guardian.
GURU FROM GANG STARR

Rapper Guru, also known as Keith Elam from the acclaimed rap duo Gang Starr, is in a coma after suffering a heart attack and underwent surgery yesterday. Though Gang Starr has been on hiatus for the past 5 years, Guru remained active in hip-hop and released a solo album in 2009. Revisit some classic Gang Starr here.
+
+
+