Last week I attended the 3rd annual WAM!NYC conference during WAM! it Yourself week! For those unfamiliar, Women, Action & Media is an organization working for gender justice by confronting the lack of women in reporting and poor representation of women in the media. The NYC Conference was held at Hive 55 which incidentally is hilariously located at the corner of Broad and Beaver in lower Manhattan. Below are some of the highlights from two of the panels I attended.
Most interesting was the Networking WAM!Shop with Bryce Covert, a blogger for ForbesWoman; Janna Zinzi, the CEO/President of Swirl PR; and Lauren Kelly, the Activism editor at Alternet. Many attendees wanted to know how best to deal with the squickiness of networking and confidently make new connections as a freelancer. The panelists encouraged WAMers to feel comfortable seeking mentors in the field, even male mentors, and taking advantage of mentoring programs. They encouraged everyone to find a sponsor to aid you as you  grow your work and career. Learning to network like the guys was also discussed, as women are often less comfortable selling themselves or don't always find themselves in some of the unofficial spaces where networking occurs.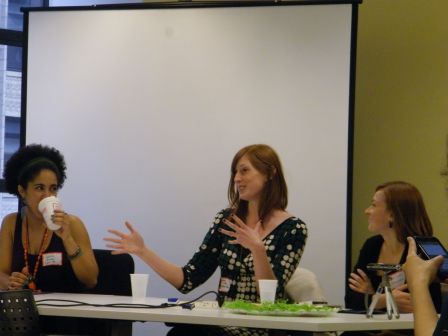 The second panel I attended was "Women Reporters, Global Stories" with Shreeya Sinha of the New York Times, Kim Barker of ProPublica, and Judith Matloff, a teacher from the Columbia Graduate School of Journalism. It was moderated by Jennifer Mattson, a GlobalPost Breaking News writer. The panel spoke to the higher risks women foreign correspondents face, and recounted some of the journalists' lives lost tragically while in combat zones. On the flip side, female correspondents may be granted inside access to some cultures and circumstances males aren't, such as in the case of Shreeya Sinha's reporting on the Bloods in Harlem. Now that the risk of violence and sexual harassment is recognized as a major problem for both women and men, especially independent freelancers, reporting in conflict zones the Columbia Journalism School has begun to offer the course Reporting in Crisis Zones.
The keynote of the day was presented by Rinku Sen, Executive Director of the Applied Research Center and publisher of Colorlines. Sen spoke of the need to shift stories from the individual to the societal, and focus on the "impact rather than intention."  Journalists understandably often look to focus a story on an individual instance or person, but by pulling back and taking into account why someone may behave in an outwardly homophobic way because of unconscious homophobia that's based in overarching beliefs and values, we are more likely to see the institutional framework leading to discrimination and hate crimes.
Unfortunately, I missed some of the early panels, including the "Queer Voices in Progressive Media" panel with our very own Katrina Casino (now accepting mentees) along with Miriam Zoila Perez, founder of Radical Doula; Tobias Rodriquez, the social media specialist at Planned Parenthood Federation of America; and moderated by Kyla Bender-Baird, author of Transgender Employment Experiences. Other panels I was unable to attend included "Activism and Media in the Age of Occupy," "Freelance/Funding for Feminist Media," a Media Training with Jennifer Pozner and a panel on Social Media for Organizations.
Be sure to check out the Storify of the conference by Emily S. Douglas, Senior editor at The Nation.com and co-chair of WAM!NY. WAM! It Yourself events were held in NYC, Chicago, Boston, Detroit, Vancouver and L.A.. Subscribe to the WAM! newsletter and send them an e-mail if you want to host an event supporting gender justice in the media in your city. And then just for kicks, check out photos from WAM Prom 2: Electric Buggaloo, held at the Bowery Poetry Club this past January the 13th in NYC.