In 2001, back when Livejournal and AOL Instant Messager were the only things I knew how to do on the internet, a fine group of tech-minded people rammed their heads together and invented The Weblog Awards. Somehow my livejournal was never nominated for one of these prestigious honors. However, times have changed!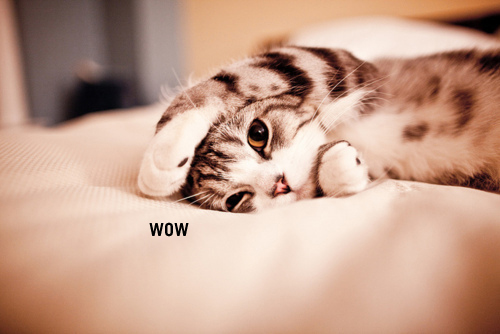 I'm not gonna lie, my heart leaped out of my chest and ran around my room grinning when I scrolled down the list of nominees for the 2012 Weblog Awards! to see we'd been nominated for "Best Group/Community Weblog," "Best Entertainment Weblog" and — AND! — WEBLOG OF THE YEAR!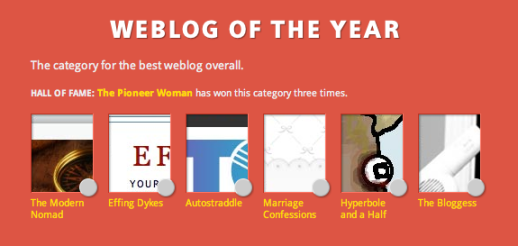 The best weblog of the entire year! I'm pretty sure we're the best weblog of your year and maybe even your entire life, so this should be a no-brainer. Previous winners of Weblog of the Year include BoingBoing, PostSecret, Dooce and Pioneer Woman.
I have decided that for each category we don't win, one Autostraddler will be sent to the Reaping. So this is actually a matter of life or death.
Ahem! If we don't win Best Group or Community Weblog I'm going to stab myself in the eye as well because ladies — we should have this shit on lock: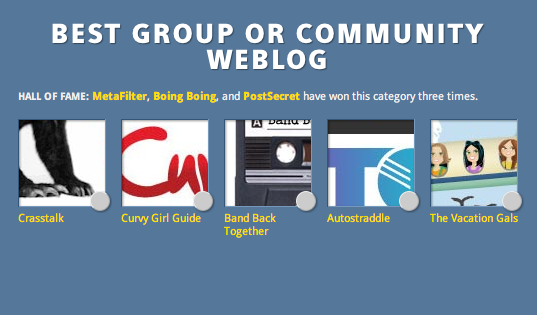 We're also nominated for Best Entertainment Weblog. This is extra-special because even though we aren't really an entertainment weblog specifically, we got nominated for this category! That's JUST HOW ENTERTAINING WE ARE.
Securing this category is gonna take some heavy lifting, guys, but I think you can do it: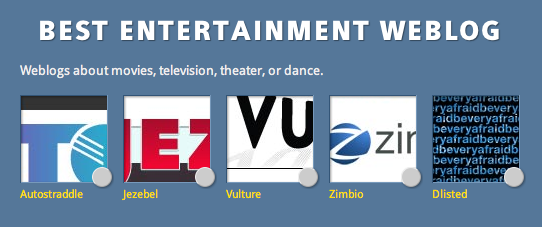 If you're sad/confused that we weren't nominated for Best LGBT blog, then vote for our compatriots Dannielle and Kristin at Everyone is Gay to ease that pain, mmk? It's their first time being nominated so it would mean a lot to us/them.
I know that reading our recaps requires a steady supply of Depends, but alas we are not honored amongst the "most humorous." But guess who is?!! Krista from Effing Dykes! Lez Represent, kids!

You also have an opportunity to vote gay in the Lifetime Achievement Award because Joe.My.God is a homo:
Of course this is going to be a difficult moment in the voting booth.
We're honored to be in the very same categories as: Jezebel (Winner of Best Gossip Blog 2011), who have been our greatest allies on the internet and done more to boost our visibility and existence than anywhere else, hands down, our friend/contributor/lover the Hilarious Effing Dykes (Winner of Best LGBT Blog in 2011!)  and one of my favorite blogs in the entire universe, Hyperbole and a Half (Winner of Best Humor Blog in 2011!). So somebody awesome is gonna win this shit regardless.
It's kinda awesome that there's so much queer & feminist representation this year — we've come a long way from that time Perez Hilton won Best LGBT Blog!
So, as you head into the voting booth, keep the following in mind:
* I will volunteer one Autostraddle Team Member as tribute to fight to the death for each award we don't win
* If we win, you'll make a 25-person team happy instead of just one person
* One of those 25 people works 80 hours a week on this website minimum
* Top Ten Things You Can Eat With Peanut Butter
* We post 5-10 times a day which is a lot!!
* I'm secretly really competitive and will be really upset if we lose
* I think winning would raise our profile amongst the mainstream blog community and help us out business-wise!!
* It means a lot to my Mom
* My Mom is also gay
* I feel like it would be a really good bonding experience for all of us (meaning both you and us)
ALSO:
If we win it will be the first time in Bloggies History that a Lesbian/Queer-Lady Blog Has Ever Won Weblog of The Year, Best Community Weblog or Best Entertainment Weblog