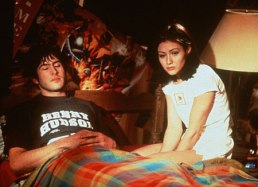 HEALTH CARE + DINNER AT 6PM:
Big bonus to the new health care plan that will start pretty much immediately — you can stay under your parents' plan until you're 26, which is awesome 'cause America told a lot of kids to go to college, and then they did. And then, post-graduation, these same kids saw that the jobs for college-educated kids they'd been told about no longer existed. Maybe they'd never existed. And Ramen noodles are way cooler as a figure of speech than as an actual thrice-daily meal. And maybe you liked learning way better than writing cover letters! The San Francisco Gate explains:
Starting this year, if you have an adult child who cannot get health insurance from his or her employer and is to some degree dependent on you financially, your child can stay on your insurance policy until he or she is 26 years old. Currently, many insurance companies do not allow adult children to remain on their parents' plan once they reach 19 or leave school.
At The Daily Beast, there's concern that the new health care rules extending privileges to under 26'ers will make kids just want to skip getting a job and move back in with their parents instead. Secretly though, I think a lot of kids do live with their parents these days, moreso than in the past. Independence just isn't something many kids care enough to spend money on lately; it's like a luxury item. (Not for everyone though. For many, it's a necessity.) This quote is so good it's hard to believe it's real: "A lack of health insurance was the only thing that motivated me to get a job out of college," one first-year analyst who works at a New York City bank told me. "Without that impetus, I would have been perfectly happy lounging on the couch, watching Golden Girls reruns. I mean, if I choke on the pretzels, I'm covered."
Haha get it! He's going to be lazy with pretzels! I think everyone should go home and sit on the couch and not have to buy your own groceries while you plot the revolution, if that's what you're into. Or not, if you aren't.  The option is nice! I wish they'd changed it two years ago bah!
DON'T ASK DON'T TELL:
Defense Secretary Robert M. Gates will announce measures to make the enforcement of DADT occur in "a fairer, more humane manner" while the Pentagon is examining the repeal of the "don't ask, don't tell" policy. The New York Times reports that it would raise the standard required for evidence to be permitted in cases with initiated action from a general or admiral.
The guidelines would also raise the standard required for evidence to be presented in such cases, an effort to prevent "malicious outing" by a third party or jilted partner, officials said.
Or perhaps by police officers peering through your window 'cause when they'd gone to your work for info about your wife for an unrelated situation, you'd been uncooperative and they didn't like that.
WEB 3.0:
If you read this whole question and entire answer (I know that's a lot to ask), you'll get to our basic ideas about what QueerWeb3.0 could be like, to some extent. (This is our idea that we say to each other at 2am; potentially does not make sense). Or just read it because it's nice to hear someone say that although you should go outside as often as possible, it's okay to not want to be social like the other kids:
Let's consider the possibility that you're basically anti-social, a moody loner, and there's not going to be a "nice fulfilling social life" for you at all — not if you're defining it by the routines of other 20-year-old college kids… [Like you] lots of people drink and type on the computer at night. I'm doing it right now… I regularly advocate for getting the hell away from the computers on a daily basis… but look, if you're more comfortable hanging around message boards where some like-minded souls get together and complain, do that… get on your message boards and propose a pub meet-up around your campus or town… chances are they prefer typing and drinking to trying to fit at the parties for the social types, but would still like to know some people "in real life."
MARIJUANA LAWS:
The LA Times reports that this November, all the good people of California will have the chance to vote to legalize marijuana! Then it can be sold & taxed and all the children will become crackheads and die! Pregnant! JK, that's a lie they tell you on TV. Richard Lee, described as a "marijuana entrepreneur," is the champion of this bill. He is pleased about the initiative and says, "We're one step closer to ending cannabis prohibition and the unjust laws that lock people up for cannabis while alcohol is not only sold openly but advertised on television to kids every day."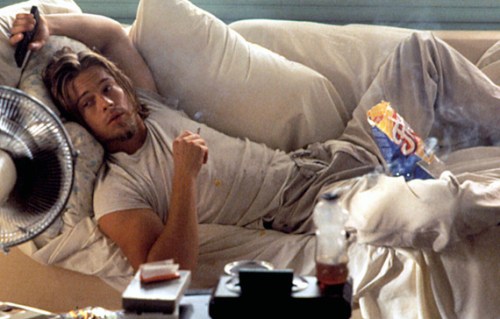 THE CITY OF NEW ORLEANS:
This super nice man in New Orleans says that Constance can still have her gay prom there if she wants to! He said he'd take all the kids to and from New Orleans by bus. So basically he's offering a free vaycay to her entire class, which is awesome, she should do it. (@wwl)
JOURNALISM:
Sometimes the desire to break a story overrides the desire to fact-check, and this guy says it's not just because of the web that journalists do it — in the 1920s a lot of papers had multiple editions. Politico, the Atlantic, and the iffy memo they rushed to publish: "although pranksters have long hoaxed journalists, evolving technology keeps providing them with new tools to stage ever-more-elaborate scams. In the old days, a prankster had to steal letterhead to create a cheap counterfeit document. Now he can gin up fake letterhead with a laser printer and desktop software." (@slate)
---
Before you go!
It takes funding to keep this publication by and for queer women and trans people of all genders running every day. And A+ members keep the majority of our site free for everyone.
Still, 99.9% of our readers are not members.
A+ membership starts at just $4/month.
If you're able to, will you join A+ and keep Autostraddle here and working for everyone?
Join A+