Oh hey style readers, today I'd like to introduce you to two very special people:
Mollie and Remy!
Mollie is a queer fashionista from the South. She's a College of Letters major and adores all things french. When she's not studying /writing about feminists and literature and art and greatness, she's playing with her kitten, Remy, and probably flirting with girls at parties.
How would you describe your style?
I was once at a party and this queer boy came up to me and said: "you're the hottest gay boy i've ever seen." On some days I go for prep school boy or granny chic. I really like dressing like an old person. Living abroad really changed my style drastically, though. On good days I like to think I look Persian. I like to wear colors a lot with some black. I usually dress very butch or very femme and not usually anywhere in between. I would like to think that the South has very much influenced my style…I was in a vintage store in Atlanta–Stefan's Vintage and Andre 3000 was shopping there.
What's your earliest fashion memory?
I had this nightgown that I loved when I was little that I really like to wear as a dress. Because I was little it was way too big for me but I'd wear it out as a dress anyway. It had these tropical fruits all over it…lots of colors, I loved it.
You seem to dress pretty nicely, what's influenced you?
I think, again, it's because of studying abroad. I remember going out in Paris once in a sweatshirt and just feeling so embarrassed like "DONT LOOK AT ME!". I also really like dressing for a situation. When we went to Versailles my friends and I picked out Versailles outfits that were loosely inspired by Marie Antoinette. Another time we went to champagne making country so I wore this white lacey dress and a head scarf…which is coincidentally what I wore to Paris gay pride.
Also because I'm a COL major and every semester we study a different time period, I always want to dress like the era of the colloquium of literature and art we're studying. Like Simone de Beauvoir…she used to do this thing with braiding her hair I really liked and actually used to be able to do. and she was just like, a french woman intellectual. I think 40s dresses are so beautiful. like those beautiful swishy skirts.
What would you never wear but like seeing on other girls?
Cut off shirts or any shirt that shows your belly. It seems to be all over American apparel these days. I'm like "this probably has potential…I think…" I  just would never do it. Something I do want to wear more of but I'm not good at: white button down shirts, I really want to I just have to learn how to wear it. Like business casual style. OH, also, hair extensions.
Do you have any sentimental clothes?
My dad was a really serious runner…in Atlanta every year there's this thing called the Peach Tree Road Race and my dad ran it every year and every year he got a t-shirt for it. Two of them in particular–'83 and '87 I really love. One of them is bright yellow and the other is bright pink. They both have these great peach designs on them.
Is there anyone specific you look to style-wise?
My friend Ella is the best dressed person I know…she has the best accessories–the best sunglasses. Also, Julie from Celine and Julie Go Boating, the Rivette film…In an ideal world I think I'd dress like Katherine Hepburn all the time…though I don't think it's possible…she's just really beautiful. And Amelia Earhart.
Where are some of your favorite places to shop?
A lot of the clothes I wear I got when I was studying abroad. There are a lot of great vintage stores in Pairs and twice a year they have these massive, massive sales, so a lot of my clothes come from that. And used clothing stores. A lot of the pants I wear have been given to me actually…there's also a lot of borrowing/stealing things from people. My friends from high school and I do a lot of clothing swaps…sometimes I actually wind up with the same clothes over again.
What is/are one/a few of your favorite pieces and why?
A high waisted denim skirt that I wear all the time…the button broke so I sewed a purple button on to it, its one of my favorite creative fashion things I've done. I also have this very bulky grey scarf that I love. And my tights–i have two pairs herringbone and lacey-esque–and my purple sneakers. Brightly colored sneakers in general I'm very into.
If you had a lot of dolla bills, what would you buy?
I'm really reserved about spending money on shoes but I love them. I would be less reserved if I had mad dolla dolla bills. If i could have a pair of sneakers for every color of the rainbow I think I could die happy.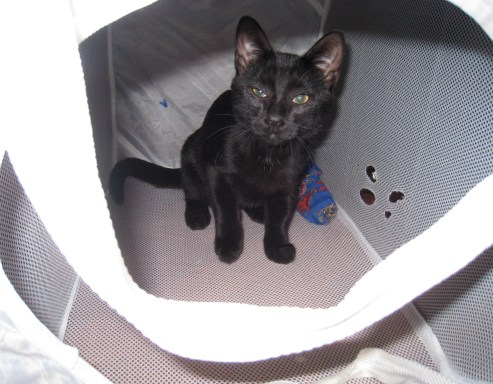 "Mew!" (That was Remy's contribution–to be fair, he does spend a lot of time in a laundry hamper, so that has to stand for something, right?)