This is Part 6 of a 12 column series. If you're just joining in, start at the beginning!
---
Sometimes I almost can't believe that I'm growing a PERSON. Twenty-nine weeks inside me now, skull firmly lodged by my bladder these days. I imagine, sometime in the distant future, looking at my grownup child with their now adult-sized skull and thinking, "wow, that thing was once inside me. I grew you." Wild.
I know so little about this creature I'm gestating, and sometimes I wonder what kind of person our baby will turn out to be. What passions, what personality, what will our relationship be like? There's no information available about who this person will be, though I sometimes like to guess based on how active the baby is or what kind of music causes the most kicks.
The only real clue one can get about this baby inside, and a very murky clue at that, is what genitals they appear to have or what sex chromosomes (depending on how and if one chooses to get the news). I always knew I wanted to find out the sex of my baby. I don't know that I would've gone out of my way to find out if it cost like a ton of money or required some special procedure, but given the choice? Hell yeah, I wanted to know. I didn't want some ultrasound tech knowing something major about my baby that I didn't! Or weirder yet, having to hide this big piece of information from me by swooping by the genitals at every ultrasound.
Simone was impatient to know from very early on. She wanted something more concrete to envision about this child, and she wanted to start talking more seriously about names! I felt patient, knowing it was likely (all being well healthwise) the only big piece of news we'd get for the whole fortyish weeks with this babe inside.
I need to pause here and say, in case it isn't obvious, that Simone and I both recognize that gender is a social construct and that a person's sex and gender aren't always determined by what their genitals look like at birth. Whether our child has what appears to be a penis or a vagina or even xx or xy or another chromosome combination entirely doesn't really tell us who they will turn out to be. They could be intersex or transgender or genderqueer or gender non-normative in some way that is yet to be named.
Our own gender evolutions have been complicated. Simone was a tomboy who ran around shirtless until she got to the age where other people were uncomfortable that this girl, no longer just a child, wasn't wearing a shirt. She had crossed that invisible line created by our fucked up society between shirtless and topless. In her pre-teen and teenage years she felt stifled, awkward, and distressed by having to perform "girl" in the ways being modeled around her. It wasn't until much later, after she came out even, that she came into her own gender as a masculine-identifying woman. She-identified, men's clothes-wearing, handsome and tender. Still frustrated by the fact that men can run around without shirts while she can't.
I've mostly always been femme, though I didn't always know it, and I definitely didn't always own it. I came into my femme-inism as a teenager frustrated by the double standards around sexuality for boys and girls, unwilling to accept unequal access to things like having sex just because it felt good. I enjoyed my feminine powers of seduction, though also tired very quickly of the way I was treated as a white, pretty, bubbly blond young woman. I diminished my femininity for some time because of this, wanting to be taken seriously, whatever that meant, wanting to be a sex object, too, sure, but also so much more.
It wasn't until I found queer community that I really came into my own femininity. I met powerful, sexy, brilliant, tough femmes who I wanted to be (and, ahem, also make out with). I was suddenly surrounded by people I felt could see me in my wholeness, people who respected my femininity, elevating it to the place I believe it deserves. Our culture's relationship with femininity is oh-so fraught, and queer culture gave me a totally different terrain upon which to play with gender and embrace my own identity. I believe in the radical potential of femme.
I also just love "girly" stuff – hot pink and sparkles, stilettos and short skirts. But I don't shave my legs, and I keep my nails short. I pick and choose the pieces of femininity I want. I'm lucky to live my life and feel in my body in such a way that I rarely feel a pressure anymore to conform to gender norms that don't suit me.
This is supposed to be an essay about finding out the sex of our baby, and I have digressed oh so much already. Can you tell I care a lot and think a lot about gender?! This is complicated, intimate stuff people, and I feel committed to revealing the complexities as best I can. So I've given you a sense that Simone and my genders are complicated, and that we very much understand that sex and gender are not somehow essentially tied, so why did we even care what sex the baby appeared to be?
One queer friend put it this way: the child is likely, statistically speaking, to identify in some fashion with the gender they are assigned at birth. So this piece of information does give us a big clue as to who they might be or, at the very least, a clue as to how the world will be towards them in their early years.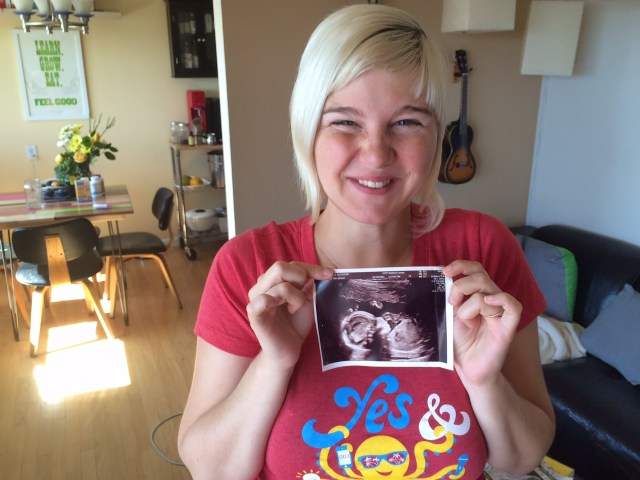 I'll be straight up – I've always wanted to have a daughter. I love girls and women and mostly choose to surround myself with them in my friendships and in my life. Being a lesbian separatist would be problematic in so many ways, but I sometimes fantasize about it anyway. I am drawn to people choosing to live in the world as women, across the whole spectrum of masculinity and femininity, cis or trans, queer or not. I'm also drawn to femmes, male or female-identified, and I've joked with Simone for years that all I really want is a princess, boy or girl, and that I won't stop having kids until I get one. Which I realize means I will probably end up with a pack of the butchest kids you've ever seen. And then I'll be that mom hoping they date someone girly so I can shower them with the pink things my children rejected.
As I compiled our registry, before we found out the sex, I filled it with hot pink items, because that's my favorite color. I mean the baby doesn't care what color the bathtub or stroller is. I'm the one who has to look at it! I realized that people looking at our registry would likely just assume the baby was a girl, however. I thought about how all my pink stuff would be considered transgressive if it turned out we were having a boy, but read as gender normative to most of the world if it so happened we were having a girl.
I was so nervous the day of our 19-week ultrasound, much more preoccupied with whether the baby was healthy and growing well than with what sex they might be. It had been 7 weeks since I'd last seen our baby, which felt like far too long, since I'd been spoiled with so many early ultrasounds due to IVF. I was in that weird part of pregnancy where I only felt I was pregnant because I wasn't getting my period. I had started feeling some movement, but it wasn't consistent and wasn't as distinctive as it would grow to be in the coming weeks.
The ultrasound tech walked us down two long hallways into a small, sterile room with giant screens, dimmed the lights, and drew a smiley face on my belly with lube. Seriously. I only noticed this in retrospect, reviewing the footage. She took her time, entering numbers into the computer, fiddling with dials, checking all the important things off her to-scan list before finally the baby turned their butt and legs towards the wand.
"It's not looking like there's much between the legs," she said. Simone and I laughed nervously. "Yup, nope," the tech said, moving the wand back and forth, and from that moment forward our baby became a she.
It wasn't until after I heard confirmation from the doctor that our baby did in fact look healthy and well, until after I wiped the gel off my stomach and pulled my shirt back down, until I got outside even, on the way to our car, that it really sunk in. I was having a daughter. I am having a daughter. It is with reverence, complexity, and so much bliss that I share this news with you now. We are having a baby girl!