Welcome to the absolutely 100% definitive color-coded guide to what sex toy you should get your activity partners and friends for Valentine's Day. Suggestions for your best friend, your girlfriend, your ex, the couple you want to proposition later, your just-dumped friend, your third date and dying alone below.
---
Red Sex Toys For Your Red Hot Activity Partner
Ahh red, color of stop lights, scissoring sweaters, and ripping your clothes off the moment you see each other whether or not it's socially appropriate.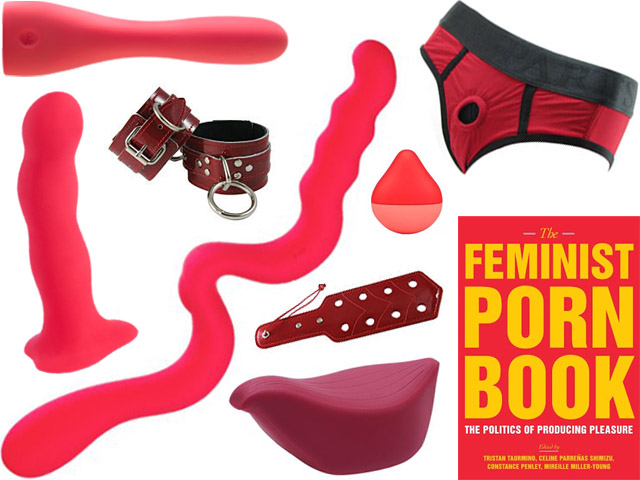 Roughly clockwise: Je Joue Ooh Classic Vibrator (don't forget the motor, sold separately) | Bouncer Silicone Dildo | Candy Apple Wrist Restraints | New Wave Silicone Double Dildo | Iroha Mini | Spareparts Tomboi Harness | The Feminist Porn Book, edited by Tristan Taormino, Celine Parreñas Shimizu, Constance Penley and Mireille Miller-Young | Candy Apple Paddle | Iroha Plus
---
Turquoise Sex Toys For The Couple You Want To Bang
What do you get for the couple who has everything — except for you in their bed?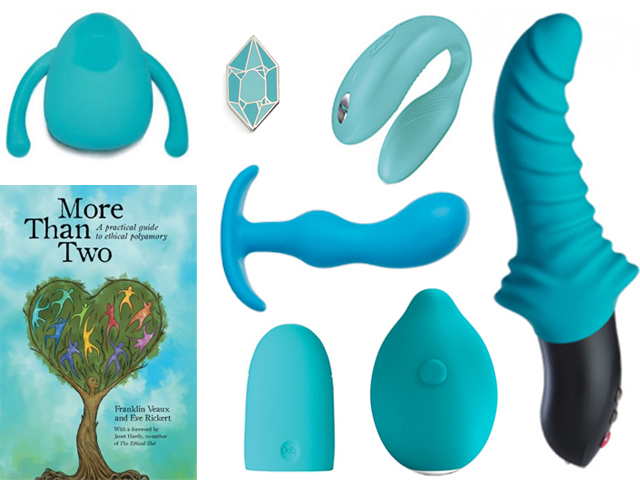 Roughly clockwise: Eva Couple's Clitoral Vibrator | Gem Pin | We-Vibe Sync | Stronic Drei | Minna Limon | Ooh Mini Pebble (don't forget the motor, sold separately) | More Than Two: A Couple's Guide to Ethical Polyamory, by Franklin Veaux and Eve Rickert | Mood Naughty 2 Butt Plug
---
Orange Sex Toys For Your Awkward Third Date
What do you get for your stay-in third date on February 14 because neither of you realized it was a Tuesday this year and once you did realize it it was too late to back out without making things even more awkward, and you already rescheduled once for "a migraine" and just aren't flaky enough to do it again even though you wish you were? Something in a color that says, "I have a personality," but not, "we should use this together forever until our five future cats tear it apart."
Roughly clockwise: Irona Mini | Sliquid Sizzle | High Five pin | Fun Factory Moody | Planet Pin | Ambiance Massage Candle | The Ethical Slut by Dossie Easton and Janet W. Hardy
---
Gold Sex Toys For Your Ex
Honestly, you probably shouldn't get your ex anything for Valentine's Day, unless you want to fuck with them. Or dramatically win them back with a $3,000 vibrator! (Do not try to dramatically win them back with a $3,000 vibrator, or at all. Buy your own sex toys and live your own dreams.)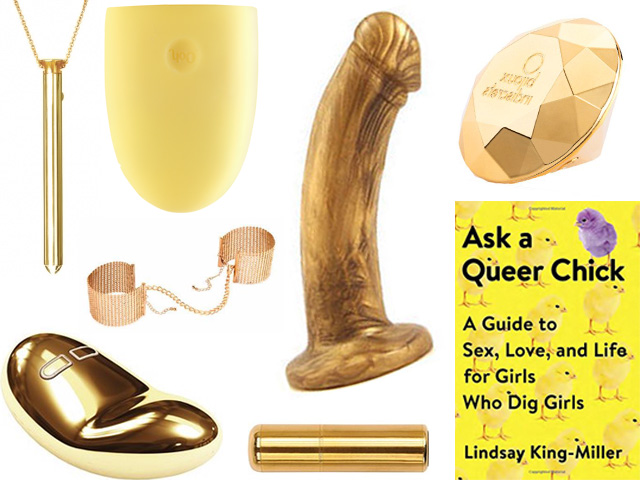 Roughly clockwise: 24kt Gold-Plated Crave Vesper | Je Joue Ooh Pebble Vibrator (don't forget the motor, sold separately) | Leo Dildo | Twenty One Vibrating Diamond | Ask a Queer Chick: A Guide to Sex, Love, and Life for Girls Who Dig Girls by Lindsay King-Miller | Crave Bullet Vibrator | Lelo Yva | Desir Metallique Handcuffs | Gal Pal Golden Heather Hooded Sweatshirt
---
Purple Sex Toys For Your Best Friend
Celebrate the joys of platonic friendship this Galentine's Day with a vibrator shaped like an emoji.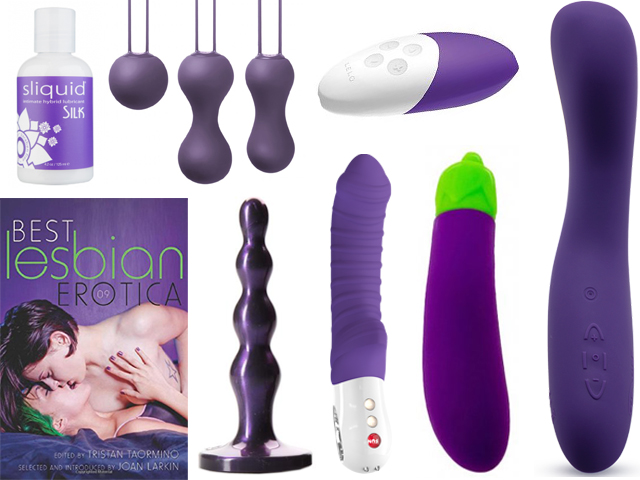 Roughly clockwise: Sliquid Silk | Je Joue Ami Kegel Balls | Lelo Siri 2 | We-Vibe Rave | Emojibator Eggplant Vibrator | Fun Factory Tiger G5 | Tantus Ripple |  Best Lesbian Erotica 2009, edited by Tristan Taormino (or this year's Best Lesbian Erotica, edited by Rachel Windsor)
---
Green Sex Toys For The Newly Uncoupled
For the friend who could've had it all and now — whether consciously uncoupling, finally leaving or recently dumped — just can't stop quoting Adele. For bonus points, make a comment about how green can help to heal the heart chakra in your card.
Roughly clockwise: Spectral Glass Dildo | Sliquid Swirl Green Apple lube | Womanizer W500 clitoral stimulator | Good Clean Love lube | The New Topping Book by Dossie Easton and Janet W. Hardy (or The New Bottoming Book by the same authors, or both, as relevant) | Cayona Vibrator | Lime Teaser Mini Smoothie Vibrator | Patchy Paul G5 vibrator | Tiny Tent enamel pin
---
Pink Sex Toys For Someone Who Actually Likes Pink Sex Toys
Takes all sorts.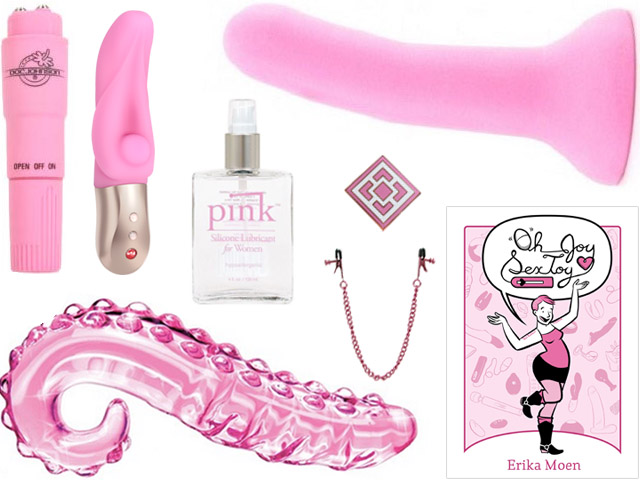 Roughly clockwise: Devices of Desire pocket rocket vibrator | Cayona Vibrator | Pink Silicone Lube | Toy 5 Dildo by Wet for Her | Pink Palm Springs Wall Enamel Pin | Oh Joy Sex Toy, Volume 1, by Erika Moen | Sex Kitten Adjustable Gator Nipple Clamps | Octopussy Glass Dildo |
Crash Pad Series subscription
---
Black Sex Toys For Dying Alone
Get that person who's convinced they're dying alone (we all die alone) toys they can use by themselves now or with a partner after life proves them wrong.
Roughly clockwise: Sliquid Studio Silver Silicone Lubricant | Bootie Silicone Butt Plug | Lelo Nea 2 | Mis Pin | Mystic Wand Rechargeable Vibrator | Bijoux Maze H Body Harness | Black Line Tiger Vibrator | Sometimes She Lets Me: Best Butch/Femme Erotica, edited by Tristan Taormino