I don't like fall. I really really do not like it. I'm not trying to be contrarian. I don't have an opinion about where, when, or in what quantities people enjoy their pumpkins and their spices. Flannel and hoodies are great, but I wear those in my freezing cold office seasons-be-damned, and plus I spent too much money on Lexa t-shirts this year to feel great about having to cover them up because of something dumb like the axial tilt of the planet I live on. The lower humidity is indeed pretty easy on the hairdo, but those cool breezes everybody is blessing all over Twitter just feel like doom on the wind to me. Fall leads to winter. Like foreplay to a damn dentist appointment. And everybody is HAPPY about it. It's a nightmare.
The only things that get me through the month of October are mayhem, madness, suspense, dismemberment, and candy. Yeah, I like Halloween. I'm not a monster, okay?
So, in that spirit, let's talk about my favorite spooky scary game: Until Dawn. I have brought it to the houses of multiple friends and watched to watch them play the entire game while I eat their snack foods. I love this game so much I carry it around in my backpack just in case I run into some poor soul who owns a Ps4 but for some tragic reason has not yet had the pleasure of playing it. (It is a Ps4 exclusive, but lucky for you it's been out for a year so even if you can't track me down to borrow mine it'll only cost you $20 at this point.)
It opens with a prologue befitting a slasher flick, which I'm going to spoil because it's only the first 15 minutes of the game and it sets up the whole thing.
A bunch of drunk kids in a ski lodge have pranking on their hive-mind. It's very teenage in that TV way where everybody has a little Alison Dilaurentis in them except that one sweet friend who is basically Emily Fields pre killing-a-guy. Except, rudely, her name is Hannah. And there's also an actual Emily, who is the worst and thus the absolute best. What happens is, Hannah's "friendswp_poststrick her into thinking Grant Ward from Agents of Shield wants to hook up so they can videotape it and be horrible I guess. Hannah is kind of wonderful; when Grant Ward is like "Ehhhhhhh wanna make out a little first?wp_postsshe's just "NOPE. It is time for my boobs.wp_postsBut anyway, everybody she has ever known or loved is hiding under the furniture and behind curtains and in lasagna boxes and they laugh and laugh and she gets so embarrassed that she runs off an actual cliff, and so does her twin sister. Solidarity. Plus there's some sinister somebody prowling around, but he makes no attempt to show us his boobs so I don't consider him a priority.
Take a few seconds to mourn, and then we are One Year Later. After an aggressively long intro set to "O Deathwp_posts(teens love Appalachian folk ballads, bro) we are in the main game. Hannah's brother, Mr. Robot, has gathered all of these jerks together to have another ski lodge party to celebrate the anniversary of his sisters falling off a mountain. It's an inappropriate celebration if you ask me. I would never go to this party.
But I digress. We start to meet the characters here, and get used to the gameplay. Every time a new character shows up, the game goes extreme close-up and gives you a card with their defining characteristics, which in my opinion are 99 percent wrong and irrelevant, so I have fixed them.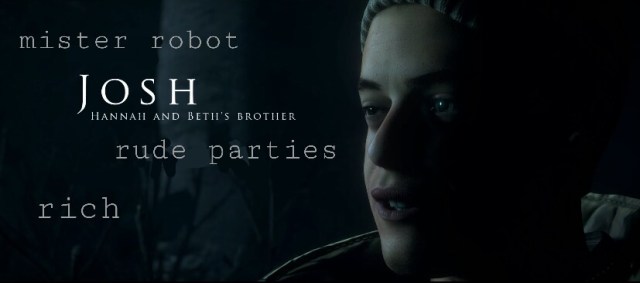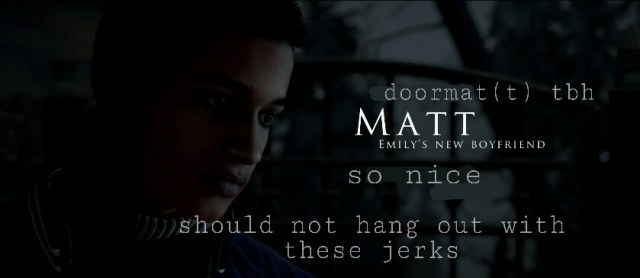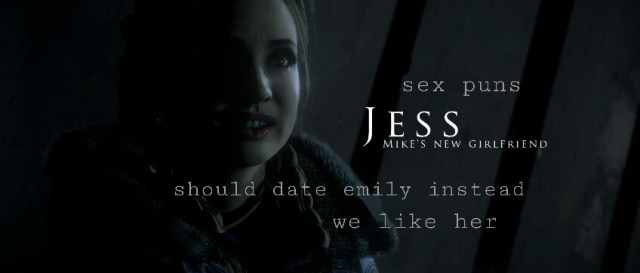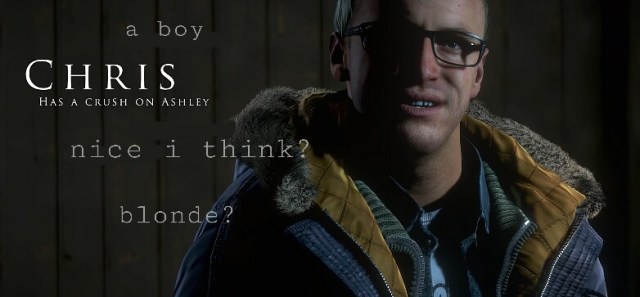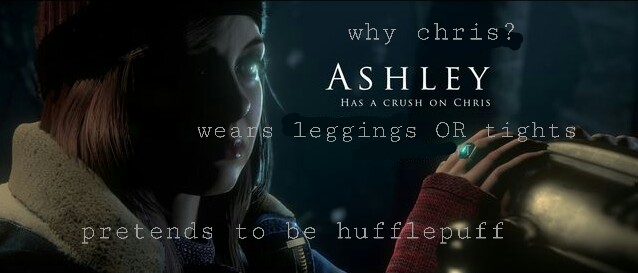 You'll wind up playing as everybody at some point in the game, so you get to mold them a bit with your choices, but the writing is consistent enough that each character maintains their own distinct personality. You can't make Emily nice no matter how hard you try, bless her heart. Everybody gets their own adventure, sending you on tours of such scenic horror movie tropes as Collapsed Mine, Abandoned Mental Institution, and Bathtub. Things go very poorly in every possible way, except that you can throw a snowball at Grant Ward's face. For real though there are things worse than pranks up here on this mountain. There's a lot of plot. They're doing every tropey thing all at once, but by the end it all ties together in a satisfying way.
Gameplay is a ton of exploration, some dialogue choices, and then frantic bouts of action that come in the form of quick time events. Quick time events are basically interactive cut scenes. So instead of controlling your character running off a mountain, for instance, you watch her run, and then as she approaches a cliff you'll get a time-sensitive prompt like "PRESS 'A' IF YOU DON'T WANT TO FALL OFF A MOUNTAIN", and if you don't press it in time she will, uh, fall off a mountain.
Personally I find this to be both more and less stressful than regular manual controls? You don't have to worry about doing anything well; you either do a thing or you do something else. But you have no time to think about it, which is kind of perfect for a game based on horror movies, because when you only have one second to decide "this waywp_postsor "that waywp_postsit's often easiest to just choose the first one you see, and damned if you don't start to understand how so many characters in movies find themselves running upstairs instead of out the front door. Sometimes, the best choice is to do nothing at all, but when you are running out of time and the game is all "A or B?", that invisible "Cwp_postsis real easy to forget.
The real stress, though, comes from the fact that there are no do-overs. If somebody dies, they stay dead. It's possible to finish the game with zero survivors. (It's also possible to miss out on some of the most revealing character moments in the game if you don't play certain things in very specific ways.)
So, is it scary? I don't know. I'm a person who finds horror movies funny and oddly comforting, because they are never about what I am actually afraid of, which is mostly my own narcissistic existential awfulness and also heights. This game relies a lot on jump-scares and gore early on. The late game gets intense as hell, though, and might have you grinding your teeth a bit. There is also this sort of psychological horror framing device that gets pretty unnerving. One of my playthroughs was with a friend who is arguably even tougher than I am, and while we were never particularly spooked by the game itself, at one point a chalkboard fell off the wall in real life and we both jumped half out of our socks when it hit the floor. It just feels very true to trashy horror movies. It pulls from everything, from Scream to Saw to The Descent to Halloween. It's really only missing my first true love Heather Langenkamp.
It's also surprisingly beautiful for a game featuring multiple beheadings. The camera works in a cinematic kind of way, so the viewing angle is locked based on where you are in the environment rather than letting you look around at will. This makes navigation kind tough at times, but it means every shot you see was meant to be seen exactly that way. The graphics really showcase the Ps4's potential compared to last gen systems. Every time I play I find myself thinking about what a good looking game it is. The character animations were done with face-capture on the actors, which allowed them to capture micro-expressions that make the characters seem more like real people than the usual stoic videogame avatars. Sometimes face-capture can err into uncanny valley territory, but here it works beautifully. (Except for teeth. Video games apparently still can't get the teeth right.)
There are things I'd change. I wish you could walk faster. I wish there was a map. The changing camera angles can make it hard to remember where you came from and where you're supposed to go. I wish it wasn't possible for the dog (wolf, really, but it follows you around like a dog) to die. Like, don't Google how to save the humans, that would ruin the whole game, but I would not judge you at all for looking up how to save the dog. And I really wish they hadn't included the "totemwp_postseaster eggs. The story cannibalizes indigenous folklore in predictable horror movie fashion, but the "totemswp_postsdon't even have any in-game significance (you find them, examine them, and get a "visionwp_postsof a possible future outcome. But it doesn't even seem like the characters see it? They never react at all.) Just, stop it. There's no reason. And, I mean, I wish there was more Emily. I wish the whole game was Emily. I wish I was Emily.
So this is how I plan to cope with fall. I will sit myself down in a dark room with a dark beer and watch my favorite characters' survival chances deteriorate at a rate proportionally inverse to my beverage consumption. I'll take comfort in the fact that my apartment is warmer than their ski lodge and cleaner than their sanitarium and more structurally sound than their mine. And I'll have pizza or a burrito and marvel that these dumb kids seem to have forgotten to bring any food at all to their party.
I guess I'm maybe a little bummed to be playing the same horror game this year as I did last year, but no new releases have really jumped out at me. Am I missing out on anything great? What are your favorite scary games? And what is your favorite thing about Heather Langenkamp?