Finally some positive news to report out of Uganda related to the gays — and wouldn't you know we have a lesbian to thank! Last week Ugandan lesbian activist Kasha Jacqueline Nabagesera was awarded the 2011 Martin Ennals Human Rights Defenders Award, second only to the Nobel Peace Prize in prestige and the premiere award in human rights work.
Nabagesera runs the organization Freedom and Roam Uganda established in 2003 to "lobby and press for the recognition of same sex relationships, especially lesbians in Uganda and thereby attain full equal rights and freedom in all aspects of life." Working for gay rights and acceptance in a country where homosexuality is illegal and  on a continent where this is the case in nearly 40 countries is clearly commendable.
 The awards committee, made up of 10 organizations including Amnesty International and Human Rights Watch, hoped awarding a lesbian the prize would "contribute to the eradication of homophobia,"  in the words of  the chairman Hans Toolman.
Gay rights are an incredibly contentious issue in Uganda, as you may know from following the story of the "Kill the Gays" bill.  Earlier this year one of Kasha's close friends, David Kato, was murdered after having experienced harassment during his work as a gay rights activist and Sexual Minorities Officer in Uganda.
On the Martin Ennals website, the awards committee offered some highlights of the work Nabagesera has accomplished:
An accountant by profession, she has excelled in human rights advocacy and obtained a certificate in human rights law. For the past four years she has been speaking at international fora highlighting the plight of lesbian women in her country. But perhaps more importantly, Kasha has had the courage to appear on national television in Uganda, becoming one of the first gay people to openly speak out.
Similarly, she has issued press statements on behalf of the gay community, and spoke on several radio stations. She challenged the homophobia frenzy in the media in the high court of Uganda where she and 2 others have sued a newspaper called Rolling Stone, which on 2nd October 2010 called for the hanging of homosexuals.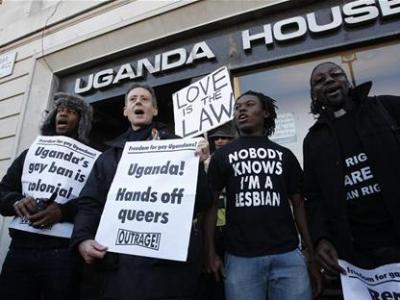 In Nabagesera's words, "the struggle for human rights is one struggle and no human rights defender should be left to do this work alone. Courage is our virtue, and freedom is our goal." On the heels of three women winning the Nobel Peace Prize, including Leymah Gbowee of Liberia, it's exciting to see another brave woman recognized for working tirelessly for human rights causes.