I moved into a big wooden house with my friends in August of 2010 and months, weeks, day, hours later it was finally April of 2011. And this really incredible thing was happening:  I was crazy about someone. I made an iTunes playlist called "this is how i feel." It was a love story in 12 tracks. I listened to it every day on repeat.
I started picking dandelions every day, because she liked dandelions and I could pick them on my way to school, or work, or home. I picked them and left them in a cup in my room. I picked them smoking cigarettes on the side of the road. I picked them all by myself, just me and a love story in 12 tracks. The perfect soundtrack. The perfect weather. The perfect feeling.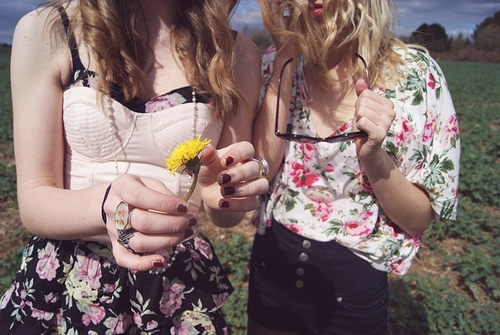 It was a really beautiful time to be alive. You know what I mean. Like this:
And I needed 12 tracks to talk about it for me because I was kind of at a loss for words. I was busy picking dandelions.
I want to share this playlist with you because I heard this is how your girlfriend makes you feel, too. Welcome to a beautiful time to be alive. Cherish each second. (I know you already are.)
40 Day Dream – Edward Sharpe and the Magnetic Zeros
Debate Exposes Doubt – Death Cab for Cutie
Maps – The Yeah Yeah Yeahs
Bloodbuzz Ohio – The National
Toothpaste Kisses – The Maccabees
Can't Take My Eyes Off Of You – Lauryn Hill
Knock You Down – Keri Hilson ft. Kanye West and Ne-Yo
Love is Here – Sophie Ellis-Bextor
Please Stay – Summer Heart
Do You Realize? – The Flaming Lips
Five Years Time – Noah & The Whale
At Last – Etta James
Add your favourite love-crazy tracks in the comments below!
Want to suggest a playlist theme? Hit Crystal up on Formspring and someone of the team will make it for you.