U.S. Lesbian Couple Jailed in Kuwait for Baseless Drug Charge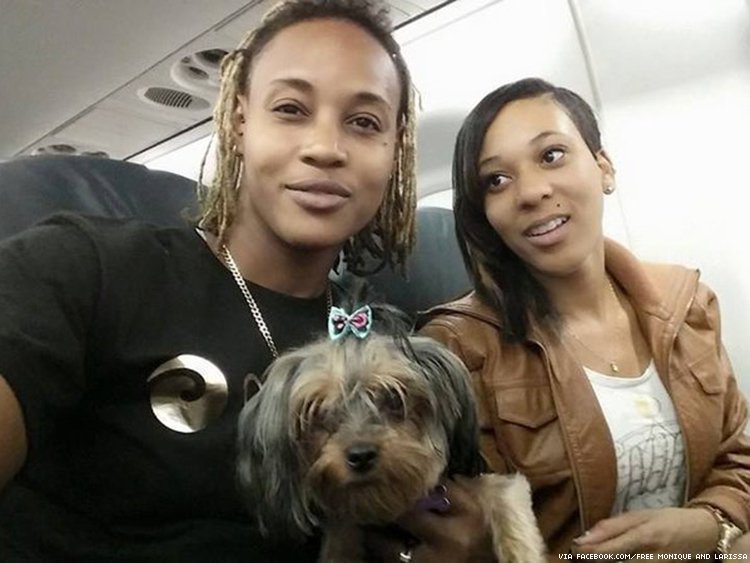 + A U.S. army veteran, Monique Coverson and her partner, Larissa Joseph were arrested in Kuwait last May for an unfounded drug charge and after being held for 8 months are now being sentenced to 20 years in prison for drug possession. Michelle Jackson, Coverson's mom, believes they were arrested and charged for being gay. "I believe it really had nothing to do with drugs because they had nothing illegal,wp_postsJackson said. "I do believe it's mostly their alternative lifestyle in a religious country that is so against same-sex relationships,wp_postsshe told ThinkProgress.
Police stormed into the couple's home in May 2015 and found an ounce of K2, a synthetic form of marijuana that is legal in Kuwait, but held them in prison anyway. After 8 months, officials are now charging the women for possessing one pound of marijuana and are sentenced to 20-25 years in prison. Jackson says her daughter said "they planted this on us."
After Coverson finished a tour of duty in Kuwait, she stayed in the country as a military contractor and then took a job in the music industry. Male same-sex relationships are illegal in Kuwait but the law doesn't say anything about same-sex relationships between women. Coverson hasn't had any contact with her family since she was arrested. Jackson is in contact with the U.S. embassy to help her daughter and her daughter's partner. She's urging people to write to President Obama and to Hillary Clinton to advocate for their release. Her family has a change.org petition you can sign. 
Scalia and the Supreme Court
+ As you may have already heard, Justice Antonin Scalia died of natural causes on Saturday while on a weekend hunting trip in Texas. He was 79. During his lifetime on the Supreme Court, he gave a bunch of horrible, oppressive opinions on abortion, LGBT rights, women's rights, affirmative action, capital punishment, etc. Now that there's a conservative off the court in what used to be a 5-4 Republican majority, what does that mean for the Supreme Court moving forward? President Obama will definitely nominate someone to fill the seat but the GOP-controlled Senate will probably refuse to confirm anyone Obama nominates. Now that the court is likely to remain evenly divided during the time it takes to find a replacement, the lower court's order stands and the Supreme Court's conclusions doesn't have any value. It could take up to several months to appoint someone to the seat. There are several key cases SCOTUS will consider during this time that could be significantly affected by Scalia's absence. Think Progress explains the most prominent cases a lot better than I can which include cases on immigration, abortion, birth control, unions, redistricting and affirmative action. And if you're wondering who Obama might consider appointing, these are Vox's guesses, with Jane Kelly, judge fore the Eighth Circuit, and Sri Srinivasan, judge for the DC Circuit, appearing frequently in other media's lists.
Debate Team
Democratic Debate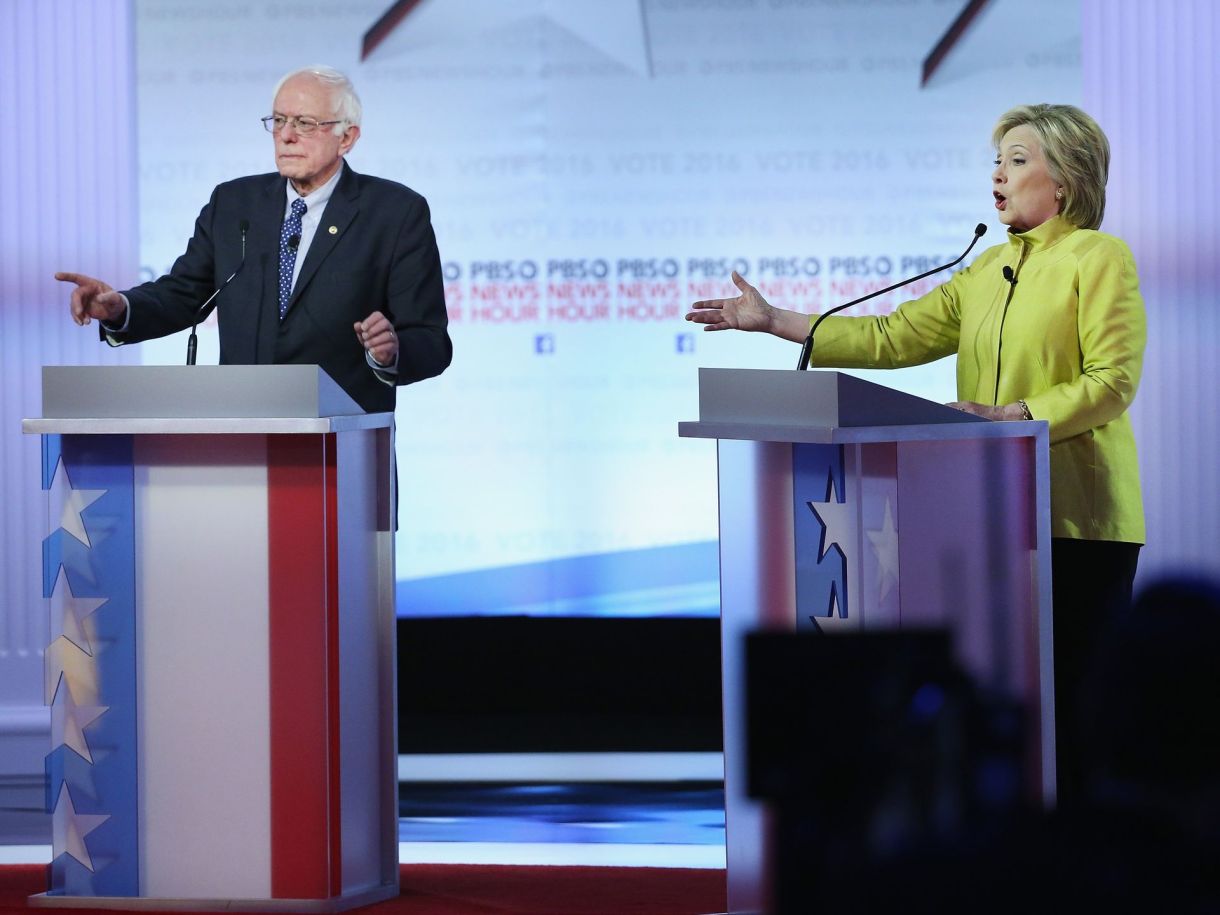 + Bernie and Hillary faced off for the seventh time in Milwaukee, Wisconsin, where they discussed campaign finance, former Secretary of State Henry Kissinger, Obama, race and mass incarceration.
The moderators asked about white people, and wanted to know how the candidates would help out working class white people when their focus is on helping black americans and communities of color. Clinton said it would be "a terrible oversight" not to address the problems white Americans who don't have lot of education, are unemployed, are poor, etc. She didn't say how she would address the issues but said she would do everything she could to fix it. Sanders said the issue at hand is an economic issue because high school graduate receive significantly less, regardless of race, than they used to. He points to a "series of disastrous trade policies" that is to blame for allowing corporate America "to shut down in this country, so millions of people are out on the street." Sanders said that's why we need to pay attention to the needs of working families instead of a few billionaires.
Sanders talked about how he hates former Secretary of State Henry Kissinger while Clinton thinks he had some good advice. Sanders said: "I will not take advice from Henry Kissinger. And in fact, Kissinger's actions in Cambodia, when the United States bombed that country, over — through Prince Sihanouk, created the instability for Pol Pot and the Khmer Rouge to come in who then butchered some 3 million innocent people — one of the worst genocides in the history of the world. So count me in as somebody who will not be listening to Henry Kissinger." Clinton basically countered with like then who will you listen to on about foreign policy. Clinton said: "Yes, people we may disagree with on a number of things, may have some insight, may have some relationships that are important for the president to understand in order to best protect the United States."
They also talked about how much they love Obama! Clinton criticized Sanders for calling the President weak and a disappointment. "And it is the kind of criticism that we've heard from Sen. Sanders about our president I expect from Republicans. I do not expect from someone running for the Democratic nomination to succeed President Obama." Sanders countered with how he's worked closely with Obama for several years and that they've made tons of progress together and that it's within his right to disagree with Obama. "But I think it is really unfair to suggest that I have not been supportive of the president. I have been a strong ally with him on virtually every issue. Do senators have the right to disagree with the president? Have you ever disagreed with a president. I suspect you have."
And they both talked about mass incarceration! Sanders pointed out Black people are more often arrested for marijuana even though the amount of white people who smoke it are about the same, Black people get more traffic violations, and are sentenced for more time than white people. "We need fundamental police reform, clearly, clearly, when we talk about a criminal justice system. I would hope that we could all agree that we are sick and tired of seeing videos on television of unarmed people, often African Americans, shot by police officers. What we have got to do is make it clear that any police officer who breaks the law will, in fact, be held accountable." Clinton agreed with Sanders and said: "There are other racial disparities, really systemic racism in this state and in others in education, in employment, in the kinds of factors that too often lead from a position where young people, particularly young men, are pushed out of school early, are denied employment opportunities. So when we talk about criminal justice reform and ending the era of mass incarceration, we also have to talk about jobs, education, housing, and other ways of helping communities do better."
Republican Debate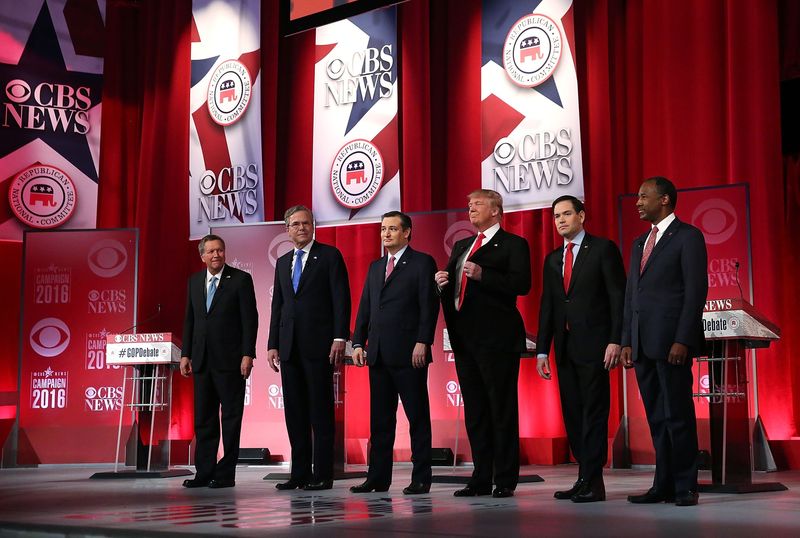 + Do y'all watch the Republican debates? I think if I had to actually watch/listen to the entire debate I think I would probably have an anxiety attack. Anyways, I've read and watched a bunch of things about the ninth Republican debate and can tell you a few things that went down.
Now that a bunch of candidates fell off the race, it was a chance for the remaining 6 GOP contenders to get down to business. But lots of media folks/ political analysts were saying it was a clown show, the most wild GOP debate to date with the moderators losing control and the candidates saying things willy nilly. Jeb and Trump were going after each other, and Cruz and Rubio were at each other's throats.
Jeb Bush was applauded a lot by the audience and defended his brother, former president George W. when Trump attacked the Iraq War by saying the president who presided during 9/11 cannot reasonably claim to have "kept us safe." Trump was no doubt booed for his statements. Too bad, Jeb is like a solid 4th place behind Rubio in polls.
Trump continued to get booed and said a bunch of surprising shit. Vox writes:
"And he mostly got booed for having a point. He attacked the audience as stacked to be pro-Bush — which it appears to have been. He defended Planned Parenthood as doing important work besides abortions — which it does. And he attacked George W. Bush for launching a war in Iraq when there were no weapons of mass destruction and for failing to prevent 9/11 — both totally legitimate criticisms.
But they are not criticisms you make in a Republican debate. Trump has strayed from party doctrine before, but when he's done so, it's been on issues where the GOP is in a very different place from the establishment."
Cruz and Rubio, bless their Latino hearts, went after each other on what each other has said on immigration issues and not exactly on their views on immigration. Cruz and Rubio clashed over who supported "amnesty" with Cruz pointing out Rubio said one thing on an English-speaking TV station and another on Univision. Rubio countered with a "I don't know how he knows what I said on Univision because he doesn't speak Spanish!" And it was a whole tussle of he said he said.
Grab Bag
+ Two teen girls died in an apparent murder-suicide in Arizona. Students and teachers identified the girls as 15-year-old sophomores Mary Kieu and Dorothy Dutiel. The girls were found near the cafeteria of their high school. Police say they found each girl with a single gunshot wound and a weapon and a suicide note near the girls. The two had been dating for two years and had pictures of each other on social media. Dutiel had tweeted "rejected af" on Twitter a few days earlier so people believe they might have broken up. Whatever the case may be, it's sad to hear two young lives are gone. 
+ Police in New York are looking for a woman who aggressively attacked a trans woman in a subway car. Jennifer Louise Lopez was punched in the face by the attacker and needed emergency eye surgery.
+ A transphobic bill died in the Washington's state Senate but only by a one vote.