Hello my lovelies. You might have noticed that there was no Tuesday Televisionary last week, and I apologize for that. Last week my actual job was an epic time-suck and this week I'm getting over yet another cold but regardless NOW I'm going to do my best to cover two weeks worth of shows and give you lots of entertainment news as well, so let's get to it! Also I'm not covering last night's TV because I was at Beyonce and I'm now suffering from fierceness overload.
Anyway. Fox has announced their fall premiere dates, with So You Think You Can Dance and Glee kicking things off on September 16th. Just a reminder, there's tons of fun online content to satiate your Glee appetite until then. And if you've been watching SYTYCD this season then you're probably noticing a bunch of hilarious Glee sneak peaks during the commercial breaks, which has really kept me on my toes with my DVR fast-forwarding.
So somehow, even though it's on hiatus until fall, Grey's Anatomy still manages to generate tons of news. They might want to focus some of their energy on writing good shows instead, but what do I know? Anyway, TR Knight is definitely leaving the show, Izzie is staying (blerg), and in the most exciting news of all, Jessica Capshaw is officially a series regular now. Yay! Lesbians!
Now onto my favorite kind of news: Joss Whedon (and Whedon-adjacent) news! First, Joss talks about Dollhouse season 2. Then EW posted some hilarious videos of Tom Lenk (you might remember him as adorable geek Andrew from the later seasons of Buffy) in honor of his birthday. Jack Plotnick is in some of the videos with Tom, and can I just say, I love both of these guys. Jack was in two of my favorite things ever: Lovespring International and "Girls Will Be Girls." And finally, here's a list of the Comic-Con TV show panels, including a Dollhouse panel featuring Joss, Eliza, and a screening of the never-before-seen 13th episode. There's also a Heroes panel, a Mythbusters panel (and a panel for some show called Lost, I'm not sure what that is), and a screening of the entire pilot for the ABC reboot of V (which: shriek!). Attention Autostraddle readers: anyone going to Comic Con? Wanna report back on it for us? Hit me up at carly at autostraddle dot com and let me know!
And finally, this isn't really TV news but it's really heartwarming and totally made me cry. Pixar granted a little girl's dying wish to see "Up". Sniffle.
Ok, now on with the shows!
The Carlytron TV Awards for June 9-21, 2009
The Weeds Award for Weeds
Much like Dollhouse, Weeds gets its own perma-award because it's so awesome. Last week Nancy tried to regain any power she might have ever had over Esteban, her life and her family… and she fails on most counts. Andy gets drunk and sleeps with Nancy's married sister (played by the always amazing Jennifer Jason Leigh), Silas and Doug almost get killed in the forest, Celia decides to stay in Mexico with the revolutionary dude, and Nancy gets raped by her baby-daddy after a particularly hilarious-slash-terrifying visit with Guillermo in prison. I am really curious as to where this show is going from here. I'm assuming there will be another season, but when all is said and done, can Nancy survive? No seriously, can she? Weeds viewers: do you think Nancy will live when the show eventually ends?
The Hot Effing Mess Award
Unless you've been living under a rock all week, this should come as no surprise to you. The Real Housewives of New Jersey started off with a whimper (I was sooo bored during the first few episodes) and went out with a serious bang. And that bang was the sound of "The Table Flip." First of all, Teresa didn't actually flip the table. Tina flipped a table; Teresa just screamed and lifted the table into the air with all of the strength she could muster in her tiny little pilates arms. Super Intern Lola has captured all of the excitement for you in this amazing animated gif: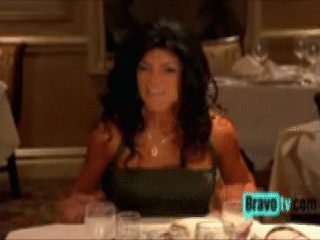 You can also watch it all unfold here:

Basically, we have all seen this happen before, haven't we? There's always some dumb drunk girl getting angry at some crazy bitch for doing something inappropriate. Actually, this whole dinner scene read like a bunch of dyke drama, didn't it? Like you and your friends are trying to have a nice dinner but someone had to go and invite someone's ex and then she shows up and causes a scene and pretends to cry and then shit gets crazy. So typical. Kudos to Bravo for cashing in on this and somehow airing like 4 more "episodes" after the finale has aired. My Jersey heritage is really looking great right now, but contrary to what the people on this show might want you to believe, not everyone in Jersey flips ("flips") tables: we throw chairs, duh.
The Hot Girl of the Week Award
So recently, I was bedridden for two days and naturally, I watched a lot of TV shows on DVD. At one point I made it through all of 30 Rock season 2, and I was reminded of how amazing Edie Falco was when she guest-starred as C.C., Jack's secret liberal lovah. Then I watched the Season 2 finale with the commentary on — I had that kind of time — and Tina Fey was talking about how great Edie Falco was to work with. So then I decided it was time to honor her in the most meaningful way possible: the Hot Girl of the Week Award (though you get a half point if you said "an Emmy award"). I never watched the Sopranos but I'm definitely a fan of Ms. Falco!
So, um, I don't know if I properly stressed how awesome Nurse Jackie is when I wrote about the pilot last time, so let me clarify: THIS SHOW IS AWESOME. It's amazing, seriously. The 2nd episode was even better than the first! Jackie is another example of a strong female role from a network who seems to specialize in strong female roles lately. She walks the line between doing good and being good, seemingly personifying the phrase "the ends justify the means" (though I'm not sure if that applies to her cheating on her adorable husband). Her character is just so blindsidingly amazing that she transcends… everything (sorry, I just took some Benadryl). Also this show is being written by lesbians ("that explains Jackie's hair" — my roommate Matthew) and Peter Facinelli's character has two moms! We'll see them in episode 6. So many reasons to watch!
The Other Bravo Reality Show Where People Have Feelings Award
Fashion show! Fashion show! Fashion show at lunch! Um, sorry, I watched all of The Office season 3 this weekend too. Last week's challenge was really cute, the designers had to create a look based on a high school clique. Hell-ooo, Mean Girls! Johnny made a dumb lesbian joke (I'll spare you, but it involved Home Depot) and Merlin had a nervous breakdown. Then everyone took turns whining, crying and hating everyone else. Great fun; very much like high school. Angel went home because it was long overdue. Then this week Becki Newton (Amanda on Ugly Betty) showed up to judge the quickie challenge at the beginning and then she was gone and I was sad, because I love her. Then Daniella got paired up with Reco and they ended up in the bottom two teams on a stupid challenge that I only half paid attention to. But they both got to stay because, I mean, they're kinda the best people on this show.
The A List Award
I don't know what Kathy Griffin's talking about, her show is far less D list than it is A list at this point. Last week: Bette Midler and Stevie Nicks; this week: Lily Tomlin, Jane Fonda, Liza Minelli, Wynona Judd, and Chaka Effing Khan! This season thusfar has mostly been about Kathy's quest for a Grammy and as always, the best part of the show is her mother. Watching her cold-call a bunch of rappers to see if they'd vote for Kathy was amazing. Also Kathy asked Lily Tomlin if she possibly turned Lindsay Lohan gay, to which Lily responded: "Actually, you know — maybe I did! I think she was sort of leaning, and, well, she probably admired my work so much, she thought that was the path to artistry." Genius.
The SHUTUPSHUTUPSHUTUP Award
Dear Mary Murphy:

On behalf of the entire world, please quiet down. There is no need for your antics. Also dial back the botox, it's a bit much.

Hugs, Carlytron.
Mary Murphy has really been in rare form so far this season on So You Think You Can Dance, having already screamed so loud my ears bled, cried a bunch of times, and made jokes about having had so much botox injected into her face that she can no longer properly display emotions (to which I say: true). My favorite parts of this show are always the big results show group dance numbers on Thursdays, here's Shane Sparks' routine from the first week:
and Mia Michaels' routine from the second week:
Speaking of Shane, he came back from America's Best Dance Crew to choreograph two hip-hop numbers in the second week, but both couples did a crummy job with his choreography. He looked totally pissed in the audience too, like "I came back for this?!" Also in the audience: Marlee Matlin! She loooooves to dance! It's too early for me to pick my favorites, mostly because I still can't tell any of the girls apart. This show brings out my inner gay boy not just because it's all about dancing, but because the boys are always cuter than the girls. Though Cat Deeley did look lovely in her white suit on last week's results show.
The Are You Kidding Me? Award
Full disclosure time: I used to work on a reality show about the Hogan family (I won't say which one!). So imagine my wonderment and surprise to learn that on a Very Special Episode of Brooke Knows Best last week, Brooke went on a date with a girl (a cute girl, too)! Knowing who was behind this, my first reaction was "not surprised!" I couldn't bring myself to actually sit through the whole thing but luckily AfterEllen did so you don't have to either. Insert giant eye-roll here.
The Dumbest Commercial Award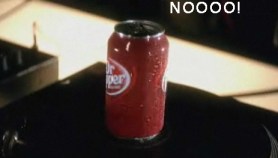 I'm a slave to my DVR so it's rare that I catch many commercials but there is one airing right now that really bothers me. And let me preface this by saying that I love both Dr. Pepper and Dr. Dre. But their stupid commercial where he puts his Dr. Pepper can down on the turntables and like, suddenly the music changes? That would never happen. First of all, the soda can is getting condensation all over the turntables, which is terrible. Second of all, really? Really? Third, is this a commercial for Dr. Pepper, Dr. Dre's new album, or Dr. Dre's mind-blowingly expensive headphones? Not really sure.
Tron out!
[ad#postads]