by Yvonne and Rachel
Shifts in Trump's Latinx Support After Immigration Speech
Some Latinx Republicans who had hesitantly supported Trump are now pulling their endorsements after Trump's immigration speech in Phoenix.
"He said he was going to treat undocumented immigrants without criminal records in a humane and compassionate way, he said he was going to soften his position,wp_posts[Alfonso Aguilar] noted. "And then we heard yesterday and I was totally disappointed, not surprised, but disappointed and likely misled. Because he gave the impression, the campaign gave the impression until yesterday morning that he was going to deal with the undocumented in a compassionate way. And in that speech, he's basically saying, we deport you or we self-deport you. It's even worse than what he initially proposed."
The LA Times has the full text of the Phoenix speech along with in-text annotations for context and further analysis.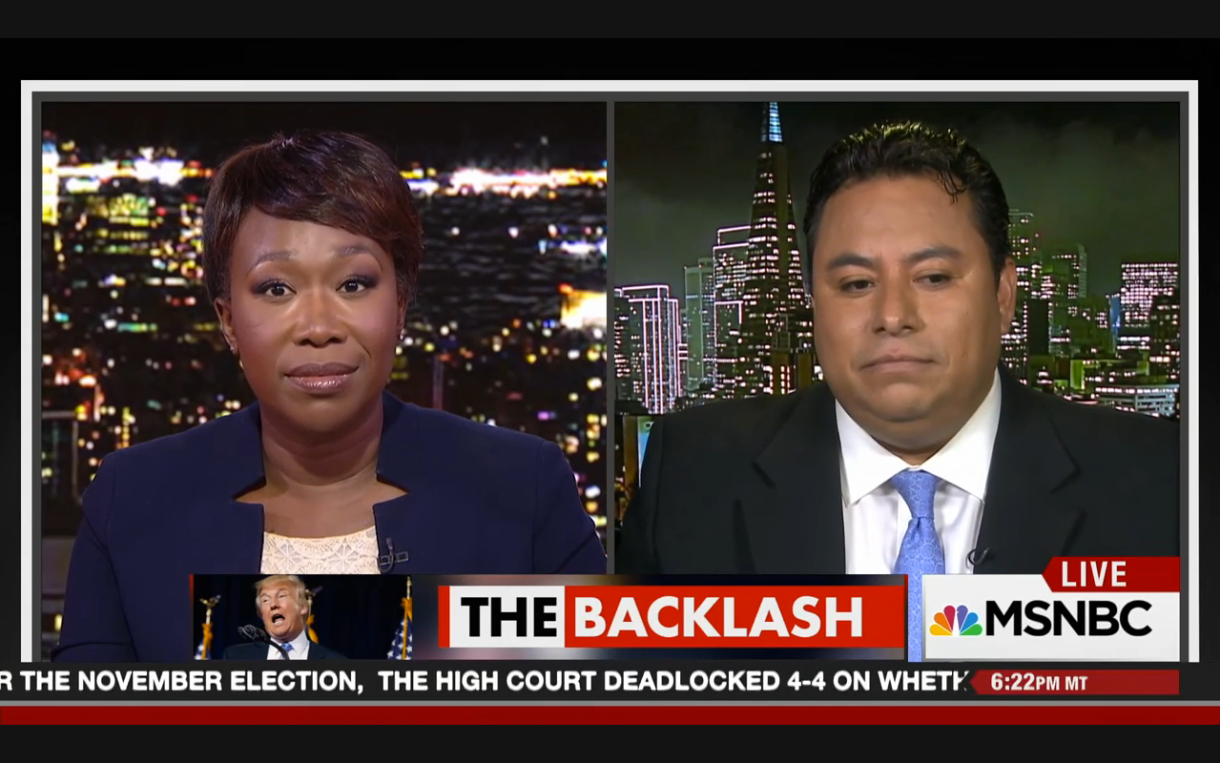 In a live MSNBC interview, Marco Gutierrez, founder of Latinos for Trump, was discussing Trump's remarks on immigration in Wednesday's speech. Journalist Joy-Ann Reid asked Gutierrez, a Mexican-born immigrant, if Trump's speech was alienating toward Latinxs and could be a tipping point for Republicans in losing Latinx voters in this election and future elections. Gutierrez could only point out that there were "problems" in this country relating to undocumented immigrants. This is what he had to say: "My culture is a very dominant culture," Gutierrez said. "And it is imposing, and it is causing problems. If you don't do something about it you are going to have taco trucks on every corner." Of course the internet is running with it and making a mockery out of this dude.
---
Election
+ The moderators for the presidential debates have been chosen, with Lester Holt of the NBC Nightly News hosting the first one.
+ Former models from Trump's modeling agency say the company broke immigration laws by having them work as models on tourist visas; an expose by Mother Jones finds that the Trump modeling agency was "a scam operation that employed undocumented models, paid meager salaries and forced its models into in "sweatshop"-like conditions."
+ Tomorrow Trump is scheduled to visit Great Faith Ministries International, an African-American church in Detroit. His team is apparently concerned enough about the importance of this visit that they've had Bishop Wayne T. Jackson submit questions in advance and scripted Trump's answers to them, which have now leaked. It's not a very revealing document as far as Trump's actual views or intended policies on race issues because it is SO obvious that a staffer wrote this and Trump was probably given no input at all, but it is revealing about the kind of president his campaign fantasizes about him being, I guess?
If we are to Make America Great Again, we must reduce, rather than highlight, issues of race in this country. I want to make race disappear as a factor in government and governance. Every individual, regardless of race or ethnicity, must have access to the full array of opportunities in America. My vision for America is that every citizen and legal resident of this nation will be able to stand side by side and be proud of the fact that they live in the greatest nation on earth.
Police/Violence
+ A new policy for the LAPD says that "Firearms shall not be discharged at a stationary or moving vehicle, the occupants of a vehicle, or the tires of a vehicle unless a person in the vehicle is imminently threatening the Department member or another person present with deadly force by means other than the moving vehicle." It's meant to address the fact that officers frequently shoot at and sometimes kill drivers of moving cars claiming that they're in danger of being run over; data reveals that the drivers of these cars are rarely armed, and that killing them does not make the moving car less dangerous anyway, as it usually keeps moving and no longer has anyone to steer or brake it.
+ The chief of Chicago's police department has recommended five officers be fired for their involvement in the death of teenager Laquan McDonald at the hands of police.
+ On August 27, Matthew Desha, who is white, ran a red light and crashed his car into that of Deborah Pearl, who was black. Instead of helping Pearl, whose car had flipped over, Desha got a shotgun out of his car and shot her. Pearl died later in the hospital.
+ A white supremacist couple in Oregon murdered 19-year-old Larnell Malik Bruce with their Jeep Wrangler when they intentionally hit him head-on; he died in the hospital a few days later. Bruce was about to turn 20 and had been charging his phone outside a 7-11.
+ Color of Change and other racial justice groups have written a letter to Facebook asking for an explanation of why Korryn Gaines' social media posts were taken down and clearer rules for the future.
+ Former Atlanta police officer James Burnes has been indicted by a grand jury in the death of 22-year-old Deravis Caine Rogers at his hands in June, as well as being fired from the department for "unnecessary and excessive force."
Law & Order
+ President Obama commuted the sentences of 111 incarcerated people this week, bringing his total commutations to 673, primarily for felony drug sentences.
+ The Supreme Court had a split vote on North Carolina's voter restrictions, which means they will not be reinstated, a big victory for voting rights.
+ Thousands of employees are suing Chipotle for wage theft, alleging that they were "routinely cheated out of around five hours worth of pay a week."
+ California lawmakers passed a bill that would assist low-income families with buying diapers for their child under the age of two. It would give folks on welfare a monthly $50 voucher to spend on diapers, which is not covered by food stamps or Women, Infants and Children (WIC) nutrition program. It's waiting on Gov. Jerry Brown's signature for approval.
+ Rapist Brock Turner was released after serving half of his six-month sentence, ostensibly for good behavior.
University News
+ Georgetown University will offer descendants of slaves — who helped build the school and were then sold to clear its debt — preferential status during its admission process. In addition the school will build a memorial to honor the slaves who built the school and publicly apologize for their involvement in the slave trade. They will also rename one of the buildings named after a slave owner and another building will be renamed to honor a prominent black educator. The university will also open an institute for students to study slavery. The changes come after numerous student protests.
+ After numerous University of Texas students protested campus carry by carrying around dildos on campus, a gun rights activist posted a video that depicts the fictional shooting death of one of those students. Brett Sanders produced the video and said he wanted to show the foolishness of the protest by making a point that guns are needed for personal protection. According to Dallas News: "The video features a young actress playing a UT student returning home from the sex toy protest who is killed by a masked robber. After the robber breaks down her apartment door, the student points a large sex toy at the robber. He laughs and shoots her in the head before yelling expletives at her and calling her a "liberal." The students who organized the campus carry protests said they felt threatened by the video.
+ The University of Chicago sent a letter to its incoming first-year students telling them it doesn't support trigger warnings or safe spaces; Feministing has rounded up some feminist responses.
Grab Bag
+ Months after the vote to leave the EU, it seems that Britain's government still isn't quite sure how they're going to do it.
British officials currently have neither the expertise nor the staff for the tortuous exit negotiations, which are likely to last at least three years and possibly much longer. Some analysts have even said they might take a decade.
+ Maine's governor, Paul LePage, is very racist, and has said lots of very racist things in the press, and also gets very mad when anyone says he might be racist. On August 25, he left the following voicemail for a state representative:
I would like to talk to you about your comments about my being a racist, you cocksucker. I want to talk to you. I want you to prove that I'm a racist. I've spent my life helping [B]lack people and you little son-of-a-bitch, socialist cocksucker. You … I need you to, just friggin. I want you to record this and make it public because I am after you. Thank you.
LePage now says he doesn't use drugs or alcohol or anything that would explain that voicemail, that he stands by his comments, and that he's never going to talk to reporters again.
+ Dilma Rousseff of Brazil's Workers' Party has been officially impeached; the interim president Michel Temer, of the Brazilian Democratic Movement Party, is expected to remain in office until the end of the term.
+ The Southern Poverty Law Center has declared "White Lives Matter" a hate group.
+ The FBI has confirmed that Russian hackers targeted Arizona and Illinois' voting systems, although no data seems to have been interfered with.
+ This is how grassroot activists made affordable abortion an election issue.