Motrin®'s mission is to create solutions that stop pain from stopping you. Motrin® does this by effectively treating at the source of pain, allowing you to stay extraordinary and granting "unstoppable power." Also unstoppably powerful? Moms. Of course around here, when we talk about Moms we're talking about queer Moms. Lesbian Moms face unique challenges on the road to extraordinariness, and thus Autostraddle and Motrin® are proud to bring you "True Stories of Unstoppably Extraordinary Lesbian Moms," an essay series featuring some of our favorite "mommy bloggers" telling stories of challenges faced and tackled.
Our second piece in this series is from Vikki Reich, Managing Editor for VillageQ, a site that gives voice to the experience of LGBTQ parents.
---
I came out to my mother when I was 20 and it didn't go as I had expected. Meaning, she did not say "I have suspected this for years and I still love you." It went more like a Scared Straight kind of thing but instead of scaring me about drugs and a life of crime, she wanted to scare me straight, straight. "Just Say No to Lesbianism" straight.
"Have you ever seen a lesbian, Vikki?"
I was about to answer but it turned out to be a rhetorical question.
"There's a lesbian that lives down the road and she wears overalls and drives a tractor. You cannot be a lesbian."
Given my aversion to hard labor and dirt, I could see why my mother couldn't picture me as a tractor-driving lesbian, so I tried to explain that there were other kinds of lesbians. But she wouldn't listen.
See, we lived in a small town in Southern Missouri called Climax Springs (ironic, really) and in Climax Springs, there was only one kind of lesbian and that lesbian was a farmer, and since my mother deemed me incapable of farming, clearly I was not a lesbian.
If there was a "Scared Straight Straight" manual, my mother skipped right to the last chapter and threatened to disown me. "When you walk out of this house at the end of the summer, you will no longer be my daughter." I suggested that perhaps I should spend my summer vacation somewhere else and she said, "No. We'll suffer through these last three months and then say our goodbyes." It was the making of the worst "What I Did On Summer Vacation" essay ever.
The days passed and we barely spoke to each other, each of us biding our time until the summer would end and I could return to Grinnell College which churned out lesbians at a delightful rate.
Then one morning, I came out of my bedroom where I'd been hiding – playing the guitar and pining for my girlfriend who was in Vermont – and my mom announced that she'd be digging up the septic tank "by hand" and thought maybe I could help her.
My first thought was that no one digs up their septic tank by hand so I told her that she should hire somebody with an appropriately large piece of machinery to come do it. She explained that the ground was too soft to get a backhoe down there and I took her word for it because I didn't know what a backhoe was and then declined her invitation.
Instead, I watched her from the upstairs window as she sat herself on the ground with her small spade and set to digging up the earth. She'd had a triple bypass the summer before and I noticed that her shovel-wielding strength wasn't what it had been in the days of old. So I stewed in my own anger and frustration for a few minutes before finally storming outside, announcing "This is completely ridiculous!" and then grabbing a shovel from the garage and joining her Septic Tank Digging Project.
We dug and we dug and before long a funny thing started happening — we began to talk. We talked tentatively at first – about the dirt and the rocks and the blisters forming on our hands – and then we talked more openly – about how she felt weak, about aging, about my friends at school and then she asked about "the girl". There were no big revelations, just simple conversation and some laughs. We dug, we took breaks, we drank cheap beer that went down like water, dug some more, talked a little, and then dug some more until all the digging had been done.
When we finally stopped towards the end of the day, we each opened another beer sat on the patio. I looked at my mom and she nodded her head towards the front yard. There was an enormous hole in the yard and I realized that we had, much to my surprise, dug up the entire septic tank by hand. It took the entire day and a twelve pack of beer but we did it.
Then she said, "It's going to take me some time." She wasn't talking about the septic tank, of course, she was talking about the one thing we hadn't talked about all day — or ever, really. Acceptance would take time. I sipped my beer and said, "That's ok."
My mother didn't disown me after all. I returned to college and she occasionally called to try another chapter from her Scared Straight Straight manual and I sighed a lot. She threatened to skip my graduation but she didn't, instead she showed up and stood stiffly beside me in pictures. She told me she came to "keep up appearances" but I knew that even my lesbianism couldn't overshadow the fact that I was the first woman in my family to graduate from college, and that she was proud of me for that.
Over the next few years, our relationship improved. She met my partner and she came to help us work on our first house and she settled into a quiet acceptance. But even though she'd given up trying to change my lady-loving ways, there was one thing on which she refused to budge: she was adamant that I not bring a child into my "lifestyle." She argued that if we had a boy, he would never learn to pee standing up and, if we had a girl, we wouldn't know how to do her hair.
Given arguments with such substantial merit, it's amazing that we had the courage to persevere.
I took advantage of every opportunity to remind her that we were planning to have kids because I didn't want her lulled into thinking that we had changed our minds.
If we were at a restaurant and saw a couple with a baby, I'd say, "We're going to have a baby someday."
If we were watching TV and a commercial for Pampers came on, I'd say, "We're going to have a baby someday."
When I ran across a candy conversation heart that said "baby" on it, I told her about it and claimed it was a sign.
It became a game – "Ways to Remind Mom We Intend to Have Kids," which was a lot like a competitive family game show but heavy on the "feud" part and light on the cheering.
Each time I brought it up, she'd simply purse her lips, close her eyes and shake her head. When I finally did get pregnant, I called her up to share the good news.
"You remember two weeks ago when I said we were going to have kids?"
"Yes."
"Well…I'm pregnant."
She was absolutely silent – no sighing, no audible pursing of the lips. For a brief moment, I thought we'd lost our connection and was about to launch into the requisite and repeated "Hello?" when she finally responded.
"What do you want me to say?"
I suggested that most people go with "Congratulations" but she went a different direction – "You're going to be a horrible mother." I should have been hurt but maybe I'm a little broken because I just gave a short laugh at the irony of her words.
Over the next nine months, she made it clear that she believed what many people believe – living as an out lesbian is a choice and it shouldn't be forced on children. I made it very clear that she was casting a shadow on my pregnancy glow.
She didn't want to hear about my pregnancy and I didn't want to hear about her bigotry so, for the last three months of my pregnancy, we talked only about the weather. We talked about the changing of the seasons, the humidity of summer, the state of my lawn, weeds and the success of her tomato plants. Our conversations had about as much emotional and personal flair as weather forecasts.
Then, in July of 2001, my son was born. Everyone talks about the magic of that moment, about looking into that innocent face and knowing you'd do anything for that little person. I'm sure I felt that but I also thought, "Oh my god! I don't know how to do this!" followed a couple of days later by "They aren't really going to let us take him home, are they?!"
I remember very little from the first week. It was all laughter, tears and breast milk. When my mother came to visit, I remember strapping my wobbly-headed baby into his car seat and driving from Minneapolis to her hotel in Burnsville, hoping the visit would be less painful than the name of the suburb implied. I had two thoughts – I hope the baby's neck doesn't snap and I hope I don't cry when I see her.
I knocked and she ushered me in and immediately started unbuckling my son from his car seat. She sat on a chair, her elbows on her thighs and my son's head in her cupped hands with his body running the length of her arms. She held him and just smiled. Her face was pure joy and something in that moment righted us both. Four years later, she held my newborn daughter the same way and she smiled that same smile and moved us forward once again.
After our children had been born, my mother never once mentioned the impact having two moms might have on them. She judged us for our fondness of tofu and our aversion to toys with lights and sounds and our reluctance to raise our voices but nothing more. Maybe she found my children irresistibly adorable. Maybe she got tired of arguing with me. Or maybe, she realized that we were just a couple of people raising a family.
There were, however, things about my life as a parent that I did not or could not share with my mother.
I didn't tell her about the preschool teacher who responded to our daughter's question, "Where's my daddy?" with "He's at work." I didn't tell her about meeting with the preschool administrator and the teacher, didn't tell her that we donated several children's books to the school – not just books about gay families but families raised by grandparents and single parents as well.
I didn't tell her about the camp counselor who threatened to call my son's father when he didn't follow the rules. That time, we got away with an educational phone call.
My mother died at 72 when my kids were 7 and 3. She was already gone when my son got into a heated argument on the school playground after another kid used an anti-gay slur, when the marriage equality fight finally did arrive in Minnesota and I had to prepare my kids for what they might hear about families like ours.
It was better this way – better that I kept those struggles to myself, better that she never knew – because she was able to simply see me as a mother.
She watched me balance work and family. She looked on in amusement as we set limits with our children and doled out consequences when the kids ignored them. She watched us deal with sibling rivalry and playdates and soccer schedules and "Oh my god, would you just brush your teeth well the first time?!" and really, those are our primary struggles, the ones that consume our day-to-day. The political conflicts are big, of course, but we spend a lot more time dealing with homework than we do talking about DOMA.
One night, shortly before her death, I was talking to my mother on the phone and she said, "You have two great kids." She was never one to give compliments and I must have been stunned because I didn't respond with sarcasm or a joke to steer things into less vulnerable territory, "I don't know, mom. I feel like I'm making so many mistakes." I expected her to agree with me, to tell me that she always knew I wouldn't be able to pull off this mothering thing but she said, "You are doing the best that you can. You are doing much better than I did."
I needed to make peace with my mother and I did.
I've also had to make peace with myself.
Before having kids, I imagined I would be a perfect mother. I wouldn't make the same mistakes my mother made. I would love my children unconditionally. I would never raise my voice or lose my patience. But raising hypothetical children is so much easier than raising actual children and I have made many mistakes, including some of the same ones my mother made.
There are only a few things about which I am certain but I know that, someday, our children will sit down with their friends, share a bottle of wine and malign us. They will tell stories about our quirks and their friends will laugh. They will list their grievances and their friends will shake their heads in sympathy.
Most of those stories will have little to do with the fact that we are lesbians. Though that defines us to the rest of the world, it doesn't define us to our children.
We are just their parents.
We embarrass them at soccer games and school plays by cheering too loudly. We nag them about homework and brushing their unruly hair and making their beds. We argue with them about the appropriateness of movies and music. We raise our voices and lose our patience. We expect too much of them and are not always adept at hiding our disappointment.
Hopefully, they'll eventually learn what I have – we're all imperfect people just doing the best we can — but if you dig a little deeper, you might be surprised by what you find.
---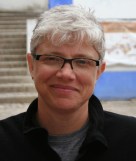 Vikki Reich writes about the intersection of contemporary lesbian life and parenthood at her personal blog Up Popped A Fox and is a Managing Editor for VillageQ, a site that gives voice to the experience of LGBTQ parents. She is also the co-director of Listen To Your Mother Twin Cities. In 2013, she completed the Foreword Writing Apprenticeship in Creative Nonfiction at the Loft Literary Center in Minneapolis and is a 2013 recipient of the Beyond the Pure Fellowship for writers.
---
Comments have been disabled for this post citing FDA standards. But you can always tweet her up!