Today is the 2012 International Transgender Day of Remembrance. It's an event that was started by Gwendolyn Ann Smith in 1998 following the murder of fellow trans woman Rita Hester. Fourteen years later, TDoR is now observed in more than 185 cities around the world, and is a way to mourn and remember all of those who have lost their lives to transphobic violence. It's also a day to raise public awareness of the very real threat that many trans* people — especially trans women of color — face every day simply for existing. It's also a call to action for trans* people and their allies to stand up against racism and transphobia and the political indifference that allows them to continue. So how can you get involved? Here are ten ways that you can be a part of TDoR 2012.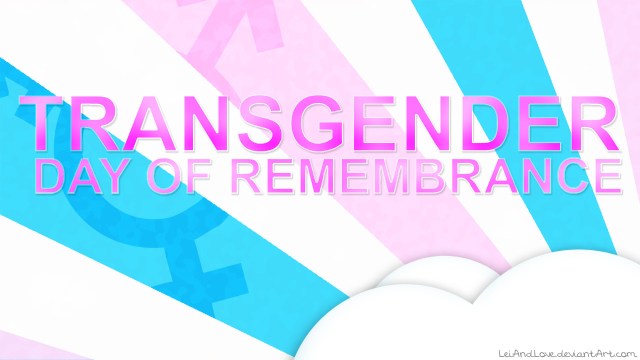 1. Hold a vigil for this year's victims.
Click here for a list of all of the reported transphobic murders worldwide so far in 2012. Look over the names and photos by yourself, or read this list with others. You might even want to light a candle. You'll notice that nearly all of the victims are trans women of color.
2. Change your profile picture.
Consider changing your profile picture on Facebook today to the Transgender Pride Flag or other TDoR-related image. It's an easy and effective way to increase visibility and awareness of TDoR.
3. Hug a trans* person.
I'm not suggesting that you go up and hug a random trans* person on the street, but it might be nice to reach out to your trans* friends to let them know how much you love and appreciate them. In addition to the violence that many of us face, 41% of trans* people have attempted suicide at some point in their lives. The fact that we're here and living as our true, authentic selves is something worth celebrating.
4. Donate to a trans* organization.
There are a lot of really great trans* organizations fighting for true gender equality and civil rights, and all of them need help from donations to continue doing such important work. A gift of even $10 or $20 to the Transgender Law Center, Sylvia Rivera Law Project, or El/La Para TransLatinas can really make a difference.
5. Volunteer at a trans* youth organization.
Most trans* people have traumatic memories of growing up closeted, scared, and alone — I certainly do. So why not help to improve the lives of the next generation of trans* youth? Considering volunteering at an organization that specifically focuses on their needs. Check with your local LGBT center for volunteer opportunities in your area.
6. Write a letter to Cece McDonald.
For those of you who don't know, Cece McDonald is a trans woman who is currently serving a prison sentence (in a men's facility, of course) for defending herself from a transphobic attack in which her assailant died. In other words, she's in jail for refusing to be another name on the TDoR list. I'm sure that she would appreciate a letter of solidarity and support as a reminder that although she has been unjustly imprisoned, she is far from alone.
7. Look into you school's / employer's gender identity anti-discrimination policy and hold them accountable.
You'd be surprised at how many schools and companies have outdated policies regarding transphobia and discrimination. Find out what the ones at your school/work are, and if don't be afraid to raise the issue if they need to be updated or fixed. You should also insist that the health insurance policy offered is trans*-inclusive. You'll undoubtedly be making life easier for some trans* person in the future.
8. Reaffirm your commitment to call out transphobia and cissexism.
Many people still think that it's socially acceptable to say really awful things about trans* people. Some don't even realize that they're being offensive. That was the case when I went to a salon appointment a couple months ago. The esthetician started telling me about how she and her friends were out barhopping and accidentally ended up at a "tranny club" the previous weekend. I usually don't like outing myself to people I don't know, but I fought through the discomfort and did, so that I could teach her why what she said was wrong. Because words matter. Words shape our attitudes; attitudes that have allowed at least one trans* person to be murdered each month for the past decade. So the next time you overhear someone saying transphobic or cissexist remarks, don't let it slide.
9. Educate yourself about how racism, xenophobia, and classism intersect with transphobia.
As the saying goes, "my feminism will be intersectional or it will be bullshit." And that couldn't be truer when it comes to transphobia and transphobic violence. It's no coincidence that my experience as a white, upper-middle class, educated trans girl is very different than that of the women on the TDoR list- it's important to understand why if we want our activism to be effective.  I recommend Captive Genders, Normal Life , and this article are good places to start if you want to learn more.
10. Share your feelings in the comments section below.
TDoR can be a really emotional day for number of reasons, and it's important to express the feelings it may cause in a safe and supportive space. Also because we love you and want to hear from you.
I'll leave you with this video tribute to the trans* people who lost their lives to senseless violence in 2012. Don't watch unless you have some tissues handy.
2012 Transgender Day of Remeberance from SCĒN on Vimeo.