It's been a really rough couple of weeks for me, control-wise. I am the kind of person who likes to be In Charge, and right now I feel like I'm not In Charge of anything. Among many other things, my family is selling my childhood home. I have literally never existed without this house as my fall-back address, something I could always go back to. Just now I'm coming to grips with the fact that the streets on which I rode my bicycle as a child are streets I will likely not see again, will probably never bicycle again. Ay. Forget about anything else going on in my life right now, that's enough to make me feel like we're just on a rock hurtling through space towards chaos OH MY GOD WHY ARE WE ALL HERE WHAT IS THIS.
Ahem.
Perhaps that's why, for a non-gamer, I've been hitting the world-building games super hard. I usually prioritize other things over games, but you know what? The games that put you in charge of your own castle, tower or world have been a real stress release for me. I thought it was just for this past bit of time, but looking back on it, it's been my whole life. When I was little, I would resort to Gungan Frontier or Roller Coaster Tycoon. Games that let me a) make something that b) I was totally in charge of. So if right now you're flying by the seat of your pants a little, here are a few recommendations to keep you a bit saner while you plunge into the chaotic mystery that is life.
---
Tiny Tower, by NimbleBit
Ah, the original tower-building game. I actually don't know if that's true, but I don't remember anything like this before it happened. Tiny Tower is exactly what it says on the box—you build your own teeny tiny skyscraper on your phone or tablet. You build floors that are either apartments or businesses. Move tiny "Bitizens" (named for the bit-tastic design style) to work at your businesses, generate income and expand the tower. That's it. That's the game. But the true fun part is seeing what kinds of stuff you wind up with. See, I got a robot store the other day.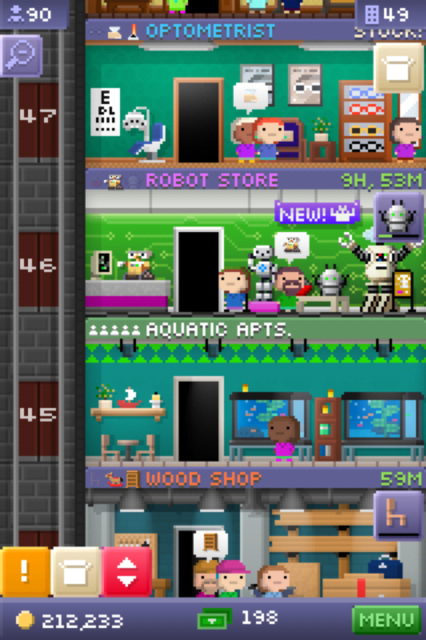 There are also challenges, like this one where you have to create a whole bunch of root beer and cuckoo clocks for Oktoberfest.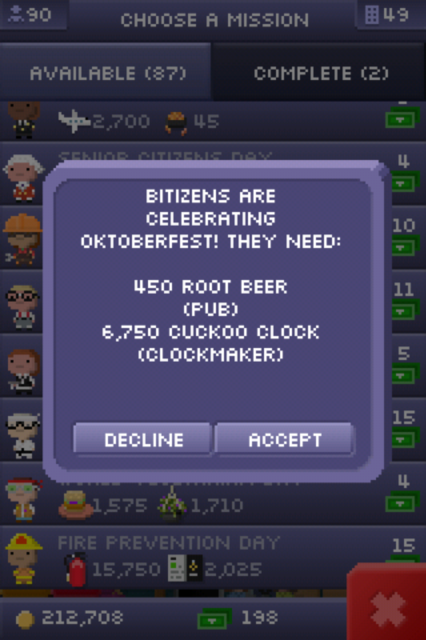 You can dress up your Bitizens, repaint your floors, you can even visit friends Towers to see what you're missing and be jealous! Easy, calming, casual and perfect for any control freak. Free for iOS and Android—there are a lot of in-app purchases, but I've never made one. I can confidently say that you can play this and spend absolutely zero money.
---

The game play is a lot almost exactly like Tiny Tower, except Lil' Kingdom has you dig down into the earth under a castle to build your business and inns. And depending on your style, you might like the graphics a lot better. I'm constantly impressed at the thought and care that went into the design—it's really pretty!
I named my Princess and my castle after Alanna of Trebond (bonus points if you get this reference!) even though the Princess is pink and not very like Alanna at all. Ah, well, it's a tribute to my childhood. You can also hatch pet dragons. Mine's called Knucker (comes with the name, can't change it don't think I haven't tried).
This game is free for iOS and Android. Like Tiny Tower, you can make in-app purchases if you like. But I haven't found it necessary yet.
---
Okay, so everyone loves The Sandbox except for me, but I still recommend trying it. Let me tell you why. The Sandbox is legit a world builder, thus the name. Drop pixels of different elements to create all sorts of stuff. There's a free-play mode and a bunch of campaigns (some free, some not). Definitely start with the first tutorial campaign, though, otherwise you'll be totally lost.
Here's why I don't like it—I'm so much of a control freak that it's too free-form for me. There are not enough rules! GAH! But if that's your jam, definitely go for this, and it's not like there are no rules—it's all based on the laws of physics (you can even build things based on electrical circuits).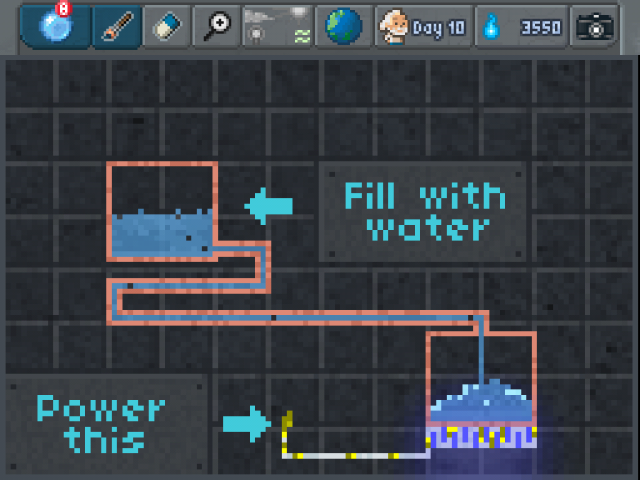 This game is free for iOS, Android and Mac. You can, of course, make in-app purchases.
---
I am scared to start playing Minecraft. I have seen full-grown IT nerds reduced to tears over this frustrating, yet rewarding game. You mine resources in order to build your own house and all sorts of other structures and things, EXCEPT THINGS WANT TO KILL YOU. IF YOU LEAVE YOUR HOUSE IN THE DARK THEY WILL FIND YOU. Just ask Vikki:
Dejectedly, I wandered and cut wood and then it started getting dark and I panicked –panicked like this was real life! Being outside in the dark before had led to the chicken fiasco and death so I ran. I didn't know where I was running but I ran as fast as my pixellated feet would carry me and then I saw a giant black spider with red eyes and a weird green thing and I knew nothing good was going to come of those so I just kept running and they chased me and then – I saw my house! I cannot even tell you the relief I felt… until I couldn't get through my door because I still wasn't good at walking through small places. While I bumped into the wall repeatedly, something kept shooting me in the back and, by the time I got in the house and shut the door, I had only three little hearts left.
No worries, though. If that does sound really stressful but building really cool things in a multiplayer world sounds amazing, then you can always play in creative mode. There are no monsters in creative mode. If you've got basic networking ability, you can set up a private server on which you and your friends can play together.
Get the game for Mac/PC ($26.95), iOS ($6.99), Android ($6.99), and Xbox. You can also play a demo version on your computer before purchasing to make sure the game is right for you.
---

I might be bending the rules of this roundup a little with this one, as it is both a creative world-building game and an adventure game. But I couldn't resist. Deepworld is like if Minecraft and Mario had a baby. This is that baby, and also it's steampunk. You find yourself in a post-apocalyptic world with nothing put a pickaxe and the clothes on your back.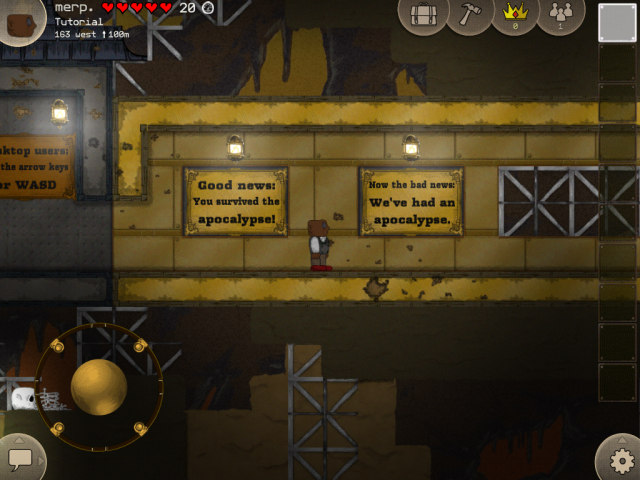 You share this world with, well, everyone (massive multiplayer). And the world is always changing because people are always building things in it. I'll admit, it is a little stressful. But just look how cute my little dude is!
This game is free for iOS and Mac, and is coming soon for PC and Android! You can upgrade to premium, which gets you other cool stuff (and makes sure the developers get support!) and you can, as per ushe, make in app purchases even further in-game coolness.
---
That's my list—it's by no means a definitive one. For instance, I left off the Sims because everyone already knows about it. I also discounted any farming games (including the one that lets you farm zombies) because of personal preference/an association between all farming games and getting dumped. So I'd really love it if you shared the games that indulge your inner control freak in the comments below! Until next time, queermos!
---
This has been the sixty-seventh installment of  Queer Your Tech with Fun, Autostraddle's nerdy tech column. Not everything we cover is queer per se, but we talk about customizing this awesome technology you've got. Having it our way, expressing our appy selves just like we do with our identities. Here we can talk about anything from app recommendations to choosing a wireless printer to web sites you have to favorite to any other fun shit we can do with technology.
Feature image via Shutterstock.

Header by Rory Midhani