Inspired by how happy you are that o.b.® tampons expand all around to custom-fit your body, Autostraddle's "a custom fit" article series will tackle how to make all the other parts of your life expand/adjust all around to custom-fit your life/self. You've got your own place, you've got clothes that fit you just right, how to work exercising into your schedule and how to container garden.
But today we're gonna get literal and actually talk about how much we love the custom fit of ob tampons themselves!


When we first started working with the o.b.® brand on this campaign, we emailed our Music Editor Crystal — she works in advertising in Sydney, Australia — to solicit help brainstorming a title for our o.b.® tampons article series. We gave her the brand background: o.b.® tampons are a "cult brand" with a small but passionate market share (just like this website!), they expand when inserted to custom-fit your body and they're the only tampon brand in the U.S. without an applicator.
Crystal's email response opened with: "o.b.® tampons are the only tampon brand in the U.S. that don't have an applicator? REALLY? wow. my mind = seriously blown. So here's a fun fact about my country: there is maybe only one brand of tampons on the market that does use applicators, and I couldn't tell you what the brand is called because it's not one of the major ones. Applicators are so 1940s."
Apparently, it is true—take a look at what happens when the o.b.® brand tries to give women in Europe applicators with tampons:
Our minds? Seriously blown. We looked into this and learned that outside of the U.S. and Canada, applicators are about as common as cheese in a can and just as unnecessarily wasteful and processed. It was like when we found out that we're one of the only countries not using the metric system.
Much like the metric system, o.b.® tampons just make more sense. But you won't know it 'til you try it, and thus we present three o.b.® tampon stories for you today.
---
Alex
This past April, my band was on our DIY tour up the west coast in our converted school bus that runs on veggie oil. One of our first stops was in San Francisco, which is particularly exciting for me because I get to see my ex/friend/business partner Riese and her girlfriend Marni who were cool/supportive enough to rent a friggin car to be at my show.
By the way, obviously, because I was traveling the country with three dudes in a converted school bus that runs on veggie oil in order to play gigs every night, I got my period. What fantastic timing! Of course the only tampon I had on me was IN me, and so after the show when I went to talk to Riese, still out of breath and sweating buckets, the first thing I said was:
'OHMYGODDOYOUHAVEATAMPONPLEEEEASE'.
Riese handed me an applicator-less o.b.® tampon. I made a face. She made another face. Like a "What do you mean you haven't switched to o.b.® tampons yet?" face.
I laughed because I'd been putting it off for months, and during those months I'd spent countless hours designing the dedicated o.b.® brand page for this campaign and talking about the brand with their team. I mean, if it ain't broke, don't fix it, right?
I sighed: "I guess this was gonna have to happen sooner or later."
What happened next is the usual: I enjoyed the after party, passed out exhausted on my bunk on our bus and slept while the guys drove us to our next destination. I realized the next day that my o.b.® tampon had been in there overnight. And we're not talking Day 5 here; it was the second night of my cycle. I grabbed a replacement and went to change it expecting a serious clean-up situation.
What happened next was totally surprising: there WAS no situation at all. The tampon never leaked. I texted Riese about it the next day and I never text that girl because I prefer to call her, leave a voicemail, and then email her about how she never picks up her phone.
My underwear was saved and this awesome product is advertising on our website to our community — both those things are awesome.
I guess I didn't realize what I was missing until it was literally the only option I had. And I had no idea until I was forced to try it but I'm so glad I did.
---
Gabby
I sent away for o.b.® tampons because they were free. Getting free stuff in the mail was one of my favorite things as a kid: teddy bear keychains, mood rings and glow-in-the-dark yo-yos have all landed in my mailbox. Mostly I ordered those things because I was/am a geek and only had like two friends back then, and they were both made-up. Anyway, so you can imagine how insanely pleased I was to be able to add tampons to my list of "free things I've gotten in the mail" because, really, why not? Send me everything you've got, free world! Also, I was curious about these tiny magic cloud-shaped bullets, like where was the plastic cannon that always accompanied them on their missions? How would this really work?
Don't get me wrong, I love my body and all of its consistent functions of wonder. But I'd never experienced a non-applicator situation and it was time to switch it up, thunder through the monotony of menstruation and make this a hands-on experience. Oh, and the environment is part of this too, I promise. I read somewhere, probably here, that the applicators last approximately eleventy billion years on the earth. I cannot participate in that many years of waste. Nope. So all I had to do was get over this unfounded awkwardness about magic cloud- shaped bullets. You'd think as an adult, I'd be less awkward but no, never a break in the weird feelings.
My free sample of o.b.® tampons arrived inside of a sparkly purple box and who doesn't love purple sparkly things? I will not apologize for this. Anyway, I opened the box and they tumbled out into the palm of my hand and, well, I was magically transported to 1992.
Ahhh the early 90's. To both of my Aunts, it was still pretty much 1987. They were wild rock band lovin' big haired Puerto Rican chicks and in between applying heavy mascara and fringing their leather jackets, they often babysat me. One night, my Aunts relegated me to the spot outside the bathroom door, where I busied myself listening to the non-stop hum of hair dryers and rock music, just waiting for them to need or notice me.
At last the door opened, and a hairdo accompanied by a head and body peeked out — "Grab us some hairspray, we're out." I had a mission! Find some hairspray. They had dates to go on and what else was I good for anyway?
Emboldened, I ran my chubby one-eyebrowed self down the stairs and bee-lined for their oversized black leather fringed purses. (They both kept spare bottles of hairspray in their bags. I knew cuz I snooped… whatever.) Pleased that I was about to save the day, I spun around with purses in hand only to trip over the coffee table in the living room at full speed. Contents of both purses spewed everywhere. Keys. Lipstick. Square shiny plastic things with round circles in the middle. Cassette tapes. Bangles. Cigarettes. And these tiny cotton bullets…
The tiny bullets were/are awesome so I ran up the stairs with them and of course, the hairspray, and proudly handed them to my aunts. I asked if I could have some of the cotton things to play with, mainly to throw at my brother and perhaps, use as a headrest for my rock star doll.
The youngest of my two aunts threw me a screw face and said, "Um, no. These are for big girls. And you are a weirdo." Door shut.
Now I'm an adult and I've ridden a mechanical bull, so I convinced myself that using a tampon without an applicator would be a piece of red-velvet cake. It was smaller than I'd expected. Initially, I panicked, wondering how to remove it but then I unwrapped it (duh!). The green safety spring sprung forth from the bottom. Once in place, the slim fit was kind of amazing. It didn't leave me feeling stuffed and uncomfortable, they felt just right. The pad I strapped on for Day One leakage protection wasn't even necessary.
What was happening to me? Was I becoming some kind of fancy European lady ready to rip off her top and run around using applicator-free tampons?
Maybe.
Maybe my aunts were right, maybe o.b.® tampons are for "big girls" — women who are cool with their bodies and overcome awkwardness and adjust the world to suit their needs in every way possible.
---
Riese
Due to the exceptionally tiny amount of time between when I went through puberty (15) and when I started taking The Pill (16), I didn't start having a real serious period until I went off the pill and became a lesbian at age 23. Suddenly I had this actual period that lasted five actual days and came whenever it wanted to instead of every Tuesday between 3 and 5 PM during the placebo-pill week. I hated it.
Suddenly the brand of tampons I chose actually mattered — but honestly, I'd assumed they all performed the same and basically picked tampons based on what was on sale. I learned that my "all-brands-are-the-same" theory was not true in 2009 when I was dating Alex up there who had a huge box of store-brand tampons in her bathroom which turned out to be similar to brand-name tampons in the same way that a wad of tissues is similar to a sanitary pad. So, all tampons don't use the same technology after all, do they? What else would the wonderful world of womanhood reveal to me? Regardless, I figured leakage was one of many necessary evils of periods, which I hate. Some brands leaked a lot, some leaked less. But everything leaks. Really, I hate my period.
Perhaps like many of you, I'd tried o.b.® tampons over the years because it was all my hippie- friends had around, but to be honest I was always nervous about using the o.b.® brand because I had no idea what to do with it back then. I had zero clue what was going on up there or where, exactly, the tampon even got "applied" by its "applicator." I wanted to be an o.b.® tampon user because I lived in New York, and every time a period came along to surprise me, I'd have to squeeze a giant box of plastic waste into my day-bag. I envied my friends who used the o.b. ® brand, with their tiny boxes and special tampons that took up less space than lip balm.
Here's the thing about o.b.® tampons: lesbians love them. The packaging is gender-neutral, it's designed by an actual female, they're small enough to fit into pockets and, of course, it's environmentally friendly. So at some point the forces of lesbian socialization would turn me into an o.b.® tampon user — like dating an o.b.® tampon user, for example, which is exactly what I started doing two years ago.
This was probably my third major effort to convert and what made this try successful is, kinda, that I have a better idea of what's going on up there, but mostly that I actually took three seconds to figure out how they work. Basically, you unwrap it and pull the string from side to side, which will enlarge the base, providing the surface for your finger to insert the tampon. Yup! Then it expands inside you to "custom-fit" your body. Once you learn this, it's super easy and there's absolutely no going back.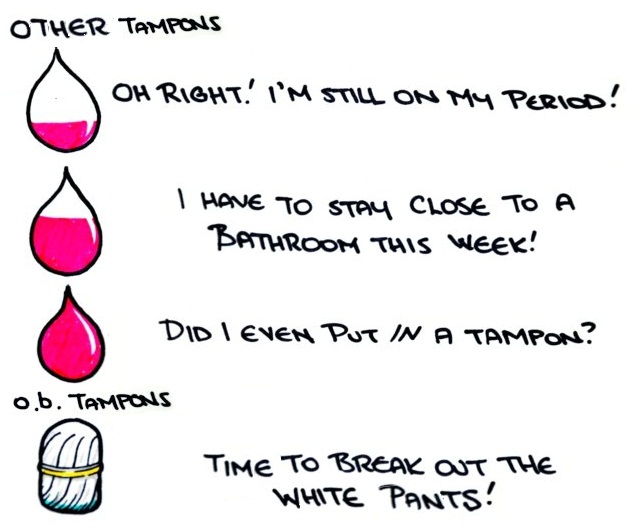 When shortly thereafter we were approached about this o.b.® brand campaign, it felt very serendipitous and pretty much sealed the deal. And speaking of sealing the deal, as I was now several months into my brand switch, it had been long enough to note that o.b.® tampons were actually really different than other tampons. Despite not having an applicator, they WORK for me. AND they fit into my pocket. I never would've believed it if I hadn't tried it myself — and you should too.
---
Check out our dedicated  o.b.® brand page and get your very own magical bullets.
Comment Policy For Sponsored Posts: We're always especially stoked when businesses want to support Autostraddle and place paid content on our site, and out of respect to those who invest in us in that way, we reserve the right to moderate comments that are explicitly against the sponsor's best interest and the post's intent. It's unlikely that we'll do this, but just know that the possibility exists.
When commenting, we hope that you will appreciate our supporters as much as we do!