I can smell everything. Seriously, everything. If we've spent significant periods of time together, I probably could recognize you by scent. I drove my friends in New York crazy by refusing to enter delis with hot bars and by ordering delivery instead of takeout from the Chinese restaurant around the corner — the smell of hot oil that permeated these places lingered in my hair and clothes for what felt like forever, and therefore entering such establishments pretty much instantly ruined my life. I'm physically incapable of being in the same building as a litter box without wanting to gouge my eyes out with ice cream scoops. My aversion to the way many men smell in the morning probably contributed to me becoming a lesbian. Every minute that passes between the moment I wake up and the moment I shower is a moment of deep discomfort due to the fact that I don't smell like soap. I knew there was a mouse in the couch before anybody else knew there was a mouse in the couch. I think that eating any kind of meat in an enclosed space (bus station, subway, airplane) is cruelty to animals AND humans (and I'm not even a vegetarian, so). I can't eat leftovers because anything that smells slightly un-fresh to me makes me nauseous. When I get pregnant I will probably kill somebody for opening a can of tuna fish in a house five blocks down the street.
Being this obsessive requires constant vigilance and a lot of equipment. Here's how I cope.
---
1. Febreze
Febreze To Go was actually invented for me by G-d. It's true, it's in the bible, look it up. You also will need a big one for home. Febreze never works as well as I want it to, but it's what we've got so I'm working with it.
---
2. Perfume, Obvs
I was loyal to Tommy Girl until I became more of a woman than a girl and switched over to Burberry Brit. If you're looking for a new signature scent, we have lots of cologne and perfume recommendations in How to Smell Good 101.
However, you can't carry full perfume bottles on airplanes or around with you all day, which's where the travel size perfumes come in. I used to use Juicy Couture Rollerball Eau de Perfum, but it leaked in my bag a lot, which made my bag smell nice but wasn't great for longevity. However, the rollerball is really discreet, enabling you to dab it on without attracting too much attention. Lately I've been using the mini-perfume that came in this Gift Set I got at the American Eagle Outlet.
---
3. Hand Sanitizer
There are only a few things I can smell on my hands without wanting to chop them off: lotion, soap, grass/dirt, bleach, campfire, sex. I actually don't give a shit about germs — I find germaphobes get sick way more often than those of us unafraid to get our hands dirty SO TO SPEAK — but I CANNOT ABIDE MY HANDS SMELLING LIKE KETCHUP. This means after eating a thing I'm really upset until I can wash my hands or get my hands on some hand sanitizer or hand sanitizer spray.
Unfortunately, it turns out that hand sanitizer is a top culprit in the game of What Ruins My Manicure, which means I have to apply it like I'm doing a paint-by-number on my palms. I always prefer hand soap, then, but hand soap is very drying, which brings me to…
---
4. Lightly or Barely Scented Hand Lotion
Heavily scented lotions also tend to be drying, if that's a problem for you, which ruins the point of LOTIONS, except for Sally Hansen Nails & Cuticles Hand Cream, which has a nice subtle scent and actually moisturizes. If you're trying to stay away from products that involve chemicals, then I've heard very good things about Vegan Skin Care Moisturizing Cream by SW Basics or Dolphin Organics Citrus Lotion.
---
5. Hair Mist

Hair is like a smell-sponge, so if you work in a restaurant or go out to smoky bars, you're sort of doomed. The brand I used when I was working doubles back-to-back at the Macaroni Grill isn't a thing anymore, but there are so many others on the market now!
TRESemme's Refreshing Mist is simple and affordable.
If you like pink sugary things, you may like Pink Sugar Hair Perfume, Nicki Minaj Pink Friday Hair Mist or Minajesty by Nicki Minaj Hair Mist.
If you're a lesbian who looks like Justin Bieber — there's a hair mist for that. Or maybe you have strong Taylor Swift feelings? 'Cause she's also got a hair mist.
Or you can try a few different hair fragrances from your pal Frederic Fekkai.
Infamous partier Cat Marnell, formerly of xojane, recommends Narciso Rodriguez For Her Hair Mist.
If you can afford to splurge, two of my favorite scents come in hair mists: Burberry Rhythm Hair Mist and Chanel Allure Tender Hair Mist.
Or if you wanna smell like you just washed your hair even though you definitely did not, CLEAN Original Hair Mist could be the way to go.
---
6. Candles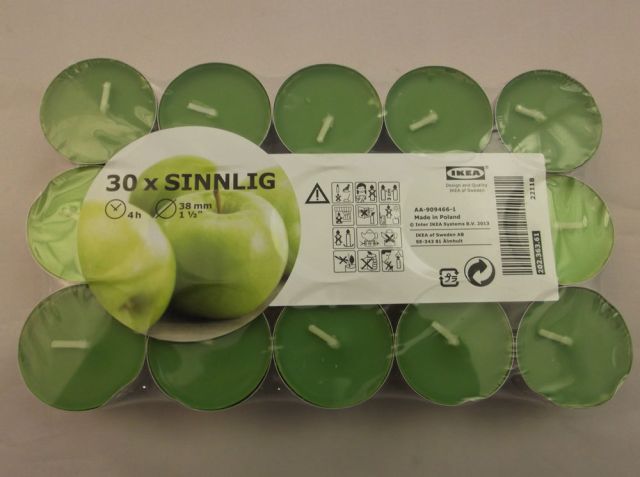 IKEA's TINDRA candles come in like fifty thousand scents and are good quality for the price — usually cheap tea lights are, well… cheap. I also usually have good luck at Dollar Stores getting those candles-in-a-jar, especially seasonal scents. Sometimes people cook bacon in a house and then the house smells like bacon and that's when you really need to do a full-scented assault on the entire place — candles, Febreezing all the surfaces, etc.
---
7. Wisps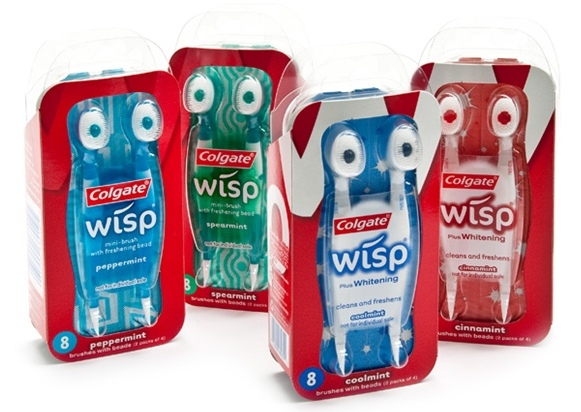 Wisps are another item I suspect an Angel in Heaven designed for my personal enjoyment. Who doesn't wish they could constantly brush their teeth on the go? Plus, people always ask about it when they witness me using it, which is a good opportunity to find out if the people you're talking to are also obsessive tooth-brushers because obsessive tooth-brushers love bonding over their obsession. Also while you're at it, I love these mini-flossers.
---
8. Travel Size Toothpaste
Everybody gives me strange looks when I do this but sometimes you don't have a wisp or time to brush your teeth and rubbing a little bit of toothpaste around your mouth with your tongue and then maybe swallowing it feels okay. DON'T LOOK AT ME LIKE THAT.
---
9. Fragrance Mist
Before discovering Febreze, I did Febreze-like things with fragrance mists, usually from Bath & Body Works or Victoria's Secret. These sprays are more subtle and cheaper than perfume and therefore more versatile. Mostly my memories of these products are tightly related to incidents in which I was trying to avoid getting in trouble, like masking the smell of my friend's cigarette smoke from my car or that time in boarding school that we doused ourselves in Pear Glace and Cucumber Melon on the off-chance that it would mask the scent of vodka on our breath.
---
10. Flavored Chapstick
Sometimes if I'm in a really unfortunate-smelling situation, I can just slather on some immaturely scented chapstick, cup my hands around my face, and try to completely engulf my senses in the sweet smell of Royal Red Velvet or Cotton Candy. It's blissful. I mean, it's no Vik's Vapo-Rub, but it's okay.
---
What do you like to smell with your nose?