Happy National Cheesecake Day!
Does anyone know why is this is only a national holiday? What gives, America!? As the arbitrator of cheesecake and cheesecake vendors worldwide, I'm declaring today to be a global celebration for us all.
If you live in the United States, today (July 30) you can enjoy half-price cheesecake at your local The Cheesecake Factory restaurant. It'll be a total mess and totally worth it, I promise.
And if you live elsewhere, like I do, perhaps you should instead celebrate this occasion by compiling a list of the best cheesecakes you've ever put into your mouth hole.
---
Top 5 Best Cheesecakes I've Ever Eaten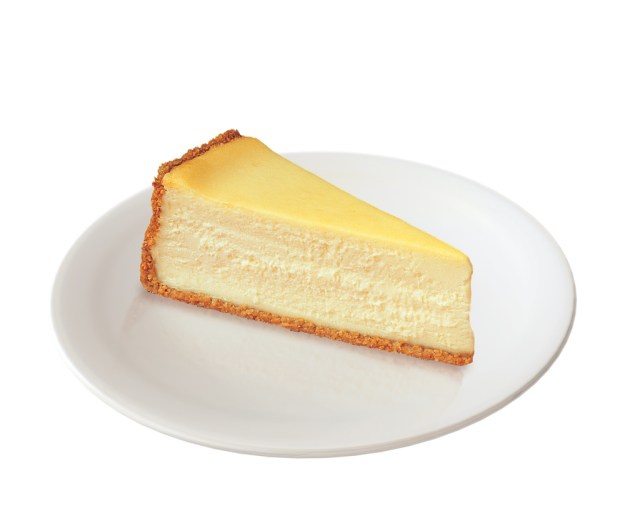 5. Frozen Sara Lee Plain Cheesecake, Sydney circa late '80s
You always remember your first. It was plain Sara Lee brand cheesecake that my sweet elderly neighbour, Mavis, bought on the sly for my birthday one year. It wasn't just my first cheesecake, it was my first birthday cake. I was from the town's very first 'broken home' and so the locals always smuggled me into their homes for pity treats. An ice-block here, a butterscotch there. Nothing as amazing and grand as a whole friggin' cake.
Mavis had forgotten to defrost the cake and so I ate it frozen, scooping it straight out of the foil tin, my little tastebuds and dessert-deprived child brain exploding with joy over cheese flavoured ice cream and biscuit crumbs. I've never tried to replicate that feeling with a Sara Lee cheesecake as an adult because my palate has likely changed and I don't want to be disappointed. Though to this day I still prefer to eat my cheesecake frozen.
---
4. Cheesecake Factory Original, Tampa Bay, Florida, 1998
En route to Tampa airport, my grandfather swung his truck into the parking lot of The Cheesecake Factory and declared that I couldn't leave his country without eating the biggest piece of cheesecake that I'd ever see. Much like everything else at The Cheesecake Factory and also in the United States, the choices were excessive and overwhelming. I stood at the display counter for a few minutes and settled on a slice of Original because it seemed safe among others covered in foreign candies and creams.
My grandfather beamed at me like the cheesecake counter was a test and I'd just passed. He said the original was 'New York style' and all the best things came from New York. He was a proud Upstate man. After splitting the cheesecake — which was, as promised, the biggest and most serious cheesecake I'd ever eaten — and we'd climbed back into the truck, he slipped me his money clip and pulled me against his body for the longest, hardest hug. Our time together was over. I had to leave and he had to die.
---
3. Lemon and Lime Cheesecake, North Sydney, 2010
I call this 'Independence Cake' because it tastes like never again depending on another human being to make me happy.
When I reached adulthood I decided that it would be really neat to continue Mavis' tradition of birthday cheesecake. So, every year, I'd hint (and later, directly ask) for my gal pal to buy me one. And every year, she did not. She wasn't being an asshole, not exactly — she just showed love in ways that didn't involve going to the grocery store alone and interacting with the people there.
After spending a few birthdays being quietly bummed the fuck out, on my 26th one I bought a family-sized double baked cheesecake with lemon and lime topping from a patisserie near my office. I already knew it was the amazing cake. I knew that it was velvety smooth and rich with the most perfect biscuit to cheese to fruit ratio, because I'd purchased and eaten it for my co-workers' and friends' birthdays but never my own.
I took the cheesecake home, put it straight in the freezer and spent the next week shamelessly stuffing it into my face until every last crumb was gone. I've repeated it every year since, 'cause the only thing better than cheesecake is reminding myself that I don't need to wait on someone else to decide I'm worth it. We're all worthy of cheesecake.
---

2. Red Velvet Cheesecake, Los Angeles, 2012
It was the last day of the first A-Camp. By the time Riese, Marni and I had driven down the mountain and checked into our hotel, I was ready to sleep forever. I don't know where we found the energy to walk to The Cheesecake Factory for dinner but we did, and after some giant meals we decided to split a mammoth piece of the Red Velvet Cheesecake.
Red Velvet became our Go To cheesecake. On future visits, we'd look at the menu and throw around ideas for different flavours to try but that red velvet just kept calling us back. We learned to ask the server to pack up the cheesecake to go because we were too stuffed to eat any on the spot. It was a sentimental order, more than anything. We never finished a whole piece even once.
---

1. Low Carb Cheesecake with Fresh Strawberries, Chicago, 2014
On our first real date at The Cheesecake Factory, I insisted on ordering the Splenda cheesecake even though I knew it would taste dull and completely wrong. Katie couldn't eat real sugar and at some point between drooling over the Red Velvet while waiting in the foyer and the server unceremoniously slapping down laminate menus on our table, it hit me that I'd rather share boring garbage cheesecake with the most beautiful, sugar-intolerant human than to eat the world's best cheesecake alone. I was in love.
---
What's your favourite cheesecake memory and/or cheesecake flavour and vendor? I want to hear all your cheesecakey feelings.