Happy Sunday Funday! I'm finally back in civilization after a drive through the empty desert. Any questions?
Virginia Lesbian Veteran: 1 / Them: 0
A Los Angeles judge has ruled that stopping same-sex spouses to veterans from accessing spousal disability benefits is wrong, which sounds repetitive because of how many different laws have been struck down that make discriminating against LGBT folks and gay couples no longer okay in the Army. It's 2013, is what I'm saying.
A judge in Los Angeles has ruled that a lesbian Army veteran and her spouse should be entitled to disability benefits given the recent Supreme Court ruling that struck down part of the Defense of Marriage Act.

U.S. District Judge Consuelo Marshall said Thursday that a federal code defining a spouse as a person of the opposite sex is unconstitutional since the high court's decision allowing legally married gay couples the right to health care benefits.

The Department of Veterans Affairs denied an application from veteran Tracey Cooper-Harris and her spouse seeking additional money and benefits that married veterans are entitled to receive. Cooper-Harris suffers from multiple sclerosis and receives disability benefits.
Kathy Wolfe Gets Gay Married
The founder of Wolfe videos is now hitched.
After a lifetime standing up for lesbian and queer visibility on TV, film, and in business, and a recent fundraising campaign supporting the push for marriage equality nationwide, the founder and owner of lesbian-centric distribution studio Wolfe Video took personal advantage of the rights she's been fighting for for decades.

Kathy Wolfe, founder and owner of Wolfe Video, and Barbara Verhage married at San Francisco City Hall on Friday, August 23. Wolfe and Verhage have been together for 21 years, according to a press release announcing the ceremony.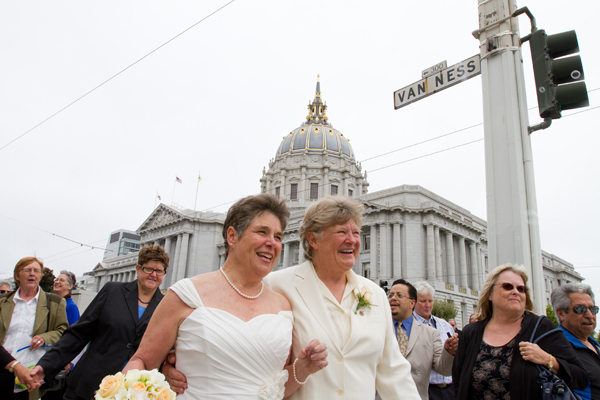 RBG Is Totally Invited To My Gay Wedding
Word on the street is, Ruth Bader Ginsburg does gay weddings. As in officiates them. All I have to say about this is yes.
Kaiser, 59, has run the Kennedy Center since 2001 and is close friends with Ginsburg, who is an "ardent supporter of the fine arts." Kaiser met Roberts, 31, an economist with the U.S. Commodity Futures Trading Commission, about two years ago at a gym and proposed last year on a flight to Rome.

The two will wed tonight in the Kennedy Center Atrium in front of 220 invited guests, who will include opera and Broadway stars, as well as "influential philanthropic and arts patrons" like the DeVos and Mars families.

The Cat And The Printer
YOU GET THAT SHEET. This is what I look like at the office probably.