What's kind of like Netflix, supports independent artists and is totally gay? The Icelandic government? No! It's BuskFilms, a new video-on-demand site that showcases independent lesbian cinema from around the world.
Independent. Lesbian. Cinema. That's girls, on screen, with other girls. Obviously this is something you don't want to miss out on. Ellen doesn't. My mom doesn't. Tegan and Sara don't. At least Tegan doesn't. And you don't either because:
Gay Things + Art + You = GOOD FEELINGS.
BuskFilms gives you the chance to see quality queer films you otherwise wouldn't have the chance to see, and it's also putting money back in the pockets of filmmakers through revenue sharing. Every time someone rents a film, the filmmaker benefits directly. This means that there will be more queer films in the future because every nickel and dime won't have to go towards student loan payments and the corporate evil that is every cellphone company that ever existed or ever will exist in the future.
Who is behind this lesbian entity of indie film awesomeness? Andrea Wing and her team of nerds .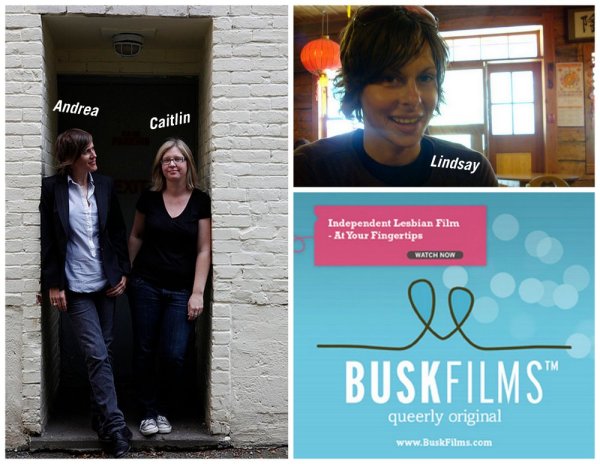 They include film geeks, word nerds and tech-savvy social media junkies who love both queer things and puppies. A site for lesbians, their friends, and anyone with a queer sensibility, BuskFilms is run by a group of queer women who believe that art and the Internet can build a community that is both creative and inclusive.
After failing to find quality lesbian content online, BuskFilms CEO and Founder Andrea Wing decided that something had to be done. Clearly the time for a Lesbian Video Evolution was nigh. So with the heart of a revolutionary and the tenacity of a lesbian, she set to work turning the dream into a reality.
She wrote things on a white board.
She bought an espresso machine.
She channelled her own inner geek and consulted like-minded nerds about the technical aspects of the site.
She wrote a business plan and even managed to secure investors with an impressive display of triangle graphs and pie-charts.
And then, after many, many months of work fuelled by passion and caffeine (the building blocks of entrepreneurship), BuskFilms finally became a REAL THING.
Initially launching on the sunny shores of Australia, where the days are warmer and the gays are fabulous, the Vancouver-based BuskFilms is currently gearing up for its North American launch. What does this mean? Hopefully a good party. Oh, and more great lesbian films.
Girls. On screen. With other girls. Doing stuff. Yes.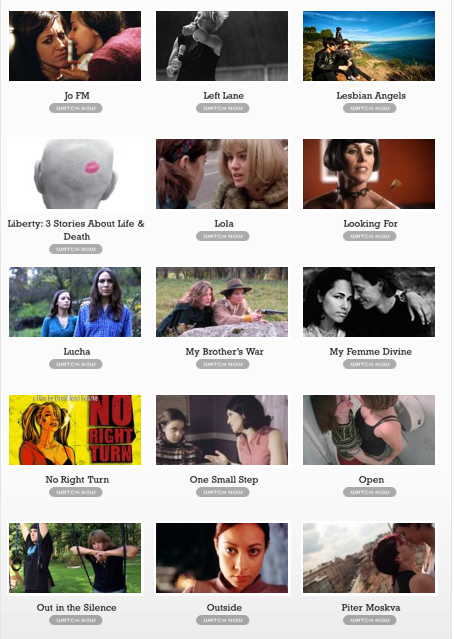 Thankfully this thing called "The Internets" has allowed art to become more accessible than ever before. BuskFilms is like a queer film fest in your living room/kitchen/parent's basement, only cheaper and without the line-ups. Having a potluck? Turn it into a film night! Cat-sitting for a friend? Cats love lesbian movies! On a date? Set up your lap-top in the bedroom and impress her with your sexy indie sensibilities. After all, being a patron of the arts is the new Justin Bieber hair-cut for lesbians.
With a collection of films from all over the world, BuskFilms is striving for international LGBT representation. "The experience of being queer varies dramatically depending on where you are in the world" says Wing. "We want BuskFilms to give a voice to those who have previously struggled to be heard." While the site is currently focusing mainly on lesbian themed films, eventually there will be a library that represents the entire spectrum of the LGBT community.
Once you rent a film you have 48 hours in which to watch it as many times as you'd like. In theory you could watch a 15min. short 192 times if you wanted to. This isn't recommended but you COULD do it and if I have learned anything from politicians and/or NASA, it's that this is what matters MOST OF ALL.
But what really matters most of all is that there are people out there making movies about lesbians that you can watch RIGHT NOW. It's cheap and it's easy and you won't regret it in the morning. Finally there's a site where you can watch girls kissing with some class. And seriously, it's about damn time.
BuskFilms – Promo from BuskFilms on Vimeo.
Here's some places to start:
+ Lesbian Avengers – "This film documents the first year of actions by The Lesbian Avengers, a group of bold and brazen New York City activists fighting for recognition and equal rights for lesbians everywhere."
+ Weeki Walki Girls – "Best friends forever, Katie and Maura have dreamed of being part of the live mermaid show at Weeki Wachee Spring for as long as they can remember. It's the summer
of '79, they're fifteen and everything is changing; especially when Katie discovers Maura kissing another girl."
+ She's Not the Boy I Knew – "Using archival family footage, interviews, phone messages, and animation, Haworth's documentary She's a Boy I Knew begins in 2000 with Haworth's decision to come out to his family about his life-long female gender identity. The resulting auto-ethnography is not only an exploration into the filmmaker's process of transition from biological male to female, from Steven to Gwen, but also an emotionally charged account of the individual experiences, struggles, and stakes that her two sisters, mother, father, best friend and wife brought to Gwen's transition."
+ Flick's Chicks: "A modern day lesbian fairy tale about a single mother named Flick who invites five women to spend a weekend away in a creative bid to find the perfect mate, during which time they'll get to know her and her 10 year old daughter. The trouble is, Flick didn't inform the girls they would all be staying together at the same time."
+ Lesbian Angels: "A revealing peek into the lives of young lesbians in Los Angeles, who through interviews and poetry, share their experiences and insight about life, love and everything in between."