The Minnesota legislature voted to add to the November 2012 ballot a constitutional amendment banning same-sex marriage. Awesome, those have gone so well in the past. Not only do the gays usually lose when citizens are given the power to decide issues — see Maine and California — but 31 states already prohibit same-sex marriage by constitutional amendment (10 more by statute).
Watch this video from the state capitol last night — the whole thing, immediately, some of it will make you feel slightly better. America needs more people like Rep. John Kriesel. He gets it.
Obviously the next step is an 18-month battle for the votes of Minnesotans. Rep. Karen Clark and Sen. Scott Dibble, the Minnesota legislature's only openly gay members, have a little bit of faith. "We've built a movement. We are going to do the hardest thing we've ever done. But we're up to it," Dibble said.
According to the Advocate, Donald McFarland of Minnesotans United for All Families has said, "Our campaign is hitting the ground running, and we plan on using every resource available to defeat this anti-family constitutional amendment."
The Minnesota Star-Tribune predicts the fight over this amendment could be almost as expensive as the 2008 presidential campaign. It will certainly rival the fight over Proposition 8 in California, which cost both sides a combined $83 million.
It's ridiculous to be forced to buy your own civil rights, but that's America. So please consider donating something to the Minnesota effort over the next 18 months. They'll need it. MUAF's website is brand new, so there is no way to donate yet, but you can sign up for their email list. For donations, try OutFront Minnesota, who already have a movement going.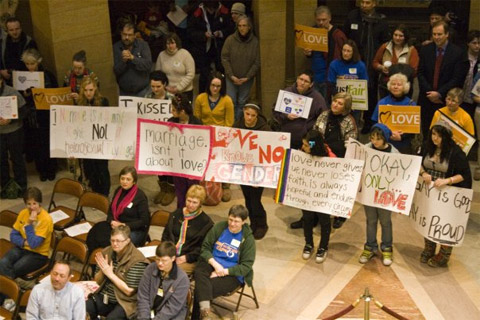 To bring things around to the bigger picture, even a leader of Focus on the Family has admitted that in the long run, the fight about gay marriage is over. And we won. FoF's Jim Daly told World Magazine, a Christian publication, the following:
World: We're winning the younger generation on abortion, at least in theory. What about same-sex marriage?
Daly: We're losing on that one, especially among the 20- and 30-somethings: 65 to 70 percent of them favor same-sex marriage. I don't know if that's going to change with a little more age—demographers would say probably not. We've probably lost that. I don't want to be extremist here, but I think we need to start calculating where we are in the culture.
He then went on to talk about how maybe this was God telling Christians to re-evaluate marriage in their own communities and maybe get rid of divorce. Ummm … that sounds fine, actually! If people don't want a Christian marriage that is more restrictive than what the government offers, then they shouldn't get one. See how easy that was? You guys do you, we'll do us.