…
Q:
You are the whiskey person, right? What's the best whiskey? What's the best cheap whiskey? What's the best way to drink whiskey besides straight?
A:
Oh honey. I'd like to start by admitting that we really only know about 5% of what there is to know about whiskey, probably, therefore I'm gonna need you to keep your expectations kinda low and your eyes on the prize. The prize is whiskey, so that should be easy.
SMALL TINY LESSON
In case you were wondering what the hell's going on re: whiskey vs whisky vs bourbon vs scotch, I've sailed the intergallactic sea of knowledge for you and come back with this: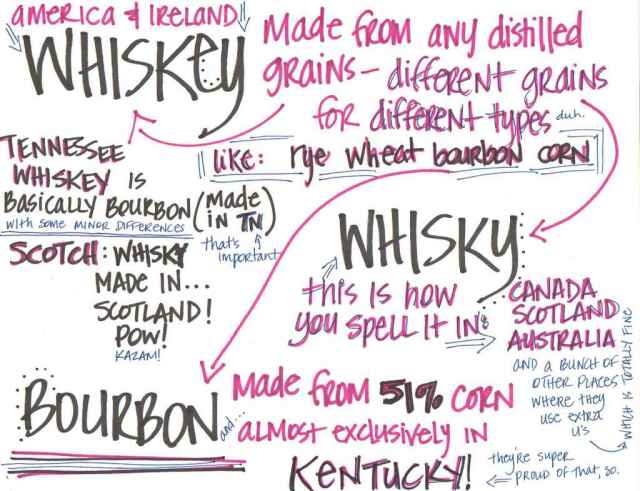 I want to tell you that I don't like the word 'bourbon' because it looks like something you'd slur when you've had too much whiskey and you meant to say 'bubble' or something, but I do like bourbon, actually. And I'm not the only one! So I've assembled a really special team of whiskey/y drinkers to share their whiskey/y brains and feelings with you. We're talking about our favorites, though — not what we think is best. Because really, who are we to tell you what's best? You drink you, little sail.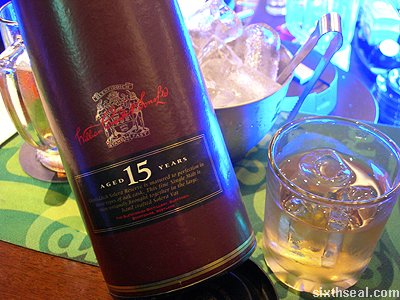 What's the best whiskey?
Glenfiddich, 15 year reserve. Holy cow! How knowledgeable do I sound right now? (VERY.)
What's the best cheap whiskey?
Wiser's. It's Canadian. It's cheap. This is everything I know about it.
What's the best way to drink whiskey besides straight?
In a Manhattan!
See also: Hot Canadian
What's the best whiskey?
If you're going for expensive, Johnny Walker Blue – which I've never had because I'm broke, but which my girlfriend says is really good. Also: Dalwhinnie or Oban.
What's the best cheap whiskey?
Johnny Walker Red or Jameson.
What's the best way to drink whiskey besides straight?
Gay.
Really: the technical best way is to drink it with a splash of room-temperature water to open up the flavour (though this can backfire if you use tap water). A close second is as a hot toddy with as much honey and fresh lemon juice as you want.
See also: Spiced Whiskey [Ed. note – Riese and I tried this and it's super delicious]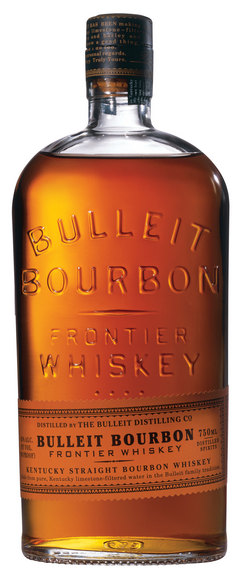 What's the best whiskey?
If we're talking about types of whiskey (versus brands) then I'm all about bourbon. My dad is from West Virginia and over the course of my life has passed on to me his love of fishing, woodworking, bluegrass music, and above all, bourbon. There's something about bourbon that just matches perfectly with all of the aforementioned activities. It can cost a hundred dollars and be sipped from a crystal tumbler or it can cost ones of dollars and be sipped from a go-cup in a dive bar or out of a flask at a show or a barn dance. It's the everyman whiskey!
What's the best cheap whiskey?
What constitutes a "cheap" whiskey depends on your intentions. If you want something to strip paint off your car or disinfect a wound, by all means get the Wild Turkey. If you want something to mix with soda or ginger ale or whatever, go with Jack (note: Jack is not officially a bourbon because it's made in Tennessee, not Kentucky. Only Kentucky gets to call its whiskey bourbon).
If you're interested in a decent sipping whiskey and don't want to spend more than $20 – $30 (like me), go with Bulleit, Maker's, Gentleman Jack, Woodford Reserve or Buffalo Trace (though Laneia thinks Woodford "tastes like nipples"). If you're willing to spend a little more I also enjoy Basil Hayden's, Jefferson's, Knob Creek, Elmer T. Lee, Four Roses Single Barrel, Elijah Craig, Makers 46, Rock Hill Farms, and a slew of others. The types available and price will differ place to place, so if you're not sure where to start, don't be shy about asking friends or bartenders what they like. Pay attention in grocery stores/pharmacies, too, if you live somewhere where they sell liquor in those places – sometimes a $25-$35 bottle will go on sale for $19.99. Those are great days for America!
If you're in Canada, you're a bit worse off where bourbon goes, because the same brands are more expensive than they are in the States and you can't find as many kinds. In fact I don't even know if you can get a decent $20 bourbon in Canada. You probably can't (but then I only know Ontario and Quebec – other provinces, like BC, have different laws and probably have better selection). The LCBO in Ontario has an okay selection and always stocks Maker's and Bulleit and a few other common kinds (like Jack), but they're closer to $40 (and I cannot get behind pricing regular Jack like a "fancy" whiskey).
In Quebec (Montreal specifically), bourbon is getting more and more popular and the SAQ is carrying a lot more than they used to. You can find a lot of the types I've mentioned at many SAQs, but for the best selection go to the depot. And if you don't see a lot on the shelves, ask the clerks (sometimes they hoard it in the back).
I can get down with just about anything, but the thing about whiskey is when you go really cheap, you pay in different ways.
What's the best way to drink whiskey besides straight?
The best way to drink whiskey is around a campfire, or in a very dark bar with a great band playing, or while playing scrabble near a fireplace.
As always, you do you! Don't abide anyone telling you that you're drinking something the wrong way (unless you're mixing a $50 bourbon with Coke, then we're not friends anymore). Drink what you like and experiment! My preferred method is just straight with an ice cube (the ice cube unlocks the magical flavours and makes neat swirls), but sometimes I like making my own sour mix at home or using fresh lemon juice and simple syrup for a quick whiskey sour. Lately I've been trying to learn more about cocktails, too, and I've been mixing my Bulleit bourbon or rye with a little sweet vermouth and a dash of bitters for simple homemade Manhattans. I'm also very partial to Fit For a Femme's "bourbon slush," but I'm not sure she's giving up the recipe anytime soon.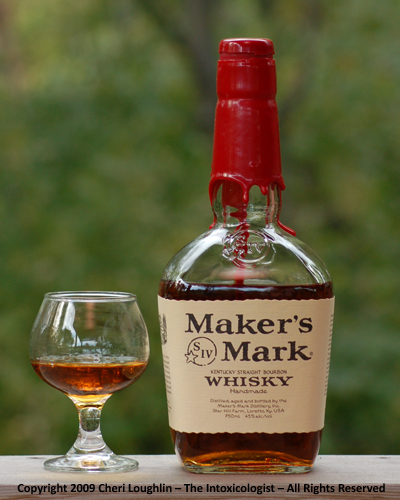 What's the best whiskey?
I've usually enjoyed Maker's Mark, foremost. When betraying my homestate but emphasizing loyalty to my ancestral homeland, I would opt for Jameson, which I like about equally. When betraying both and honoring our Noble Northern Neighbors, I sometimes drink Crown Royal, which comes in a great purple pouch that you can use for holding keepsakes, drugs, or more whiskey.
Beyond that: Woodford Reserve, Four Roses, and Bushmills are all good choices. And you can get just about anything in a small batch or more aged iteration if you want to Get Fancy. I think I also like Knob Creek, but maybe I am misremembering and have been charmed by its attractive squared-off bottle.
What's the best cheap whiskey?
I'm going to go out on a limb here and say Canadian Mist. One year we drank that at Bonnaroo, and I recall being able to stomach it straight (and straight out of the bottle) before 10AM, which I think means it must be the best. And you can buy a plastic handle of it, which is so lightweight you could almost take it anywhere. Anywhere that would accept the presence of an egregiously large amount of grain alcohol contained in not-glassware, that is. Like beaches or out to run errands, to name a few common examples.
Beyond that, Bulleit errs on the side of affordability and is the Hip New Thing. Seriously, just look around your friend's houses…everyone I know has 6-10 handsome Bulleit bottles on their kitchen windowsill. They're kind of a twentysomething rite of home decor passage now. In fact, there's one on my bedside table that I keep water in, for hydrating. Hydrating is so important.
From my experience, Early Times will make you regrettably ill. Or maybe just mint juleps in general. Or maybe just Derby hats. It's hard to tease apart these variables. And I don't fuck around with Jim Beam or Jack, but that's just me.
What's the best way to drink whiskey besides straight?
As much as it pains me, these days I can't drink whiskey straight with the gusto of yore, probably thanks to a possible corn allergy, a spate of bad decisions and also heartburn. While many people would consider sullying a decent whiskey with an intruder liquid to be a crime against humanity… to each her own! That's what I say. You do yo(ur mixer). That's what I also say.
Whiskeyideas I would suggest:
+ Crown & Coke
+ Top it off with a little gingerale
+ Mix quasi-equal parts whiskey & lime juice
+ Whiskey sours! You'll probably get sick, but I just have a thing for sour mix, I dunno.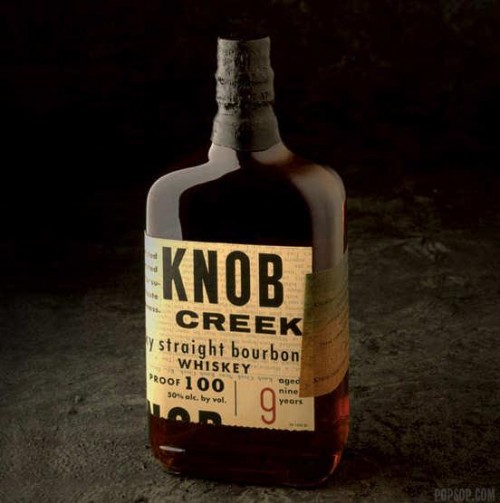 What's the best whiskey?
Knob Creek is the best best whiskey. You can taste the oak barrel, you guys. YOU CAN TASTE IT. Also Glenfiddich is quite nice.
What's the best cheap whiskey?
The following whiskeys won't kill you: Evan Williams, Jack Daniels, Bushmills, Maker's Mark. I'm not sure if all of these are considered cheap, but actually cheap whiskey is just a bad idea, so maybe don't go below Jack.
What's the best way to drink whiskey besides straight?
I go with three ice cubes in a mason jar or — ! — I was recently gifted with whiskey stones and I fucking love them. If you do ice, there's this magical window when your whiskey has been chilled just slightly and has just enough water mixed in that it will taste perfect. It's a small window, so you should monitor your glass accordingly. Probably the easiest way to drink whiskey is with ginger ale or even just a tiny squeeze of a lime, which will be kinda weird but will work in a real pinch. Don't try tonic — that will be god awful. Are you in Tennessee? Chase Jack with SunDrop.

What do you think? Did we miss a whiskey? Do you sometimes call it schwiskey? What's your favorite homemade sour mix recipe? Please share your whiskey feelings in the comments! You'll be so glad you did.
To send your question via ASS personal messaging, choose an editor: Riese | Laneia | Rachel
Or ask any team member you'd like: Meet the Team

For 100% anonymity, contact us through Formspring:  Riese | Laneia | Rachel