The holidays come but once a year, which is good, because it takes some of us a lot of alcohol to get through them, and the upkeep on that over the course of twelve months would be exhausting. Whether it's holiday parties or suffocatingly small family dinners, there's both a lot to celebrate and a lot to suffer through. Which is why holiday cocktails exist! In the proud Autostraddle holiday tradition we started last year, here are some drinks that we know from experience will serve you well.
+ Spiced Whiskey, from Carolyn
+ Hot Canadian, aka Hot Beaver aka Beaver Surprise aka Hot Toddy from DeAnne Smith
+ Five Loko, from an anonymous donor who is embarrassed by how hard she's worked to authentically recreate Four Loko
+ Corpse Reviver #2, from Lizz
+ Vegan White Russian, from Jamie

Spiced Whiskey
by Carolyn
Adapted from Design Sponge.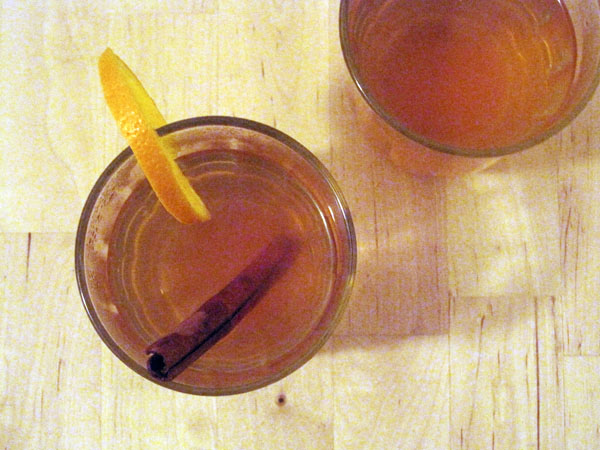 Ingredients:
1 to 1 1/2 cups of apple juice
1 tsp ground cinnamon
1/2 tsp freshly grated nutmeg, or a pinch ground nutmeg
2 cloves
a little orange zest
1 cinnamon stick
4 shots of whiskey or to taste/level of desperation
Put the apple juice and spices and zest in a smallish covered saucepan over high heat. Stir. Remove from the heat just as things start to boil.


After the juice and spices have infused for five minutes or until you start getting impatient, add the whiskey. I used four shots of Jameson, but follow your heart, unless your heart is telling you to use Johnny Walker Blue, in which case what is wrong with you, drink that shit neat. If you are going to go fancy with any part of this drink, go fancy with the apple juice, which is best when organic and just a bit pulpy, but still passable when almost expired and marked down to 99 cents. Put everything back on the stove until it looks like it might boil again, and serve.

Hot Canadian
by DeAnne
(aka Hot Beaver aka Beaver Surprise aka Hot Toddy)
Whatcha need:
whiskey
ginger-infused hot water
maple syrup
lemon wedge
Mix these things in some way that pleases your mouth. I wouldn't be so bold as to suggest your specific taste bud-pleasing ratio. I tend to favor this beverage heavy on the whiskey and heavy on the maple syrup. But that's just me! Maybe leave out the ginger if you're not a big fan of ginger. Maybe add some honey instead of maple syrup if you have a sore throat and/or are not rolling in cash and/or love stealing from hardworking bees. Maybe add a cinnamon stick if you like things that taste a little gross. It's totally up to you! You only have one life! Put as much or as little whiskey in it as feels right! Serve in a mug.
What follows is a partial transcript of the night I attempted to nail down this recipe with three friends.
"That's pretty tasty."
"It's a bit too gingery for me."
"Really? I don't taste the ginger at all."
"But that's because you're Asian!"
"I was gonna say that, actually."
"Guys, it's not about the ginger! It's about the whiskey!"
"Do you even know what ginger tastes like?"
"I think it's perfect."
"It IS perfect!"
"You wouldn't add more whiskey?"
"I would."
"Now you can really taste the whiskey."
"Isn't it good?"
"It's a lot more whiskey-ish now."
"Oh yeah. That's got the kick. I'm glad I had the one before that first, though."
"Should we put stick in the next batch?"
"Stick?"
"Cinnamon stick."
"Who calls it stick?"
"You know, the traditional English Hot Toddy uses black tea instead of water."
"Screw the English."
"Are you seriously adding stick?"
"This is near perfect."
We took video of the process, and forgot to take pictures. Most of the video I can not share with you. But here's what happens when you spend a couple of hours trying to perfect a whiskey recipe. You end up giggling in your kitchen, pouring hot drinks into glass. (Not recommended.)

Five Loko
by Anonymous
This drink is a pretty good attempt at making an old-school, now-illegal Four Loko. It's called Five Loko because it's made with Five Hour Energy. Drink this as cautiously, as you would Four Loko. This shit gets you fucked. Also, you'll need a large pitcher.
Ingredients:
Vodka
Three bottles of five hour energy
Three small cans of Red Bulls
Sprite (Or ginger-ale or 7-up or whatever)
One Miller High Life
Cranberry Juice
Pink Champagne
Sweet Tarts
Start by filling a regular pitcher quarter of the way up of the way with vodka. (This should be approximately 1/3 of a handle or 2.5 cups. If the vodka is more or less than this much, fudge the recipe accordingly.) Then add the Five Hour Energys and the three small cans of Red Bull (less Red Bull if the pitcher starts to seem too full). Add in the Miller High Life. Add a cup of Sprite, a cup of cranberry juice and half a cup of pink champagne.
Now take the Sweet Tarts and put them all in a plastic ziplock back. Put another ziplock bag over that ziplock bag. Now using a mallot/hammer/shoe, smash the shit out of the Sweet Tarts. Once the Sweet Tarts are powdery or you get bored, mix them in. It's okay if some chunks fall to the bottom. Warning: Do not try to be a smartass and use your food processor/nut grinder for this part. The Sweet Tarts are stronger than any natural product and will ruin the shit out of your Cuisinart.
Serve by the shot or very small glass as each shot is about half booze. Party on.

Corpse Reviver #2
by Lizz
Ingredients:
1 oz Gin
1 oz Cointreau (triple sec)
1 oz Lillet Blanc
1 oz Fresh squeezed lemon juice
2 drops of Absinthe
A cherry (it's cool if it's soaked in brandy, but nbd)
Traditionally speaking, Corpse Revivers are cocktails for when you have a hangover– a bit of the hair of the dog. The Corpse Reviver #2 was written down during prohibition by Harry Craddock, but (based on the fancy-pants ingredients) is a pre-prohibition cocktail from when everyone drank too much and thought they needed a drink at 8am. In actuality, hair of the dog is the worst plan ever. (Here are some better ideas.) On the bright side, the Corpse Reviver #2 is the most delicious cocktail I've ever had that isn't a dirty martini. Plus, the cherry at the bottom in contrast with the cloudy drink looks awful festive!
Drop the cherry in to the bottom of a martini glass. Swirl the martini glass with a few drops of absinthe. Pour the gin, cointreau, lillet and fresh squeezed lemon juice in to a shaker. Add some ice and shake until your hands are freezing cold. Pour the contents in to the glass over the cherry and absinthe. For an added holiday twist, use grapefruit juice instead of lemon.
Oh! Here's a video of Rachel Maddow making one!
Visit msnbc.com for breaking news, world news, and news about the economy

Vegan White Russian
by Jamie
Fortunately my father has an appreciation for Coen brothers movies, so whenever the holiday get-togethers push the limits of our patience, we often escape to watch one of their gems like Oh Brother, Where Art Thou?, Fargo, or of course The Big Lebowski. In honor of The Dude, take a load off with this Vegan White Russian recipe.
Ingredients:
Two parts vanilla soy milk
One part coffee liqueur (some have cream, so beware)
One part vodka
Mix, pour over ice. Slurp. Enjoy.
For a creamier version, try using the So Delicious Soy Milk Creamer. Also, many coffee liqueurs aren't vegan, so clean, green, simple has an awesome recipe for how to make your own vegan version of Kahlua without any cream. Walders offers a vodka and vanilla non-dairy liqueur you could buy online if you're lazy.